The game was played in Fort Loramie, but McKane Finkenbine was launching — and making — shots from Anna. Behind Finkenbine's seven 3-pointers and 34 points, the Rockets held off the Redskins for a 59-51 win in a matchup between two of the Shelby County League's best.
Colin Fosster for Press Pros Magazine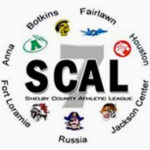 FORT LORAMIE –In his first season of serious varsity action, McKane Finkenbine is making a splash.
Quite literally. About every time he shoots the ball. And from everywhere on the court.
Finkenbine showed off his range in leading Anna past a feisty Fort Loramie team. His coach, Nate Barhorst, estimated Finkenbine's per-game-average to be around 20 points. Well, the junior had that by halftime on Tuesday — a stellar shooting display that included a few 3-point bombs from 25-30 feet.
"He's got the green light whenever he's hot like that," Barhorst said.
"Ever since about the first couple of games he's just started getting more and more and more confidence, because not only is he a threat to shoot, but he'll drive by you too and he'll find a guy rolling to the bucket," the coach added. "He's really elevated his game to the next level, and other guys are starting to respond with him now as well and know all of his idiosyncrasies, or whatever you want to call it. That's cool to see. We're starting to gel at the right time."
Loramie's start put it behind the eight ball quickly.
Finkenbine made a trio of 3s in the first quarter, with his last putting Anna in front 13-3 less than six minutes into the game. Anna led 13-5 after one.
He reached 20 points well before halftime. After hitting his fourth tray of the game, Loramie's announcer said, "Finkenbine … from the volleyball line." He was not kidding. The fifth Finkenbine 3 of the half — a between-the-legs, step-back shot from near the volleyball line (again) — put Anna in front 25-11 with 4:44 remaining in the half.
"It's a shooter's gym," Finkenbine said. "It has been for the last three years for me. The rims are nice."
But the Redskins stayed in it with a 10-2 run to close the half.
"We've talked about (how we start games) until we're blue in the face," Fort Loramie coach Corey Britton said. "We've got to be more energetic. We've got to be ready to go, passionate, enthusiastic, any other adjective you want to throw out there. We've got to be ready to go, and it's the third straight game where we've gotten off to a terrible start. We've got to be able to fix it.
"But I really credit our kids for playing hard and battling through it and staying around long enough to give yourself a chance," he added.
Caleb Meyer, who had six points during Loramie's second-quarter spurt, cut Anna's lead to 27-23 early in the third. But Isaiah Masteller led an 11-2 Rocket run from there. Masteller made a 3 and had a trio of assists in the frame — including a beautiful behind-the-back dish to Ben Kovacs in helping the visitors reclaim control.
The score was Finkenbine 27, Loramie 32, and Anna 43 after three quarters.
Caleb Meyer put a little pressure on Anna with a 3 to start the fourth, but Finkenbine countered with his seventh shot from deep a few moments later.
True to form, Loramie kept coming. An inside hoop by Nate Meyer made it a six-point game with three minutes left. After Finkenbine found Kovacs for an easy bucket the next trip down, Nolan Berning nailed a 3-ball for Loramie. But the game never got closer, as Anna iced it away with a few free throws and easy hoops after beating Loramie's pressure.
"I think just getting stops was the main part, and then once we got stops we looked to push it up in transition and get easy layups," Finkenbine said. "If that wasn't there, we'd pull it out, run our offense and make them foul us once we got the lead."
"McKane and the Masteller kid are both gifted," Britton added. "They're both really, really good — probably one of the best guard duos in the area. You pick your poison. I mean, you get up on (Finkenbine) and he goes downhill and he's such a good passer and he creates for others, or you live with him shooting 27 or 28-footers. Tonight, he made a bunch of 27 or 28-footers. Those aren't easy shots. I thought for the most part we contested them well. You sort of pick your poison, and we drank the wrong one tonight."
Finkenbine made 12 field goals and was a perfect 3 for 3 at the charity stripe for his 34. Kovacs added 17 points for the Rockets.
Caleb Meyer scored a team-high 16 for Loramie. Caleb Maurer added 11.
It marked Anna's (9-4 overall, 6-2 SCL) second victory over Loramie (9-5, 5-4) this season. The Rockets won the last meeting 70-52 in Anna, and with this victory they stay one-game behind Botkins in the standings.
"We had one kid that really got hot tonight, kind of put the team on his back with some of the big shots he took, especially in the first half to get us the lead," Barhorst said. "We had other guys step up in the second half. We started getting some more penetration, some dump downs to the bigs rolling to the bucket, some slips to the basket. They were switching everything. They had a different game plan against us the second time, and I thought we did a pretty good job adjusting."