Minster played as well as it had to, feasted off its defense, turned Russia ice cold from the field, and held the Raiders to 10 points in the second half.
Minster, OH – The first words out of Minster coach Mike McClurg's mouth following Tuesday's 46-27 win over visiting Russia were……
"I didn't think we played very well,"  said McClurg, who saw his Wildcats improve to 8-3 overall, while undefeated (4-0) in Midwest Athletic Conference play.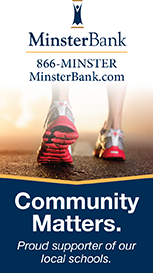 "Let me rephrase that,"  he added.  "Offensively, I didn't think we played very well.  But defensively we were really good in the second half.  We held them to ten points…and five of those came at the end.  But I thought we could have done a lot of things better on offense."
He probably spoke the facts, because the 'Cats were sloppy from time to time, turned the ball over more than they should have, and in general looked like a team playing a non-conference opponent on a Tuesday night.  When you play 22 of them every game is not always going to be emotionally charged.
But the one thing he spoke that speaks volumes was…the defense played well all night long, and brilliantly in the second half when IT DID hold Russia (4-9) to just ten points in the final sixteen minutes.
The Raiders started out well, trailing by just 10-8 after the first quarter thanks to the spreading of the wealth between Zane Shappie, Jonathan Bell, Hayden Quinter and Ben Bohman.  They each scored while pestering Minster's size in the paint with the Nixon brothers, Justin and Johnny.
And ironic as it sounds, those four would duplicate their scoring in the second quarter while Minster tried to find some rhythm with its own offense – turnovers – and the inability to cash in at the rim.  Senior Justin Nixon would finish the half with just 4 points;  while junior brother Johnny would not score at all.
Teammate Bryan Falk, however, had other ideas.  Falk would can a pair of three-pointers to help give Minster a slim three point lead midway through the second quarter…before stepping in front of a Russia pass a midcourt and taking it all the way to the rim for an uncontested dunk, his first of the season.
That dunk lit a spark that ignited Minster on an 8-2 run to finish the first half with a halftime lead, 25-17.
"It felt like we should have been winning by more than we were,"  said McClurg.  "The dunk was nice because we've been trying to get him one all year and he finally got it on a breakaway.
"But at the same time you credit Russia for playing pretty good defense.  They've got some nice players, they're well-coached, and they do stuff the right way.  It was hard for us to pull away."
But Russia would continue to have offensive issues of its own.  Mainly, the rim shrunk in the second half.  In the meantime Minster came out and went on another 8-2 run to start the third period, built a 33-19 lead, and finally settled into a more consistent effort on both ends.  Josh Niekamp would come alive to score 7 in the quarter on a 'three' and pair of buckets, and the 'Cats finished the quarter with a 15-3 margin to lead, 40-20.
Russia shooting woes did not go away in the fourth, but Minster's issues with sloppy play and inconsistency on offense would continue, as well.  Only three 'Cats would score – Brady Hoelscher (2), Johnny Nixon (2), and Justin Nixon would score the other 2 to finish the night with a quiet 8 points.
Final…..Minster 46, Russia 27.
"It would surprise me if we shot more than 28%,"  said Raiders coach Dave Borchers, exhaling a long sigh.  "We're a young team and we need to be a bit more mentally tough.  We've got some good young players, and we're not going to be perfect – nobody is.  We're going to make mistakes and have nights when shots don't go in.
"But we have to do a better job of cutting that off and being tough enough to run the offense the way we want, run it right, and get the shots we want for our team.  And that's all there is to it.  They played good pressure on us tonight, they were physical, but we've got to be tough enough to play through that.  As it was they forced us to run our offense out farther than we wanted.  We've got to play more consistently, and that's a maturity thing."
Another Irony…Bryan Falk, after his slam and scoring 13 first half points – would not score again, but still led Minster with those 13 points.  Justin Nixon finished with 8, Niekamp had 8, Hoelscher had 8, and Eric Schmidt and Johnny wrapped it up with 4 points each.
Russia's Zane Shappie would lead the Raiders with 8 points, while Jonathan Bell had 6, Ben Bohman had 5, Hayden Quinter had 4, and Austin Cordonnier had 3 points.
Still undefeated in MAC play, Minster is in the middle of a tough run of games and McClurg would hope that Tuesday was not an omen for when they host New Knoxville on Friday night.
"I don't know, we had tough weekend against Parkway (a 59-47 win ) and Fort Loramie (a 35-34 win) and that might be part of it.  But I thought we settled down to play better in the second half.  It was still sloppy, but we were getting more of the shots we wanted, unlike the first half.  We know what those are, and that's not what we were doing in the first half."
Still, you can't fault too much a team whose defense holds anyone to just ten points for a half. Offense, they say, comes and goes.
Defense…always plays!