He bowls and he plays baseball, and does one better than the other.  But the reason his coaches and people around him root for New Bremen sophomore Maverick Nelson is…he's just a good guy, and a rapidly improving bowler.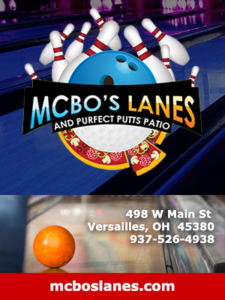 Fort Recovery, OH –  Admittedly, it was the name – Maverick Nelson – that first attracted my attention, not his bowling.
'Maverick'?  In all my years of writing sports I've only known but one other – Maverick Prine – who played baseball for the University of Dayton a few years ago.  That's it…just Maverick Prine, and now Maverick Nelson.
But…for the sake of bowling, the New Bremen sophomore did more than his part to tip the scales in favor of the Cardinals on Saturday morning, as they finished a thousand pins ahead of Parkway in weekly MAC competition, hosted by small, and pristine, Miracle Lanes in Fort Recovery.
In individual competition Nelson rolled a 238 and a 211, which improves his current average of 202…and lends to anticipation that the Cardinals, with Nelson and teammate Nick Alig, collectively, will be anchor enough to push them beyond the post-season preliminary rounds of the OHSAA tournament and on to the state competition in Columbus.
He's 5'4″ and 130 pounds by his own estimate, and when I sat down to learn more about Maverick Nelson's story the first, and obvious, question was…how he got the name Maverick.  Did his dad (Tom) have an obsession with old westerns, or James Garner, who played Bret Maverick on the long-running series from the 60s?
"Everyone believes that it came from the Top Gun movie, but actually my name came from one of those books on boys names," he said with a grin.  "My dad and mom (Mindy) were looking for names before I was born, they found Maverick in a book, and my mom really liked it.  So I became Maverick Nelson."
And how does he like the name Maverick?
"Oh, I love it."
He's bold since he was old enough to walk, following the steps of his father, who Nelson claims taught him everything he knows about bowling.
"I've bowled probably since kindergarten,"  he claims.  "And I've always admired him.  He bowls 200+ for average, and I'm getting close to that, myself.  I think because I've grown up around him doing it…its helped me love bowling.  I also play baseball at New Bremen, and I like both sports, but I'm better at bowling.  Bowling gives me focus, and I like to focus.  It helps my mind, because it can be strategic.  I like to think things out, and I'm a very competitive person.  Everything I do there's also some kind of competitive aspect to it."
And he's in a good place with New Bremen bowling, coached by Brian Alig, the proprietor of the town's bowling center (www.speedwaylanes.com), with teammates like Spencer and Nick Alig, both exceptional for their age.  Spencer graduated last spring, but Nick is back as a junior this year as a co-anchor of the team currently at the top of the MAC standings.
"They're good guys and good bowlers,"  says Nelson, speaking of the Alig brothers.  "They're good mentors, too, and someone I look up to.  When Spencer went to state last year everyone in the school realized it, and that was cool because people are beginning to recognize bowling.  I want to get to that place myself.  That would be amazing."
His coach acknowledges that bowling and Nelson have been a good fit for each other.
"It's always been his thing growing up,"  says Alig. "His dad worked at the bowling alley and Maverick's been around bowling since he was born, pretty much like my own kids.  He's very competitive, he doesn't like to lose, and he's very hard on himself if he doesn't do the things he knows he's capable of doing.  If he misses an easy spare he really takes it hard, like it should be automatic.
"The best thing about him this year is his learning to become a leader.  Last year's we graduated three four-year starters, so this year because he's one of the best returning bowlers we've told him he has to share in taking over team leadership – he and Nick (Alig) – and bring along the rest of the team…and understand that he can't do it all by yourself.  So his competitive spirit is helping him become a leader in the right way.  All he needs to do now is become more consistent.  He could easily average 15 pins higher, in the 215-220 range, and if he can do that we're very close to becoming the team we want to be.  We missed making state by 51 pins last year, and the kids know that it takes five, six, or seven guys to do it.  It's not just a two-man team."
He plays baseball for coach and athletic director Chad Wells, who admits, like Nelson, that bowling might just be his ticket to competitive self-fulfillment.
"But the best thing about him is he's just a super kid,"  says Wells.  "He's always willing to help and he takes responsibility for doing anything he does the right way.  He was one of our managers on the football team last year, and a big part of team because he is a very competitive person, he thinks ahead of things, and he takes pride in everything he does.  He's a joy to have around."
His professional role model in bowling is a guy named Kyle Troup, from Taylorsville, North Carolina, who's known for his hair and those wild outfits he wears in competition on the PBA tour.
"I wish I had hair like his,"  Maverick laughs.  "I met him at the Coldwater tournament once and he's been my favorite bowler since that time."
But outside of a curly perm like Troup's, his immediate goals between now and the end of February are to help get his team to the state tournament.
"We got so close last year, so this year we're really pushing for that.  This year I think we've got a better shot at it and I'd be very happy if we got to state – team or individually – but I'd be happier if we got there as a team."
They could do it, especially if Maverick Nelson can add 15 pins to his average.
"I was happy with the way I bowled today,"  he admitted.  "I wish my second game had been better, but I'll take it.  I'll go home and tell my dad.  He'll be happy to hear."
Pretty much everyone's happy, it sounds…when Maverick Nelson is around.