They had just enough healthy bodies to play, and leaned on the experience and contributions of Jalen Crutcher and Ibi Watson to pull away at the end…and make a win over George Mason look easier than it actually was.
DAYTON — If the University of Dayton basketball teams comes up with many more injuries or defections, the Flyers may eventually leave the locker room on crutches with somebody playing the fyffe and somebody else playing the drum.
The team mascot, UD Rudy Flyer, may find himself playing point guard.
The Flyers barely had a basketball quorum late Saturday afternoon for a date with George Mason University in UD Arena.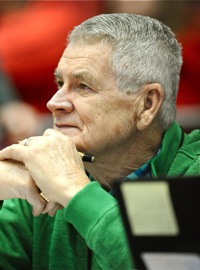 That the Flyers pulled out a 74-65 victory is a testament to the fortitude of the two remaining team veterans, Jalen Crutcher and Ibi Watson.
Both played the entire 40 minutes and combined for 42 points — a career-best 26 by Crutcher and 16 by Watson. The two guards made 15 of their 23 shots and 7 of 12 three-pointers.
The energetic but exhaustive playing time was necessary, again, because starter Rodney Chatman was unavailable due to a hip injury.
Chatman joins Dwayne Cohill, Elijah Weaver, R.J. Blakney and Luke Frazier on the can-not-play list. And the Flyers lost starter Chase Johnson before their previous game when he left the program for health reasons.

That meant freshman Koby Brea made his first start and freshman Zimi Nworkeji was given 25 minutes of playing time.
In addition to the extensive need for medication, bandages and salve, the Flyers were playing with chips on their shoulders. That's because on Wednesday they suffered an embarrassing home defeat to La Salle.
And it didn't look good with a little less than eight minutes left. Mason led by five, 58-53. This was after UD fiddle-faddled away a 41-29 lead 30 seconds into the second half.
Zimi Nwokeji only made two of his seven shots, but Crutcher found him loose in the left corner and he plunked home a triple to pull the Flyers within one, 59-58, with 5:40 to play.
"That pass Crutcher made, when he threw it to Zimi in the corner for three was a big pass," said coach Anthony Grant. "When the ball was in his hands, Jalen did a great job of making decisions."
It was 61-61 with four minutes on the clock when during a timeout Grant heard in the huddle what he wanted to hear.
"It was great to hear the guys talk about the need to make plays on the defensive end in that final segment of the game," said Grant.
And that's when Crutcher hit the 'Total Control Button.' He penetrated and found Jordy Tshimanga loose under the hoop for a basket. Crutcher then found Watson with a zip-line pass and a basket that gave the Flyers a 65-63 lead with 2:15 left.
Freshman Mustapha Amzil, who had 15 points to go with the 22 he scored in his UD debut against La Salle, snagged a missed shot, one of his six rebounds.
This time Crutcher took it himself, a drive down the lane at 1:20 to give the Flyers a 67-63 lead.
After Watson drove the base-line for a stuff, Crutcher was fouled…and George Mason coach Dave Paulsen decided he'd seen enough.
He was called for a technical foul and Crutcher made both to give the Flyers a 71-65 lead with 12 seconds left. Just to get his money's worth, when Crutcher was fouled again, Paulsen howled enough to get another technical and an ejection.
Crutcher made three of the four free throws to make the 74-65 victory look much easier than it actually was.
"I didn't want to be in the situation we've been in all year, winning or losing on the last shot," he said. "So I wanted to go to the free throw line and make as many as I could."
Of Crutcher taking over the game in the waning minutes, Grant said with gross understatement, "Jalen is a great player, man. He has done that his whole career.
"He knew tonight we needed him to be that leader for us," Grant added. "He did a great job of making plays throughout the game for himself and for his teammates."
Crutcher, who made all six shots he took in the first half en route to 14 of his 26, said the Flyers were distressed after the loss to La Salle. And he felt it was necessary for him to shoulder a bigger burden.
"The way they were playing defense on me, they weren't aggressive at all," said Crutcher. "So I was taking what the defense gave me. When they got aggressive, that's when I found my teammates."
While Crutcher scored 12 more points in the second half, he add four more assists to the three he had in the first half.
Crutcher said the use of Brea and Nwokeji, out of necessity, and for the team to win was a mammoth plus.
"We're going to need everybody on the roster this year because you never know what might happen, just like all last week when people got hurt," said Crutcher. "That's a good sign."
Nwokeji had seven points and tied Amzil for team-high rebounds with six. Brea played 20 minutes and didn't score, contributing two rebounds and two assists.
All the bits and pieces were necessary to help the Flyers level their Atlantic-10 record to 1-and-1 and drop Mason to 1-and-1.
Crutcher, of course, is working this season without Obi Toppin, the recipient of his passes for monster dunks and flamboyant flushes. That option no longer exists, but it hasn't slowed Crutcher.
"I can't go back in time. I can't put Obi out there on the court," said Crutcher, who still talks to Toppin every day. "So I just have to work with what I have on the court. I try to make the best passes I can that my guys can catch. We work on it in practice every day and we're getting better."
Crutcher, too, was aware that as the leader of the pack, he had to step it up a bit with all the absentees from the roster.
"Yeah, of course," he said. "Since Rodney Chatman went down, I had to step up a little bit more than I have been. I tried to be aggressive from the beginning to the end."
After making only 4 0f 17 three-pointers in the discouraging loss to La Salle, the Flyers hit 12 of 25 Wednesday. Ibi Watson, 0 for 3 on treys against La Salle, was 4 for 5 against Mason.
"We're not going to shoot that well every night, but when we defend and rebound, we give ourselves a good chance to win," said Watson. The Flyers out-rebounded Mason, a good rebounding team, 30-25.
"We all took the loss to La Salle real personally, especially myself," Watson added. "You have to understand that the shots are going to fall, but some nights they won't. You have to move on and stay confident."
After dumping one to La Salle, the Flyers retrieved a dose of confidence against Mason and cart that off to New York Wednesday to face Fordham.