Oklahoma transfer finally shows public why he's special by running for team single-game record 331 yards and two touchdowns on 29 carries; Hilliard has interception and fumble recovery and Proctor an interception in Buckeyes' win over Northwestern.
Columbus – Through the first five games of the season, the limited book on Trey Sermon was that he was an adequate change of pace running back behind Master Teague and not much more.
He came to Ohio State from Oklahoma by transfer with the reputation of being elusive, speedy and a game-breaker.
Sermon also came in as damaged goods in that he missed all but four games in 2019 because of a knee injury that required surgery.
On the Big Ten's biggest stage on Saturday, the senior put on his best Tim Biakabutuka impersonation – only scarlet and gray style – after Teague got nicked up and when the Northwestern defense was shutting down the passing game.
Sermon wiped Eddie George out of the Buckeyes record book in running for a team single-game record 331 yards and two touchdowns on 29 carries in leading a 22-10 victory over Northwestern at Lucas Oil Stadium in Indianapolis.
His total was 271 yards rushing in the second half.
"I was able to get into a groove and keep it rolling,'' Sermon said. "My teammates made it easier for me. It was amazing, man. Those guys (offensive linemen) played their tails off.''
The defense came through in a huge way with linebacker Justin Hilliard intercepting a pass in the end zone and recovering a fumble and safety Josh Proctor intercepting a pass.
Ohio State (6-0) smiled for the cameras in winning its fourth straight conference championship, but now will fidget until the College Football Playoff committee announces on Sunday the four teams with the golden tickets into the semifinals.
Will the Buckeyes be dinged for not running over the No. 14 team in the country?
Or will the committee be impressed by a team that didn't have No. 1 receiver Chris Olave, linebacker Baron Browning, defensive lineman Tyler Friday, safety Marcus Hooker and punter Drue Chrisman because of positive tests for COVID-19 and/or contact tracing?
The team also played without receivers coach Brian Hartline and linebackers coach Al Washington Jr.
"I will tell you this, if you had to win one game I'd take the Ohio State Buckeyes,'' second-year coach Ryan Day said.
This game bore resemblance to last season's Big Ten title game win over Wisconsin and a loss to Clemson in the CFP semifinal in that Ohio State got bogged down in the red zone, had ill-timed penalties and had loads of missed assignments.
Keep in mind, though, that this was the Buckeyes second game in four weeks.
The bungling began on the first drive of the game when a 7-yard touchdown run by quarterback Justin Fields was nullified by a holding penalty on left guard Harry Miller.
A 42-yard field goal by Blake Haubeil with 6:34 remaining in the quarter was not what a team that has an 8-minute, 26-second drive wants in the end.
Northwestern showed that it was game on in zooming 75 yards in seven plays for a 9-yard touchdown run by freshman Cam Porter of Cincinnati St. Xavier High School.
It took a shade more than 2 ½ minutes for the Wildcats to cut through the defense. The big play was a 34-yard run to the 9 by quarterback Peyton Ramsey.
The deficit grew to 10-3 after a 49-yard field goal by Charlie Kuhbander with 8:46 left in the second quarter. The 14-play drive ate up six minutes on the clock.
The Buckeyes closed to 10-6 on a 43-yard field goal by Haubeil with 5:23 remaining before halftime.
The last first-half breakdown by Ohio State came when Northwestern defensive back Brandon Joseph intercepted with one hand in the right rear corner of the end zone in the final seconds after a march down the field.
Whatever went on inside the locker room was, well, like a vaccine.
"Our coaches came in and said we were really stopping ourselves,'' Sermon said.
Hilliard said, "We had to settle down and play the ball we know we can play.''
Just like the Indiana game, when he was intercepted three times, Fields wasn't himself in completing 12 of 27 passes for 114 yards and two interceptions. One pick was the fault of sophomore receiver Jameson Williams when he cut up the field on a down-and-out pattern.
Before any comeback could be considered, the defense had to step up when Northwestern drove to the 9 on its first possession of the third quarter.
That's when Hilliard got in front of tight end John Raine in the end zone and intercepted.
"That whole play was something we practiced,'' Hilliard said. "I was ready for him to run that fade and ready to make that play.''
The Buckeyes gave the ball right back when Williams ran the wrong route and defensive back Cameron Mitchell intercepted at the Northwestern 49-yard line.
The frustration continued to mount when Haubeil was wide-left with a 42-yard field goal with 7:27 left in the third quarter.
Ohio State got a break when Kuhbander, who had converted 9 of 11 field goals for the season, was wide-right on a 46-yard attempt on the following possession.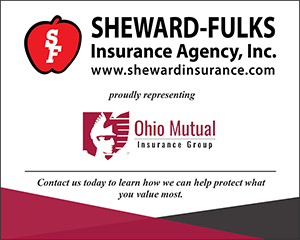 Then, finally, the Buckeyes offense showed some kick, and it was Sermon doing the high-stepping with runs of 5, 6, 33 and a 9-yard score that provided a 13-10 lead with 2:41 left in the quarter.
The drive was a meatgrinder with seven running plays.
Center Josh Myers told teammates going into the game that they scaled tall buildings before.
"The point I made was that so many things have been taken away from us, but we're still here,'' Myers said.
It was just the start of Sermon's breakout game.
"When I am in a zone for me personally, it feels like everything slows down,'' he said.
Asked what kept his mind into things when he had some so-so games, he quickly answered.
"They were just telling me to keep fighting,'' Sermon said of the coaches. "They brought me here for a reason. It was just trusting my coaches and trusting my teammates.''
Hilliard came to the rescue again when he recovered a fumble caused when linebacker Pete Werner jostled the ball from Ramsey at the Northwestern 40 with 14:26 to play.
A 28-yard run by Sermon got the ball to the 12 and a 7-yard run by Fields took it to the 6, but the Buckeyes settled for a 26-yard field goal by Haubeil with 12:07 left.
By then, the defense was teeing off on the Wildcats. Lineman Haskell Garrett ended the next set of downs with a 4-yard sack on third down.
The stop allowed the offense to go for the knockout, and it responded with a nine-play, 80-yard drive that ended with Sermon running for a 3-yard touchdown with 4:03 remaining for a 22-10 lead.
Sermon was direly needed with Teague out and Fields playing with what he thinks is a sprained right thumb.
He responded with big runs of 21, 65, 33, 28, 25, 22 and 23 yards. He had five other runs of 7 to 9 yards.
"He ran hard,'' Day said of Sermon. "The offensive line played unbelievable. The tight ends played really hard. He ran with a different look in his eye. When you come off an injury, it takes a little while to get into a rhythm. With Master down, he just stepped up in a big, big way.''
At one point, the coaching staff didn't know what it had in Sermon.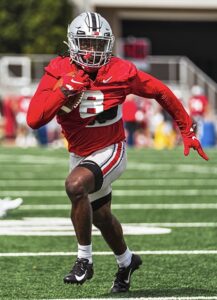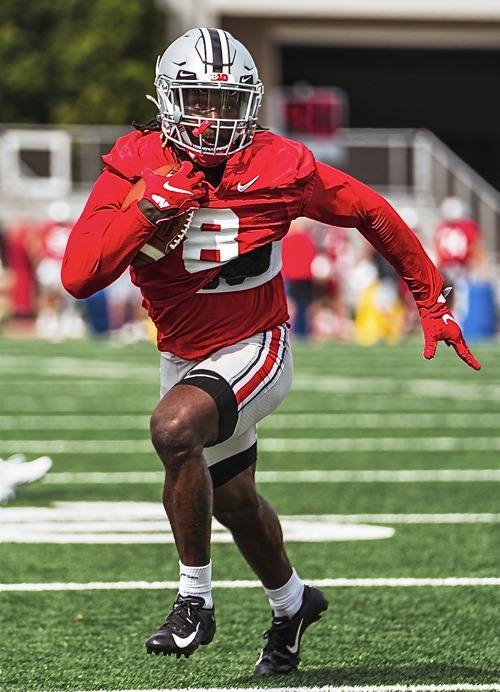 "I'm really happy for him,'' Day said. "This was another guy who overcame adversity. There was a time probably after week two and three we weren't really sure what was going on. Maybe not hitting the hole. Maybe not having confidence. We didn't know Trey. We didn't know what we had there.''
Fields doesn't know when the injury occurred, but speculates it might have happened on the 7-yard scramble early in the fourth quarter when he put the right hand down to keep the play going.
"It's pretty stiff right now,'' Fields said. "I can't really move it. I told Coach that I really couldn't throw the ball.''
Trainers wrapped the thumb and wrist in K-tape.
Sermon might as well have wrapped the Wildcats defense in K-tape.
Day had nothing but positives. He said he knew this had the potential to be a game having to be won on grit.
"I'll tell you what, this team is one of my favorite teams to be around,'' Day said. "Maybe not because of what's going on all the time on the field, but more importantly because this team is just so tough. They've been through so much and they just don't flinch. I cannot give this team enough credit.''