They weren't vintage.  Or were they?  Buckeyes show a lot of gut and mettle, and a record-breaking performance at running back, to win Big Ten Championship over Northwestern.
Columbus – It took a long time for fans of No. 4 Ohio State to exhale Saturday.
The Buckeyes hit plenty of hurdles en route to their fourth consecutive Big Ten title, with No. 14 Northwestern hanging around until well into the final quarter of play.
But with a dazzling performance from senior running back Trey Sermon and a stout second half from the defense, Ohio State gave itself a good shot at a College Football Playoff berth. Here are the game's biggest takeaways:
Backend backfire and turnaround
Through Big Ten championship week, Ohio State's secondary is still a major problem at times.
Redshirt sophomore safety Marcus Hooker was out Saturday, but he wasn't a star for the defensive backfield in the first place. Northwestern senior quarterback Peyton Ramsey completed 10 of his first 11 passes and found ample space on the ground to run.
After then-No. 9 Indiana shredded the Buckeyes for 491 yards through the air against press-man schemes, it seems as though Ohio State overcorrected in backing off.
Corners were often aligned nine yards off receivers and failed to press up at any point in opposing players' routes. On a third-and-7 at its own 20, Northwestern completed a pass roughly 15 yards down the left side of the field against Ohio State's defense and no defender was within five yards. The play ended as a 22-yard gain.
The Wildcats converted a third-and-12 later in the same quarter on an 18-yard pitch-and-catch that looked identical.
"I'd have to watch the film but I felt like guys were running to the ball maybe too much, to where we were over-running certain things," redshirt senior linebacker Justin Hilliard said. 
Adjustments were made in the second half.
Northwestern converted a pair of third-and-longs to march into Ohio State's red zone early in the third quarter, but Hilliard removed points from the Wildcats' scoreboard with an end zone interception and Northwestern failed to score the rest of the game.
"The effort was there. I think it was just a matter of fact that we've just gotta settle down, just play the ball that we know we can," Hilliard said. 
Defensive tackles Tommy Togiai and Haskell Garrett sealed the middle of the line and the Buckeyes' front seven began to pressure Ramsey. Wide receivers had less space on the edges.
On a crucial third-and-6 in a one-possession fourth-quarter game, Garrett got home for a sack to finally place Northwestern on the ropes after a punt.
Overall the defensive returns were mixed for Ohio State after a strong 25 minutes of football to close. Should it make the College Football Playoff, more tweaking will need done to compete against the nation's best teams.
A Formula for Fields?
Statistically, star junior quarterback Justin Fields played the worst game of his Ohio State career against Northwestern.
He finished 12-for-27 with 114 yards, no touchdowns and two interceptions.
What did the Wildcats do to neutralize the 2019 Heisman Trophy finalist and two-time Big Ten Offensive Player of the Year? Exactly what Indiana did earlier this season when it forced three picks from the Georgia native.
The biggest flaw in Fields' game is his tendency to hold the ball too long in the pocket waiting for a big play to break downfield.
As a defense, the solution then is this: play soft zones to take away the big plays and mix in zone blitzes to confuse and disorient.
Fields did suffer a late-game thumb injury, but it wasn't a factor for a majority of his throws against Northwestern.
"Northwestern did a great job on defense," Fields said. "They're a sound defense. They did a great job doing their jobs. But it's really on me to be honest with you. I wish I could say that they just had it locked down, but again I have to be a lot better. And that's that."
Fields added his health should be 100 percent within a few days.
With every hitch searching for an open target, Northwestern's defensive line edge closer to Fields. Multiple first half sacks pushed the Buckeyes out of scoring range.
He threw his first of two interceptions in the game on a forced fade route to sophomore wide receiver Garrett Wilson, an underthrown pass placed on the wrong shoulder. Redshirt freshman cornerback Brandon Joseph made a spectacular one-handed catch for the takeaway.
Ohio State entered the game converting 53.6% of third downs on the season, No. 5 in America, mostly due to Fields' arm. It finished 4-for-11. At one point Fields went on a cold stretch of 4-for-17 passing.
Such performances passing are an anomaly, and with a return from junior wide receiver Chris Olave and a surging run game, there may be less cause for concern come future postseason play. But Indiana and Northwestern showed a formula to slow Fields down.
Sermon Saves the Day
Fields' porous performance was required for Northwestern's defense to hold the Ohio State offense at bay, Sermon had a Big Ten title game to remember.
With 29 carries for 331 yards and two touchdowns, he set an Ohio State and Big Ten championship single game rushing record.
That's 11.4 yards per carry, for those not interested in math.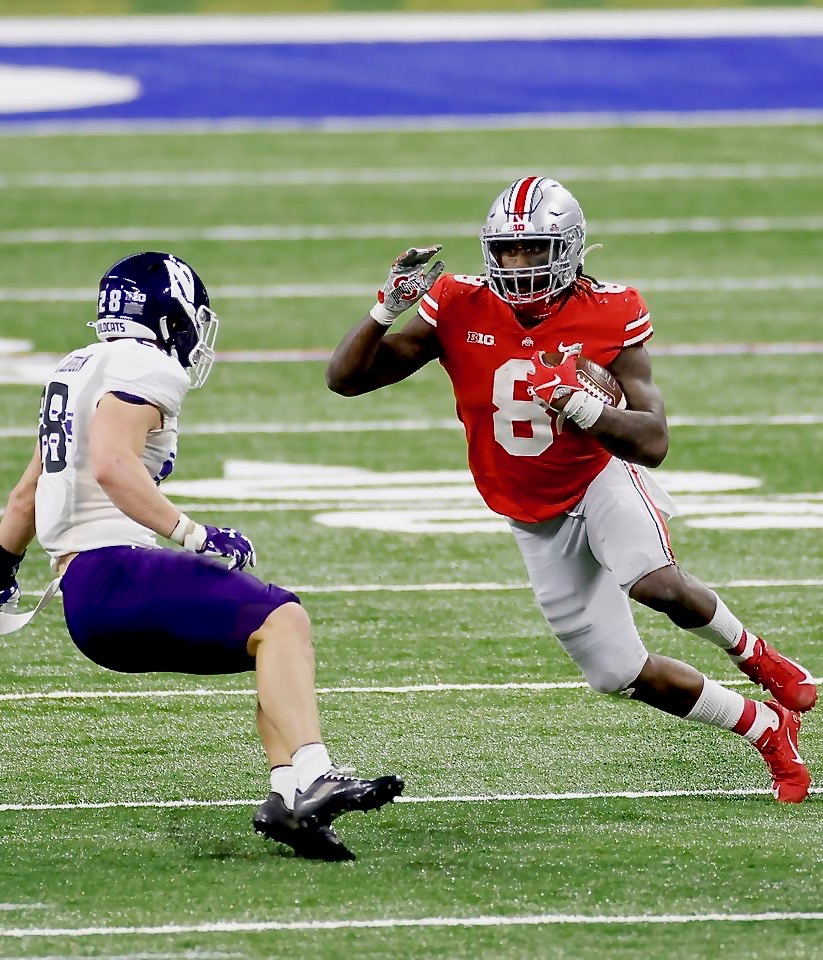 Sermon ran far better this week than in his previous games for the Buckeyes, which Ohio State head coach Ryan Day noted may be because he entered this season off an ailment.
"He ran with a different look in his eye," Day said. "And sometimes when you come off of an injury, it takes a little while to get into a rhythm. Master went down and he stepped up in a big way, and I'm really happy for him."
It took 15 carries for Sermon to accumulate 200 yards.
15 carries.
The Oklahoma transfer broke his fair share of tackles but one doesn't rattle off yards at that clip unless the offensive line in front of him is moving bodies around, which the Buckeyes' front five absolutely did against Northwestern.
"It was amazing, man. Those guys played their tails off," Sermon said. "They fought hard from start to finish. I'm just grateful. They made my job easy."
Sermon seemed to find success wherever given the ball. Pitches, inside handoffs, outside handoffs, it didn't matter.
Against the No. 21 rush defense in the country, Sermon rattled off six runs of at least 20 yards and only four of his attempts went for less than five. One of those was a three-yard scoring run.
With potential national championship competition on the horizon, Sermon is surging at the right time and almost certainly earned a role as Ohio State's feature back, rather than splitting the role with redshirt sophomore Master Teague.
"Trey had a lot of explosive runs out there," Fields said. "He played his ass off. He did a great job today. I think when you have a player that's in a rhythm like that, you just have to keep feeding him the ball."