They started like a house afire, only to have that fire doused a couple of times.  But Marion Local found enough offense when challenged to turn back Coldwater in MAC girls basketball.
Maria Stein, OH – Marion coach Beth Streib closed her eyes afterwards and tried to summon the right words to describe her team's 47-35 win over the 1-5 Coldwater Cavaliers.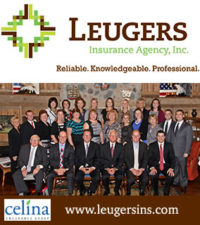 "It was ugly,"  said Streib, mincing no words.  "We had to overcome some adversity, but we did.  We got out to s good lead, lost it, and had to hit some key buckets at key times when they cut it to five (in the second half).  But we did."
That sums up most of Marion Local's (5-2) Thursday win, one that saw the Flyers cruise out to a 20-10 first quarter lead…then score exactly 6 in the second quarter, while holding Coldwater to 4.
Lack of flow, lack of continuity, and to be accurate/..the lack of sophomore Lindsey Koenig, who sustained an appendectomy earlier in the day.  But from 20-10 to 6-4, in one quarter?  They turned to everything before it was over, even to playing a bit of zone in the second half.
"They've got a really nice post player in Riley Rismiller and we don't play much 2-3 zone, but we thought we would tonight to help slow her down,"  added Streib.  "They never quit, and those two post players (Rismiller and Annelise Harlamert) got 30 of their 35 points tonight.  We could have played better, but sometimes you take what you can take."
Rismiller would end up with 19 points, negated by Marion's Sammy Hoelscher's 20, but those twenty came with a lot of effort and a lot of shots.
Harlamert would finish with 10 for Coldwater, but her 10 were negated by Marion's Alana Pohlman.
So the difference, and some of those key shots at key times, were made up by Marion's Heidi Rethman, whose 12 points provided the cushion for the Flyers – six in the first half, and six in the second.
"We just had better ball movement and attacked the rim better in the first quarter,"  shrugged Streib, searching for words to describe the drastic dropoff thereafter.  "We had some good shots in the second quarter…we just didn't finish."
Leading 26-14 to start the second half, they didn't start in the third quarter, allowing Coldwater a 9-2 run that eventually cut the Marion lead to five points, 28-23.   But Pohlman, who scored just 4 points in the first 16 minutes, came on to score 6 in the span of four minutes in the third quarter to match Riley Rismiller, who scored a third of her 19 points in that eight minute span.
Marion would hold on to outscore the Cavaliers 9-8 in the final quarter.
Clearly, it was a case of on again, off again Flyers, who entered the game averaging 55 points a game.

"Sometimes things just happen,"  said Streib.  "Treva (Fortkamp) has always said you have to have luck to win some games.  That's for sure."
Rismiller and Harlamert actually accounted for 29 of Coldwater's 35 points.  Courtney May had 3, Bria Dues had 2, and Kelci Siefring had 1 to account for their additional 6 points.
Hoelscher's 20 would claim game-high honors for Marion, while Rethman (12), and Pohlman (10) joined her in double figures.  Molly Winner had 3 and Abby Moorman finished with 2.
And yet, this is a Marion team that portends better, and good things between now and the first of February.
"We have three legitimate scorers…four on nights when Molly Winner hits…but we have a ways to go yet,"  said Streib.  "We need to gel better.  We need to figure out our rotations – who can play with who – and we don't always make the smartest decisions.  Offensively we have the scorers to be balanced, and tonight Molly played physical against Rismiller, and sometimes that's just as important as scoring."
"We can compete for the league,"  assured Treva Fortkamp with a laugh as she headed for home.  Fortkamp is the former state champion coach at Marion who now serves as Streib's assistant.
"We can compete with Minster.  We just have to get some heads screwed on straight."
On again, off again as they were Thursday…more than made her point.