Marooned in the workout facilities beneath Bill Davis Stadium, Ohio State coach Greg Beals and Buckeye baseball waits for some kind of 2021 baseball season.  And they aren't asking for much – just to play!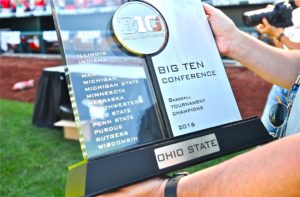 Columbus, OH – Typically, Ohio State baseball coach Greg Beals is an elegant interview on the topic of college baseball, and of course, Buckeye baseball.  There's nothing you can ask that he won't address candidly, and with his flair for expressing the scarlet and gray side of things. Like most in his business, he's very accomplished with the company line.
But when we talked with him recently to get to the bottom of the college baseball – Ohio State baseball – for 2021, Beals sounded like the rest of the NCAA sports holiday landscape.
He talked in terms of day to day, no guarantees, and the disconcerting fact that there's not even much discussion about college baseball at this point…by anyone, anywhere.
But he was hopeful, like we all are, to a return of at least some normalcy come spring.  Disappointed with what's an almost sure-to-be limited schedule for 2021, he nonetheless expressed optimism for the glass being at least half full.
And, armed with the most talented roster he's had in his eleven seasons as coach of the Buckeyes – and a pitching staff the likely envy of the Big Ten – he was fired up to play, to compete…however, wherever, and whenever.
If you didn't notice, there was no college baseball to speak of in 2020. The Buckeyes played just sixteen games during their four-week southern pre-Big Ten schedule in Florida and Georgia, and finished under .500 (6-8).
"We were just beginning to play better in that final week in Florida," says Beals. "Dillon Dingler was beginning to hit, show the kind of power that he was capable of…and we had some young pitchers like Mitch Milheim show what he could have been had we played a full Big Ten season. It's disappointing that we didn't get to see more."
It's still disappointing, given that the 2021 season and what it might portend is still no guarantee to anyone under the NCAA brand.
"Right now the plan is to play 39 or 40 games against conference teams only, about 70% of the regular season, and everyone would have a bye week," says Beals. "We would start March 12 and play most of the Big Ten teams. There is still discussion as to whether we play a conference tournament, or not.  The thought is that if we don't play a conference tourney (with the top eight teams) more teams can play more conference games, which is good for the league, overall. It would guarantee everyone in the conference four more games – 44 games.
"But I personally like the idea of the tournament because of the environment and the experience. That's pretty special to the young men who play and I'd hate to see teams miss out on that.  There is a contract to be considered with Omaha because of the commitment, and I'm not sure about the details – what it means, the buyout, or any penalty. But I think if we could get some leeway this year there would be support for extending the terms of the contract. "
There are a lot of things being discussed relative to college baseball in 2021, and relative to the loss of the first four weeks of warm weather travel baseball (February and March).  And in the case of the Big Ten, there's support and discussion for starting the season later and playing in the summer, with league and NCAA tournaments culminating in July.
"I'm not reluctant to give up February if we could start the season later and it give us more time to prepare our players physically," adds Beals. "As it is, we come back to school in January and have a few short weeks to train and get pitchers ready to throw 80 pitches for that first weekend in Florida.
"I think if you look at the major league situation last summer…you see the number of injuries they had when they decided they were going to play in July and had three weeks to get ready. I think if we could start later in the March, and play through April, May, and June that would be advantageous. The Big Ten Conference has a proposal for that out there presently that's being looked at.
"We're lobbying for votes, essentially, but it makes sense because when we played at Georgia Tech last February we played them at 4 pm in 50 degree weather (and colder when the sun went down)…and there was no one in the stands. Ohio State and Georgia Tech should draw 5,000 people, if not more. And if we're playing the last week of March and it's 20 degrees warmer that's revenue that Georgia Tech could be getting…and it would save the northern teams expense. It allows us to play more home games in better weather and have more revenue opportunities, as well."
But if and when they do play there's no question in his mind that the Buckeyes are as deep, and talented as they've been at any point during his time as coach – the combination of what amounts to two freshman classes of developing prospects, an experienced infield and catching situation, and a dominating weekend rotation of starting pitchers.
"If we were playing today I'd feel very good about Conner Pohl at first, Nate Karaffa (freshman centerfield last year) returning to the infield at second, Zach Dezenzo at shortstop, Nick Erwin at third, and experience with an alternating situation with catching and designated hitter in Brent Todys and Archer Brookman. In the outfield we have experience with Nolan Clegg (third year sophomore), Mitchell Okuley, Sam Wilson, Aaron Hughes, and at least one of this year's freshmen who could make an immediate impact.
"In addition, we have a guy like Marcus Ernst, who's experienced, talented at different positions, and just gives us that maturity and confidence that you need on a baseball team."
But it's the pitching, a coveted collection of arms that actually benefited while not playing last spring and summer, that has Beals up in the bit, and the rest of the Big Ten acknowledging that they might be the Buckeyes' most formidable asset in 2021.
"We want to play as much as possible because we have the pitching – the depth on the mound," smiles Beals. "Our starting pitching's strong (Seth Lonsway, Garrett Burhenn, and Griffan Smith), but it's our depth that's impressive. We have as many as 15 guys that we're comfortable with pitching conference innings – guys that either have something special or they're capable of throwing 95 mph or higher.
"Nobody's talking about Ethan Hammerburg and Wyatt Loncar, but they're going to throw 95 out of the bullpen,"  he adds.  "T.J. Brock is hitting 99 now. He's figured it out. Bayden Root comes out of the bullpen with that unbelievable slider. And there's a couple of freshman that are ready to pitch. It's exciting because we've challenged these guys during the pandemic – (pitching coaches Dan DeLucia and Brad Goldberg) – to figure out how good they can get just by digging into the bio-mechanics of it. Can we get a little bit more out of our bodies and learn how to repeat mechanics to throw the ball more efficiently? Garrett Burhenn will touch 97 this year. The numbers with these kids are getting ridiculous…but everyone in the major leagues is throwing 100 miles per hour now, especially out of the bullpen.
"I'm sure that same challenge is out there, league-wide, because as excited as we are with our team and our depth, Iowa had nine seniors from last year that will come back. So everyone has depth."
And with that depth there's a downside. There are only so many positions on the field, and likely too many candidates. Those kids that he speaks of…can figure it out.
"That's a great question, and it's extremely real and it's where we're at in college baseball right now," concedes Beals. "It's exciting because there's so much competition, which the baseball guy in me loves. And exciting for the fact that I want to provide the best opportunity possible for these student-athletes.
"But quite simply, I'm going to run out of opportunity for all of them. With additional eligibility there's more guys on the team and just nine positions, so we're bottle-necking a bigger team into those nine spots. So, in the absence of fall baseball there's some hard decisions on the table, and that's a coach's toughest choice – what's best for the team, and what's best for each individual player. It doesn't always balance out and we're foolish as leaders if we don't see that the kids don't see that. They're smart, they know, and periodically we have those conversations where we put it all on the table. It's important for me to give each of them the best information I have so they can put themselves in the best situation possible."
But for now, in December, Beals, his staff, and his program can only work out, wait, and wonder about what the next sixty days might bring.
"We want to play, and play as much as we can," he insists.
How does it all end?  Will they get their holiday wish list?
Who knows?
Everyone in college baseball is sitting at home wishing…for the very same thing!