Minster raised its record to 4-1 against a familiar looking opponent – Wapakoneta – that played tough defense, patient offense, and with a commitment to win.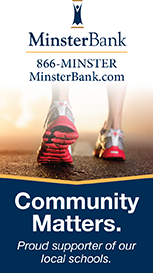 Minster, OH – If there was any question after four games and a 3-1 start whether the Minster Wildcats were as good as their record – as good as their 'sizeable' attributes with Justin and Johnny Nixon;  and tough enough to endure the long road through MAC opponents like Marion Local, St. Henry, Coldwater, and Fort Recovery……?
Mike McClurg's Wildcats (4-1) took steps to answer those questions Saturday night with a hard-earned 49-42 win over Wapakoneta (3-2) – a game that was tied five times and had five lead changes, and wasn't decided until the final minute when Minster sealed things at the free throw line.
They did this against a Wapakoneta team that played grinding man-to-man defense…and effectively limited Wildcat big man Justin Nixon to just ten points and fouled him out of the game with 1:42 left in the fourth quarter.  In fact, it was a defense that looked a lot like you see when you play Jackson Center, a team known for its defense.
In addition, Minster had to play some defense of their own…against a patient motion offense that made the extra pass, set the extra screen, and simply waited for the breakdown and a high percentage look at the rim.  Again, a lot like Jackson Center.
Also reminiscent of Scott Elchert's JC Tigers…Wapak kept up the fight for about 31 minutes and 30 seconds, until forced to foul they sent Minster to the line where Eric Schmidt and Adam Ketner sealed the final four points and insulated their margin of victory.
Yes, there were a lot of familiarities with Jackson Center and Scott Elchert, because the man pushing the buttons on the Wapak bench was an Elchert – Trey Elchert – eldest son of the Tigers' defensive and intensive guru, and Elchert, Jr. has the Redskins playing through five games in a manner that would make Dad proud.
Be patient with the ball on offense? No problem. Wapak worked their way to a 13-9 lead after one quarter by doing just that.
Negate Minster's big weapon?  No problem.  Wapak doubled Minster's Justin Nixon the minute he touched the ball, limiting the 6'5″ big man to just three points for the first half – ten points for the game!
Compete?  Need we write it?  The lead changed hands five times and the margin through 31 minutes of played was never more than five points for either side.  And Wapakoneta's Noah Ambos squeezed in a layup at the buzzer to give the Redskins a 22-21 halftime lead, that frustrating thorn in the side that comes from playing an Elchert team.
"I thought we played with some energy and we tried to be patient with it because they were doubling Justin all the time,"  said Minster's McClurg.  And it was hard for him tonight.  Getting Bryan (Falk) back has been a big help on both ends, Eric (Schmidt) did a nice job of keeping pace with the way he played the point, and Wapak naturally slows it down, too.  So we had to patient."
You would have sworn it was a Jackson Center-Russia game in the third quarter, as the lead changed hands and Minster took the momentum on one of Bryan Falk's three three-pointers for the night.  And yet, the pace.  Wapak made them grind.  Minster scored ten points to the 'Skins 7, and led 31-29 at the end of the period.
Wapak would retake the lead at the outset of the fourth quarter as Kaden Siefring scored 7 of his 11 points for the game in a span of four minutes.
But Minster's Adam Ketner answered off the bench, canning an emotional three-pointer from the deep corner to put Minster back in the driver's seat.
And when Justin Nixon left the court with his fifth foul at 1:42 remaining, there had to be some concern for how they would score in the final stretch – and from whom would the offense come?
Younger brother Johnny answered, with a key bucket.  Brady Hoelscher answered, with a basket of his own.  And Eric Schmidt, whom McClurg had praised for his ability to keep pace with the ebb and flow of the game, added a bucket along with four made free throws in the final two minutes.
Trey Elchert could do nothing but watch and endure, something he'd witnessed all those years and heard about through home schooling in the art of coaching.
"I thought we battled, and our kid competed their butts off,"  he later said outside his locker room.
"Minster's a quality basketball team and they're going to win a lot of games this year.  And credit to them, down the stretch they did everything a good basketball team needs to do.  They took care of the ball, they hit their free throws, and when their best player fouled out they still found a way to win."
His defense and intensity – what we previously outlined – was impressive and dependable, just like Dad would have done it.
"Well, I've gotten a couple of bits of advice in the basement,"  he smiled.  "I thought we executed our game plan.  Obviously you have to force the ball out of Nixon's hands, and we did that.  They had a couple of kids that stepped up and made shots, we lost a couple of their shooters in transition (the Ketner three-pointer), and those are plays we'd like to have back, especially in a close ballgame.  But those are the things we hope to learn from and get better.
"The last two nights have been tough for us – St. Marys was a quality team and Minster's a quality team – so we knew we'd have our hands full this weekend.  But as far as effort, there was never a possession when I felt our kids took a play off.  We battled, and I could not be more pleased."
Bryan Falk, who returned Friday from a month off with a broken wrist and scored 12 points in the win over New Bremen, continued his timely shooting with a game-high 17 points.  Nixon finished with 10, and Schmidt, Ketner, and Hoelscher each had 6 points.  Johnny Nixon finished with 4.
More impressively, Minster hit 18 of 22 from the foul line (81.7%), which helped them close out the game.
Noah Ambos scored 18 to lead Wapakoneta, while Kaden Siefring had 11, Zach Rogers had 5, and Braedon Goulet and Garrett Siefring each had 4.
"It looked exactly like Jackson Center tonight,"  smiled Mike McClurg.  "Just a little bit younger coach.
"There were a lot of fouls and whether you're playing Jackson or Wapak now you have to make the free throws.  But we had some other key contributions.  We brought Adam Ketner off the bench in the fourth to match up better, and he hit a huge three from the corner – that was a big moment – and then he hit two clutch free throws for us.  I'm proud of him…he's a grinder for us."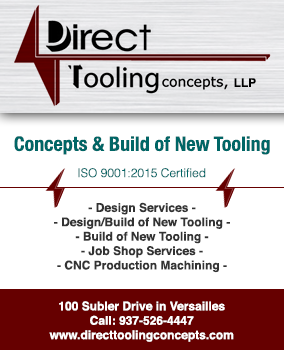 For the moment the ceiling looks high for Minster, a team whose only blemish came against the suddenly surging Botkins Trojans.
"I know this sounds like 'Coach' speak, but we've got to keep getting better,"  added McClurg.  "And that's the truth. The Nixons are fun to watch and the group plays well together.  The first four games Wapak got all the rebounds they wanted and tonight we did a really good job of checking them out."
So yeah, it's fun to watch Minster play right now, because they are proving they're a pretty good team.
Of course, it's a shame that not enough people get to see.