New Bremen struggled to make shots at the worst of times, and Minster played like they hadn't played at all…because they hadn't.  But there was enough Minster at the right times to salvage a hard-fought win over the Cardinals.
Minster, OH – Officially, the Minster Wildcats (2-0) held off a determined and scrappy New Bremen Cardinal team (1-2) Thurdsday to win 56-48.
Unofficially, that margin is deceiving, given that at one time in the third quarter Minster led by as much as 15 points and appeared ready to run away with the outcome.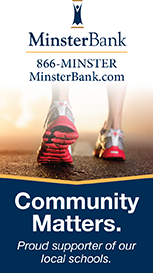 But it wasn't really that kind of game – a game that really lacked flow at times, where both teams appeared to be going through the awkward stages of an early pre-season scrimmage.
Minster jumped out to an early lead, but New Bremen wouldn't let them pull away because Aliah Truman, Madison Cordonnier, and Riley Trentman kept hitting deep three-pointers.  Minster led 19-15 after one.
The Wildcats struggled to hold that lead in the second quarter when premier guards Ivy Wolf and Janae Hoying suddenly went cold;  and New Bremen took the lead at 21-20, utilizing their own defensive effort while Kaylee Freund and Trentman scored five of the Cardinals' seven points for the quarter.
The problem was…junior Ella Mescher did not go cold for the 'Cats, scoring six consecutive points to shoot her team back to the lead;  and her eight points for the quarter staked them to a 31-22 halftime lead.
But it's hard to hold down both Hoying and Wolf for that long, and along with Mescher they shot that halftime margin out to 15 points midway through the third quarter…while their customary pressure defense began to create turnovers and points off those turnovers.
Still, Madison Cordonnier would have something to say about things for Bremen, scoring 10 of her team-high 13 points in an eight minute stretch during the third and fourth quarters.  And some unforced turnovers, missed shots, and fouls by Minster aided a gritty effort by New Bremen to actually cut the lead to six points in a late comeback bid.
But enter Ivy Wolf…who took over in the fourth quarter to score 9 of her game-high 20 points and wear down what comeback effort there was left in the Cardinals.  It ended in competitive fashion, 56-48.
"I'm proud of my kids' effort," said Cardinal coach Chris Burden.  "But you can't come here and miss easy shots and not do the little things against a team like Minster.  You have to make sure that ball goes through the hoop and if a couple of them fall through it's a different game.
"But I'm proud of my girls.  Last year it was a 30-point loss to them, they came in to compete tonight, stuck to the game plan and worked their tails off.  And 'if' we get a couple more shots you never know.  That's the 'if' game."
Because of 'Covid', as Press Pros columnist Bruce Hooley recently wrote for these pages…neither team had played that much basketball prior to Thursday.  Minster had had three games postponed, and New Bremen, likewise, was missing some valuable court time and game situation experience.
"It's been tough because this is only our second game and we're working with new people,"  said Ivy Wolf.  "We need to play, and we want to play.  Doesn't matter against who.  We'll get there, but it takes time and practice."
Which pretty much spoke for the play of both teams.  While Minster and Bremen both played with great effort – and Minster's defense was a difference in the outcome – it's was anything but fluid and predictable.
Case in point.  Those wide-open threes by New Bremen would not be so wide-open a month from now against Minster…because Mike Wiss's defense would close out more instinctively on open shooters.
Case in point.  Those point-blank misses at the rim by New Bremen were costly – would be more predictable in a month, when the timing was not so rushed and the feel for the game and contact under the rim was more customary.  Thursday, those empty efforts amounted to 'Cardinal sins' against a team like Minster.
"It looks like we had four scrimmages to prepare for the season, then all of a sudden you have another two weeks of practice without playing…that's what sometimes it looks like,"  said Wiss, afterwards.  "But we like to say that offense comes and goes, but defense never leaves you.  That's how we're constructed, and I was pleased with our defensive effort tonight.  We can shoot better, and we will, but tonight their defense had something to do with that.  New Bremen has a bunch of really nice athletes.  I was just happy that we had the athletes to match theirs tonight."
Officially, Ivy Wolf led all scorers with 20 points, while Janae Hoying added 10 and played a gritty, hustling floor game on both ends.  Ella Mescher joined the double-figures club with 13 points.
"She was our blue-collar player right now, and today was payday for her defensively,"  grinned Wiss.  "And the six straight points by Ella Mescher were huge for us at a time when Ivy had some foul trouble and wasn't scoring."
For New Bremen, Madison Cordonnier topped their scoring with 13 points, Elli Roetgerman had 10, Kaylee Freund and Aliyah Truman both finished with 9 points each.
Minster, still a team of anticipation as it seeks its third consecutive Division IV title in March, is going to play better.  Ivy Wolf's 20 points will not always come so quietly as it did Thursday.
And New Bremen?  As Mike Wiss noted, the Cardinals have the athletes to make their own noise in the MAC between now and tournament time.
"Right now anything can happen if we keep working hard,"  said Chris Burden.  "The sky's the limit."
Covid, of course, has had its say – is having its say, playing havoc day-to-day with the consistency needed for good basketball teams to play good basketball.
"We need to play,"  said Burden.
"We need to play,"  said Ivy Wolf.
"We need to play,"  said Mike Wiss.
Unanimous!