UD used a 22-2 run to close the first half, and start the second half, to outlast a pesky Northern Kentucky and gain their second win of the season.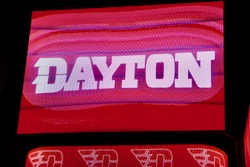 DAYTON — All R.J. Blakney wants to accomplish on the basketball floor is to please his mother. And, oh, he wants to be as good on the basketball floor as his mother was.
That could be a huge challenge. Blakney's mother was a mammoth star on the University of Maryland women's team.
Blakney, a 6-foot-5 freshman on the University of Dayton basketball team, came off the bench Tuesday night and scored six points.
So he is now only 986 points behind his mother's total as a Terrapin.
Blakney played 21 minutes Tuesday night and was the only non-starter to score as the Flyers repelled a plucky Northern Kentucky team, 66-60, at the University of Dayton Arena.
A pesky match-up zone employed by Northern Kentucky, baffled and befuddled the Flyers for most of the first half and UD trailed, 32-27, with three minutes left in the half.
"We didn't throw it to guys who were open and we tried to throw it to guys who were guarded," said UD coach Anthony Grant.
But over the last three minutes of the first half and through the first four minutes of the second half UD outscored the Norse, 22-2.
From being down, 32-27, the Flyers took a 49-36 lead and hung on from there to lift their record to 2-1. NKU was a substitute for fellow Horizon League member Purdue-Fort Wayne, which was victimized by COVID-19. NKU slipped to 2-and-2.
Just before the half, Blakney tipped in a missed shot to pull the Flyers  to within one, 32-31, then he took a charge that enabled Jalen Crutcher to hit a three, giving the Flyers a 34-32 lead, a lead they never relinquished.
"We got really, really good minutes out of R.J. 
Blakney off the bench," said Grant. "He came in with a lot of energy and played with confidence. It was much needed."
Said Blakney, "It's all about playing hard. I just try to come in and bring energy to the team."
It's the only thing momma, Dafne Lee, will accept.
"She was a great college player, a real talent and I respect her because she had a wonderful career," said Blakney. "That's where I got what I got, from my mother. She tells me to play hard and use her basketball IQ, which is what I got from her.
"She tells me to have fun and smile a little bit more, because I don't smile a lot," he added.
His mother also played pro ball and then became a junior high and high school coach.
"It's different because after games she doesn't say, 'Oh, great game,' it's more like, 'You can do this better and you need to work on this,'" he said.

Of course, momma knows best.
Grant was not pleased with the final 12 minutes when NKU slipped back into the game and was within four with a minute left.
"We built a lead, then from the 12-minute mark of the second half until the end of the game they outplayed us in a lot of different ways," said Grant. "Turnovers were a big factor in that. And we gave them second chance opportunities. Their rebounding…and they really hurt us with their transition game."
But mostly, the entire game, it was turnovers, turnovers, turnovers and more turnovers. Even though Grant emphasizes the importance of keeping a tight clutch on the basketball, the turnover count has mounted each game and reached 22 Tuesday.
Grant knows this modus operandi cannot continue to escalate.
"I'm glad we won," he said. "There were a lot of (bad) things we did tonight that will make it hard for us to sustain winning. Some have been consistent issues for us, others are new.
"For us, we can't accept in victory what we won't accept in defeat," he added. "That was my message to the guys after the game. We have to understand, moving forward, if this team is going to do what I think it is capable of doing, we have to fix this. That's on me as a coach. I have to help these these guys figure it out, put them in situations where they can play to their strengths and do things they are capable of doing."
Chase Johnson led the Flyers with his first career double/double — 16 points (8 for 11 shooting) and 10 rebounds. He was the recipient of several passes as he roamed near the basket from Jalen Crutcher, who dished eight assists in addition to scoring 17.
The leader of the pack was guard Ibi Watson with 19, but he was guilty of seven of his team's 22 turnovers.
"Jalen gave us a spark by making some shots in the first half, gave us some life and gave us some energy," said Grant. "The second half he had some really good assists where he got his teammates some open looks."
Grant aimed some pretty words at Chase Johnson, too.
"We got some good minutes from Chase," he said. "His energy on the defensive end was needed. A lot of little things he did allowed us to win when there were a lot of things we didn't do."
Like turnovers. Like Watson's eight turnovers. Asked if he'll talk to Ibi about it, he said, "Without question. Ibi is a guy we rely on. Obviously, seven turnovers tonight is uncharacteristic. We have to be better than that. Ibi knows that. He knows that. We'll deal with it."
The next time they try to deal with it under game circumstances will be Saturday at noon when the Flyers are scheduled to play Mississippi State in Atlanta.