SMU's  Emmanuel Bandoumel dribbles the length of the Blackburn Court floor and flips in a game-winning shot at the buzzer to beat UD, 66-64; It as the Flyers' first home loss since March of 2019 to Rhode Island in overtime.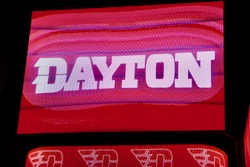 DAYTON — Southern Methodist walked into the vast emptiness of the University of Dayton Arena Saturday afternoon with a 3-and-0 record and a calculator-spinning offensive average of 96.7 points per game.
The defensive-minded Dayton Flyers held SMU to 30.7 points under that average.
Good? Well, yes. . .usually.
But not when you permit guard Emmanuel Bandoumel to take an in-bounds pass with seven seconds remaining in a tie game and dribble the length of the floor.
Quicker than one can say his lengthy name, Emmanuel Bandoumel finished his court-length journey by dropping in an off-balance fling at the buzzer. And it went in.
SMU 66. Dayton 64. Thus endeth UD's 21-game winning streak, a defeat that was self-inflicted.
The Flyers committed 19 turnovers, 19 times they failed to put up a shot. That enabled the Mustangs to take 13 more shots than UD, including the last one that went straight through their hearts.

The Flyers led the entire first half and constructed a 10-point lead, 42-32, five minutes into the second half.
Then they imploded and SMU scurried back to take its first lead, 49-48, with just under nine minutes left.
It stayed tight the rest of the way and SMU owned a 64-61 lead with 19 seconds left. The Flyers called a timeout and set up a play to shake Ibi Watson loose in the corner.
It worked. Watson bottomed out a 'three' from the right corner at 0:07 to tie it, 64-64.
That's when SMU's Bandoumel went coast-to-coast and flipped in the game-winner.
It isn't fair, not even close, to compare center Jordy Tshimanga to Obi Toppin. Not even close to being fair. Tshimanga was making his second collegiate start and Toppin is now a multi-millionaire in waiting about to wear a New York Knicks NBA uniform.
Toppin, though, given the opportunities Tshimanga had late in the game would have rattled the rafters with gam-clinching dunks.
The Flyers led, 61-60, with 2:15 left. Tshimanga was so close to the basket he probably has orange paint on his nose. But he missed two point-blank attempts.
He was fouled on the second attempt, but clanked both free throws and that Bandoumel drove the lane for a basket to give SMU a 62-61 lead.
On the next possession, guard Jalen Crutcher, the master of the lob pass to Toppin the last two seasons, slipped a nifty pass near the hoop to Tshimanga, but he couldn't finish it with 21 seconds left, leaving the Flyers down, 64-61.
That set up Watson's game-tying 'three' and Bandoumel's drive that buried the Flyers alive.
"They raced it down the floor and we didn't do a good job of stopping him," said Watson. "He made a good play but we let luck come in to play."
Watson led the Flyers with 23 points and Chase Johnson scored 14. Jalen Crutcher suffered an off-day shooting — 3 for 8 and 0 for 3 from three — en route to 10 points. But he did contribute seven assists.
SMU guards Bandoumel (19) and Kendric Daviods (21) scored 40 of the Mustangs' 66.
Like Watson, Chase Johnson had a close look at the blur that was Bandoumel on his sojourn to the game-ending basket.
"I'm really down right now, but as a team we had some really good things happen," he said. "Overall, I think we played well. We did a lot of good things on defense and offense."
But, that last play?
"The last thing that I saw was that he (Bandoumel) just threw it up and it just happened to go in," said Johnson. "So. . .I'm upset. It was a team-defense thing and we'll fix it."
After tasting defeat at home for the first time since March of 2019 (Rhode Island, 72-70, in overtime, coach Anthony Grant was not as distraught as one might expect.
But he knows he needs to do something to help Jalen Crutcher shake loose after he scored only seven in the first game against Eastern Illinois and 10 against SMU.
"You know Jalen is going to be the other team's focal point from scouting reports," Grant said. "I have to find ways to make the game a little easier for him, with what we're doing. He did a heck of a job making plays for his teammates (seven assists).
"But we give credit to SMU because they were able to make a couple of big plays there, including the last play to end it," he said. "But throughout the game, it was hard-fought. Both teams played extremely hard. We had opportunities and hopefully looking back on the game, as much as it hurts to lose it, we'll learn from it and get better.
"Yeah, tough one . . . but the effort we got was worthy of giving us a chance to win," he added.
Of Watson's game-tying shot, Grant said, "We were looking to give Ibi that shot from the corner. It was a hell of a  shot by him."
Then came disaster.
"I looked up and saw seven seconds on the shot lock and I figured they would go to No. 3 (Kendric Davis, averaging 21 and finishing with 21.) So we tried to put two men on him and take him away.
"Who was it who got it? No. 5 (Bandoumel)? He made a hell of a shot, give him credit," Grant added. "We'll look at the tape and see what we could have done better."
Incredibly, Watson played all 40 minutes and still had his legs under him to hit the game-tying three. Watson was not a starter last season, but Grant sent him into most game quickly and received offensive production.
"He gave up big-time efforts, minutes and productivity throughout what we did last year," said Grant. "We always felt he was more than capable of providing these types of efforts in terms of shot-making.
"But as a coach, I have to do a better job of avoiding having a guy out there for 40 minutes," he said. "But he did a heck of a job (today) battling on both sides of the ball."

The 19 turnovers followed 16 in the opening win over Eastern Illinois and are not comforting for Grant to witness from the bench.
"That's back-to-back games for us and it's a major factor," said Grant. "I have to try to help them. It will hard for us to accomplish what we want to accomplish doing that. We have proved ourselves to be pretty efficient when we shoot the ball. To take 19 of our possessions and not have to shoot it. . .that's just self-inflicted wounds that we have to fix.
Watson says it succinctly about the clear and present danger:
"For us, today it came down to two things really — turnovers and rebounding. That has to be our focus, we have to become better if we want to be champions."