It began with UD Flyers back-up center Moulaye Sissoko uttering a post-game victory comment, 'We got the dub,' as in we got the victory and it became a ritual in the locker room that the Flyers hope to hear many times this season.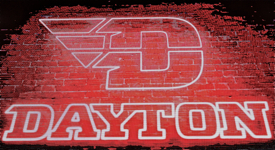 DAYTON — Moulaye Sissoko speaks three languages fluently and dabbles in two others.
And four little words he spoke in English after University of Dayton basketball victories were the most vibrant last season.
"We got the dub," he would say. The dub stands for 'W' and 'W' stands for win.
The 6-foot-9, 250-pound native of Mali in West Africa speaks his native tongue, plus French and English. And he is working on learning Spanish and Russian.
Sissoko, known to his teammates as 'Mou,' was a developmental red-shirt last season and didn't play, but was with the team all 29 times when the Flyers won last year. He showed his promise, though, in a pre-season exhibition against Cedarville when he scored 12 points and grabbed nine rebounds.
The Big Fella made his true debut Tuesday night, a 10-minute cameo appearance. He scored his first two points as the Flyers beat Eastern Illinois, 66-63, enabling him to utter his famous words after the game, "We got the dub."
"I believe it started against Saint Louis and everybody was saying, 'Oh, yeah, Saint Louis. They are a big team. They play really hard and stuff.' So after the game, when we won, I said, 'Man, no matter what they said, we got the dub,'" said Sissoko.
"They heard me say that and said, 'Man, you should say that after every game,'" said Sissoko. "I said, 'I gottcha.' So after every game they would find me to say it."
And the Flyers won the last 10 games, all followed by Sissoko's, "We got the dub."
Coach Anthony Grant was aware of Sissoko's post-game ritual and bought in.
"I was aware that it was something Mou would say after game," he said. "It began to catch on and the guys would make comments to him about it. It became kind of Mou's thing. It was a natural, organic moment. It was pretty cool. All the guys a kick out of it."
Sissoko has been in this country only three years, learning the language and the culture and UD-style basketball.
After the abrupt end to last season, Sissoko retreated to his host family in Des Moines, Iowa and he said, "At first it was kind of hard because everything was shut down. But my host mom worked at a community church where they had a gym. I was able to go there every day and work out."
Jorday Tshimanga is the starting center and Sissoko is his understudy, with Tshimanga acting like Mou's personal adoption agency.
"I've learned a lot from Jordy, him being a fifth-year student-athlete," said Sissoko. "He has a lot of experience and me being a second-year player, he teaches me a lot. I look at him at everything he is doing — on the court and off the court."
Grant sees it and appreciates the Tshimanga-Sissoko tandem.
"The biggest thing in their inter-action is off the court," he said. "Jordy, from, the time Moulaye stepped on campus, has adopted him like a little brother. He looks out for him, tries to help him. Mou, to his credit, has accepted that because Jordy is an older guy that he has a lot of respect for and can learn from, on and off the court. So they have a really cool relationship and respect for each other.
The other coming-out party belonged to Chase Johnson, the 6-foot-9 red shirt junior from Ripley, W.Va. He left the program last year with medical issues and returned home.
He was back Tuesday night and put on a shooting gallery clinic — five for six that included three-for-three on three-pointers en route to 14 points.
"It felt great, I missed it a lot being gone eight months," he said. "I really got to find myself, focus on myself, just get my mind healthy and get back out there with the team.
"I talked to my family a lot about my post-concussion syndrome," he said. "The effects of it. . .and then I went hack home. I did rehab almost every day, three or four times a week with a doctor, just to get my mind healthy and right to be able to return. It's all good now."
Grant was all-in on Chase leaving the program for his health and well-being. And he is more than all-in on Johnson's return.
"I am happy for Chase," said Grant. "At the end of the day, I want what's best for Chase. I'm so happy that he is happy playing basketball, being back in school with his teammates. His teammates are excites to have him be a part of it. It was so great the other day to see him go out and be able to perform the way he performed.
"One of the strengths of this team will be very similar to last year's team," said Grant. "We have a variety of different guys on different nights that are able to provide a scoring punch. For Chase, the other night he had some scoring opportunities for what was given to him and he took advantage of that. He is a great human being, a great person."
Sissoko gets another chance to utter, "We got the dub," and Johnson gets another opportunity to take what's given to him when the Flyers host Southern Methodist Saturday afternoon in UD Arena.
Of his first basket, Sissoko said, "It was a long wait and I went through a lot. I couldn't wait to be on the court. It felt good just to be on the court. I've learned a lot and I'm a lot confident now with the plays and terminology.