After three teams backed out from playing UD due to the Covid-19 virus. Eastern Illinois filled in on short notice to provide  a competitive season's opener.  The Flyers built two big leads and then survived, 66-63 in a near-empty UD Arena.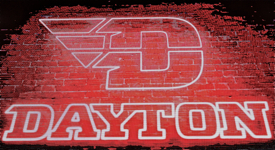 DAYTON — It was basketball at the University of Dayton Arena, but it was not real basketball at the University of Dayton 
Arena.
It was Theatre of the Bizarre, starring Covid-19. It had the feel of an intrasquad scrimmage.
After three pandemic-related cancellations by Bellarmine, Cedarville and Alcorn State, the UD Flyers finally opened their long-delayed 2020-21 season.
And last-minute stand-in Eastern Illinois was a handful Tuesday night before succumbing, 66-63.
It was bizarre. It was eerie. It was like playing Carnegie Hall with 10 people in the audience.
UD Arena was ready, a $70 million facelift turning an already jewel into the Hope Diamond of basketball.
But thanks to Covid, the 13,450 or so seats were nearly empty.
"With the world we live in, with Covid really in control, we have to understand that we don't control all this," said coach Anthony Grant. "Covid controls us."
There were, by actual hand count, 55 fans — mostly relatives and close friends of the UD players. They were joined by 90 cardboard cutouts of fans who wished they were there, but weren't permitted.
There were no students, no Red Scare rooting section. There was no pep band. There were no cheerleaders.
They piped in music normally played by the pep band and they piped in crowd noise. They played the introductory, "Let's Get Ready To Rumble," but no cheerleaders sprinted on the floor carrying the huge UD flags. Instead, the team slowly dribbled onto the floor without escort.
Grant, always dressed to the nines like Beau Brummel, a spiffy suit with knotted tie, wore a red UD polo shirt and a mask.
Normal? What's normal these days? One of the three officials was a woman, a woman that did an outstanding job of officiating.
For the Flyers, Opening Night was an up-and-down affair.
They opened by making their first eight shots and cruised to a 19-4 lead. It looked like Blowout City.
But a veteran Eastern Illinois aggregation, populated by seven seniors, four of them starters, banged away under the backboards to creep to within 35-33. Jalen Crutcher hit a '3' in the last moments of the half to give the Flyers a 38-33 halftime lead.
And just as they opened the game with a sprint away, they did it again to start the second half. . .the first 10 points to construct a 48-33 lead.

Once again, Eastern Illinois scrambled back and was within one, 64-63 with 17 seconds left.
Jalen Crutcher, still living up to his 'Jalen Clutcher' nickname, hit two free throws with 17 seconds left giving the Flyers a three-point lead.
EIU's best player, Josiah Wallace. had an open-look three at the buzzer, but missed and the Flyers prevailed, 66-63.
Wallace, averaging 18.5 points in EIU's first two games — losses to Wisconsin and Marquette — was dogged all night by Ibi Watson (with some help from his friends) and made only 3 of 14 shots and was fortunate to score six points.
UD's Jordy Tshimanga made his starting debut a coming-out party with 10 points and eight rebounds.
The best number, though, was the 26 minutes he played. As a role player last year, his time was limited because he played too much in a foul mood. At times he seemed to pick up two fouls running from the scorer's table into the game.
"I've been working on it to be smart, to be at the right place at the right time," he said. "I need to avoid silly fouls and stupid fouls."
And all fouls.
Even though they were playing to more than 13,000 empty chairs, Tshimanga was thankful to be able to put on uniform No. 32, pull on his Nikes and play against some strange faces.
"It was pretty exciting to be out there the first time with the guys this year," he said. "There are things to work on, but it was fun being out there.
"You expected to see 13,000-plus, but you go out there to a few people," he said. "It was a lot different but we managed to put it together and come through. We are thankful just to be alive and be able to play this game."
Chase Johnson, back on the team after a year off due to illness and personal reasons, scored 14 points on five of six shooting. He made all three three-pointers he attempted, including two when the Flyers flew to that early 19-4 lead.
Asked about Johnson's outside shooting, which he hadn't displayed before, Tshimanga said, "Yeah, I knew (he could). That's my guy right there. I knew he had that."
Ibi Watson, last season's sixth starter who usually came off the bench early for some scoring firepower, started Tuesday and led the Flyers with 16 points. . .in addition to putting the defensive wrap around EIU star Josiah Wallace.
"We feel super blessed that we were finally able to play," said Watson. "A credit to them (EIU), they were some veteran guys who played hard and were physical, so it was a great test for us."
Of the playing in front of an empty house, Watson said, "It definitely felt different. But at the same time, at the end of the day, it's still hoops, it's still basketball. As soon as the tip went up, it was the same feeling.
"To play a Division I basketball game at the University of Dayton is amazing," he added. "And I'm not mad, because I could hear my mom's voice in the stands the entire game. I could hear it clearly,"
Watson mostly advertised as an offensive operative, did double duty by putting the defensive squeeze on EIU's Wallace.
"We knew he was a scorer, so I tried to use my length on him and tried to keep him from getting comfortable," said Watson. . .and nobody gets comfortable shooting 3 for 14. "I just kept him from getting to his spots where he likes to pull up. A lot of credit to him. He is a great player. We did our best to contain him and I had a lot of help from my teammates."
Despite the Flyers nearly coughing it up despite a pair of big leads, Grant saw things he liked. And things not so likable.
"We're happy to finally get one under our belt," he said. "We had spurts where we played well. And we had spurts that showed we have a lot to improve on. We're just happy to preserve the win."
One source of concern is the rebounding department. The Flyers were out-rebounded 33-30 and were beaten on the offensive boards, 13-6.
"They really hurt us on the glass and it put them into position where they could cut into our leads," said Grant. "We knew they were a veteran group – seven seniors. We knew they had a high level of physicality and toughness.
"That's the biggest thing for us. . .not allowing those second chance points," Grant added.
And the Flyers get a second chance to play Empty Theatre basketball Saturday afternoon when they host Southern Methodist University at 2 p.m.