They didn't score much, but in the end they didn't seem to mind.  Tri-Village gets past pesky Arcanum in a defensive 'shootout' to make an early impression in the Cross County Conference.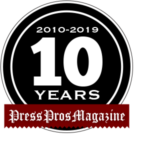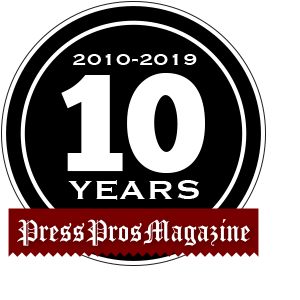 Arcanum, OH –  Brad Gray would probably have felt better had his Tri-Village Patriots (2-0) scored more points.  After all, they're capable, and used to hanging 80 or 90 on outmatched opponents.
But the Arcanum Trojans (1-2) were anything but outmatched Tuesday night, fighting, scrapping…and for 24 of the 32 minutes giving as good as they got before dropping a seismic Cross County Conference women's basketball contest between two of the league's title favorites, 43-37.
"It's a cruel game when you can't score,"  said Arcanum coach Abby Moore, afterwards – smiling, but barely.  "They're a great basketball team.  Ideally it would have been nice to have played this game a couple of weeks from now, but that's not how it worked out."
Moore's not the first basketball coach to lament about points coming hard in the early days of a season.  It's right there in the Naismith manual.  Points do come easier with a few games under your belt.
But that's usually rim-related.  Arcanum's problem Tuesday night was that of Tri-Village's 6'2″ junior center Meghan Downing, who had eight outright blocks for the game, probably that many deflections of shots and post passes, and an untold number of shots altered…just because she was near the rim.
"You can't coach height,"  said Brad Gray afterwards.  "And when she gets her arms up in the air she's bigger than 6'2″."
But Moore understood that and had her own team primed to contest anything that Tri-Village advanced toward the rim, as well, holding the Patriots to just 39% shooting for the game…and 30% for the first half.
It was 13-8 Tri-Village at the end of the first quarter, and it wouldn't have been that had it not been for a pair of three-pointers by guard Delanee Gray and one from her backcourt mate Rylee Sagester.
For their part Arcanum counted with a pair of behind-the-arc bombs from junior Hailey Unger.  And there was little choice but to shoot from the perimeter because anything that went up inside was being rejected by Downing.
But during the timeout between quarters Moore reminded her team that points were going to come hard…and they had to make their own defensive adjustment to stay close.
Whatever she said worked.  Arcanum turned up the pressure on the Tri-Village guards, while junior post player Taylor Gray clamped down around to rim to hold Tri-Village to just two points for the second quarter.  In the meantime Arcanum scratched seven points from Unger (3) and Gray (4) to tie the score at 15-15 at the break….and they could have had more.
Arcanum was getting open looks for Unger and company from 16 to 18 feet…but those shots just wouldn't go.  Open perimeter shots against teams with Tri-Village's size are a gift when they come, hence…basketball is a CRUEL game when those shots don't fall.
"It would have been nice,"  admitted Moore.  "If we could have gone in for halftime with a lead or some cushion it changes the second half."
As it was…she had no margin for error, and Tri-Village made key adjustments on both ends of the court.
They began to get to the rim, freeing up Sagester, Morgan Hunt, Torie Richards and Maddie Bennett to score, the Patriots finally got some breathing room to lead by six midway through the third quarter.  However, Arcanum came back to close it to 22-21 on a pair of buckets by Unger.
But the combination of poor perimeter shooting and nothing against Downing inside began to wear on Arcanum.  Tri-Village would go on an 8-2 run in the fourth, get the foul line where they hit seven of nine tries, and eventually time and opportunity ran out on the Trojans.
"Sometimes the shots fall for you and sometimes they don't,"  said Moore after meeting with her team, post-game.  "They are a great team, they're well-coached, and Brad made some good adjustments in the second half.  I have a lot of respect for what they do.  I'm going to have some nightmares about those back screens they ran in the second half.
"But I was proud of how hard we played.  It's unfortunate that this game was played so early in the year, because if you give us a couple more weeks that's the difference between being good and being great.  But at the same time, with the situation we're in, I want to play as much as we can.  Just the opportunity for our kids to be out here and play in a game like this…that experience in a game like tonight is going to do great things for us down the road.  If we had made some shots in the first half – had we had a cushion at the half – it's a different situation in the second half.  But we played hard.  We fought.  And we were tough.  We're just not satisfied with that.  Don't tell us we played a good game right now.  We want to be great, not just good."
Brad Gray understood, knowing that his team had gotten past one of the season's major hurdles…if there is, in fact, a season.
"Arcanum came out with a great game plan, and they played well.  Credit to them,"  said Gray.  "We tried to jump on them early and they didn't fold.  They got back into it to tie at halftime.  But our kids played smarter in the second half, made some adjustments, put more pressure on Unger and Fearon, and the play of Maddie Bennett was huge for us."
And of course, Meghan Downing.
"She's a defensive presence for us,"  he smiled.  "You can't teach height and she's 6'2″.  And when she put those arms up she's a lot bigger than 6'2″.  She did a great job on Taylor Gray tonight.  She made every shot she took a challenge."
Morgan Hunt led Tri-Village in scoring with 12 points.  Sagester added 9.  Torie Richards and Maddie Bennett each had 7, and Delanee Gray finished with 6.  Meghan Downing, for her defensive presence, had just 2 points.
Arcanum finished shooting just 32%, led by Hailey Unger's 15 points (game high) and Taylor Gray's 11.  Madelyn Fearon had 6, Emilie Fout had 3, and Ellie Fout had 2.
As for the future, no one knows, especially in November.  Tri-Village is projected to be a major player come March (if there is a March) in Southwest District Division IV, with Sagester, Downing, Hunt and Richards all being underclassmen on a team with just one senior.
Arcanum and Abby Moore would likewise hope to be in the Division III picture, come spring, likewise with young talent and just one senior.  To her point, the opportunity to play right now is of the utmost importance.
"You hate to see a game like tonight come this early in the season,"  added Gray.  "But it is what it is.  I'm glad we got a win and that we can move forward with one of the better teams in our league out of the way."
The question, of course…is how much forward will there be?