In another state tournament marked by good football, the anticipation is about the MAC being here – again – and will they go away – again – with more than one OHSAA title?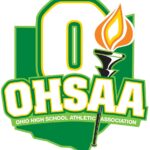 Massillon, OH – Sunday morning dawned in Massillon gray, wet, and with a 100% forecast for rain today, and the final two games of the 2020 OHSAA state football finals.
In the 12:15 pm game the Division IV title will be decided between Van Wert and Lake Catholic.
But without question the anticipation is for the finale, the 5:15 game to decide the Division VI champion between six-time winner Coldwater and New Middletown Springfield, from Mahoning County, seeking its first.
It's become a tradition here – or in Columbus, or wherever the tournament will be held in the future.  A question of not will a MAC school be here, but how many MAC schools will be here…and how many titles will they claim?
New Bremen broke the ice for 2020 in Friday's Division VII game, claiming its first as a school, but the 36th in MAC football history.
And during Saturday's Division V beatdown between Kirtland and Ironton the conversation in the end zones was already centered around the Division VI contest on Sunday night.
"How about Coldwater?"  asked a photographer working for the OHSAA.  "Are they as good as they usually are?"
And, "I looked in the program and saw that they hadn't been here for five years.  What's up with that?"
Or even, "How come there's only two MAC teams here this year?  Aren't there usually three, or four?"
Well, there's never been four divisions represented in the MAC.  The biggest school by enrollment at this point is Division V Versailles, and while the Tigers were knocking on the door this year before being knocked out by Roger Bacon, the sound money is on the fact of them being on the doorstep of Massillon for the foreseeable future.
But yes, there is precedent for speculation about three MAC teams at the tourney, fostered by 2014 when Minster, Marion Local and Coldwater captured the Division V, VI, and VII titles.
A year later they almost did it again.  Fort Recovery broke through to win over Mogadore in Division VII.  Coldwater won over Canton Central Catholic in Division V.  But Marion lost a halftime lead and to Kirtland in Division VI.
The following year, in 2016, Minster, Coldwater and Marion all returned in V, VI, and VII, with Marion coming home with the only title, a win over Cuyahoga Heights in Division VII.
In 2017 there was a slump, with Marion and Minster getting to the Finals, but both won – Minster over Cuyahoga Heights in Div. VII, and Marion over Kirtland in Division VI.
In 2018 Marion was the only team to return, losing in a rematch with Kirtland in Division VI.
And in 2019, Marion and Anna were both here to claim titles in Division VI (Anna) and Division VII (Marion Local).  Marion Local tied the all-time records of titles won (11) with Cleveland St. Ignatius.
So yes…there is high anticipation for Sunday's finale and the return of Coldwater.
"I follow the MAC on Press Pros.  It's an amazing league,"  said Terry Strong, from Lake County.  "It's hard to believe that one league has won all those titles over the years.
And Strong had done his homework.
"And, three of the schools with half of the titles (St. Henry, Versailles, and Delphos St. John) haven't won in over a decade."
Delphos St. John is the last of those three to have won, in 2010.
"Obviously the league's getting better with new schools winning in the last two years."
So, is the best yet to come on Sunday night?
Well that's a matter of personal opinion, of course, but the fact is that the Midwest Athletic Conference has grown to be as big a part of this tournament and people's consciousness as the OHSAA logo itself.
And in no other conference does the rank-and-file football fan come to watch with the win total in mind.
36, come Sunday…and working on 37!