Hoping for their first state title since 1989, and their third in ten tries, the Ironton Tigers saw their 31-year wait for frustration relief go for naught with Saturday's Division V loss to Kirtland.
Massillon, OH – A lot of things have happened in Ironton, Ohio since 1989…the last time the Fighting Tigers last won a state title in football.
It was actually their second, having won previously in 1979, but no one – absolutely no one – believed 1989 would be the last for what now has become 31 years, and counting.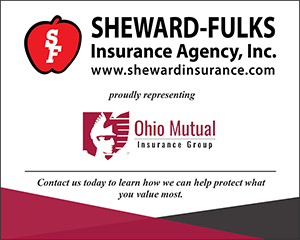 You see, I grew up outside Ironton before moving away to Miami County, Ohio in 1965.  But I left a lot of family (aunts, uncles, and cousins) behind…and I always kept track of Ironton football, where cousins played in the early 6os when a guy named Ducky Corn was head coach.
They were tough back then, or rather…Ironton was a tough place to win a football game.  The atmosphere in venerable Tank Stadium (where the NFL Ironton Tanks once played) was one thing.  But the reputation for 'home cooking' back then was quite another.  Ironton, by one means or another, was just a tough place to win a football game.
Then a fellow named Bob Lutz took over, and the program blossomed, grew and became even more formidable.  Ironton was a 'steel' town, befitting its name, and Tiger football was tough as iron, to be sure.  There were those titles in '79 over Akron St. Vincent-St. Mary (7-6) and in '89, against Campbell Memorial (12-7).  They didn't come easy, and people back then hung their hat on the fact…that nothing came easy for, or against, the Ironton Tigers.  It was 'working man's' football.
And over the years that mantra played out, over and over again.  There were four more trips to the state championship game – in '92, '93, '99, and 2019 – all ending in frustrating losses, but none worse than in 1999, when by all accounts Ironton had the game won against Sandusky Perkins, only to turn the ball over on downs on their own 20 yard line with under a minute to play…and Perkins scored the winning touchdown, 16-14, with seconds left to play.
Lutz stayed until the early 2000s before retiring, only to see the program take a dive.  Lutz came back for a time to help re-energize Ironton football, before retiring for good and turning over the reins to current coach, Trevon Pendleton.  And Pendleton has worked wonders in his short time, leading the Tigers to the 2019 title game where they lost to Kirtland, 17-7.
2020 was supposed to be the atonement, even in the wacky, dysfunctional climate of Covid, uncertainty, and questions from one week to the next about whether you play at all.
On Saturday, after tourney wins over New Lexington, Johnstown-Monroe, Harvest Prep, Ridgewood, and Roger Bacon, they found themselves in a position once more…of winning the big one.  A chance to finally break the spell of 31 years of waiting – to atone for last year's loss – anchored by Ohio State recruit Reid Carrico.
A lot of things have happened in Ironton since 1989.  It's no longer a steel town.  Those jobs, along with a lot of others, have since moved away.  Ironton, itself, like a lot of other small towns in Ohio, has seen its downtown retail center decimated by the malls and mail order.  The county seat of Lawrence County, people now drive across the Ohio River to Ashland, Kentucky and Huntington, West Virginia to find work in the revamped job climates of medicine, education, and technology.
But the core of Ironton sports, as it's always been, is still Tiger football.  And Saturday a large contingent made the long four-hour-drive north up route 23 to Columbus, then I-71 to route 30, and east to Massillon to see the Tigers finally have their day.
For one reason or another…it didn't happen.
One, Kirtland was a better team – quicker, stronger, and dominating on the line of scrimmage where Ironton had abused opposing teams all season with its power running game.
Two, one of the vagaries of football…they didn't tackle well on the season's biggest day, allowing one Kirtland runner after another additional yards after initial contact.
Three, there were penalties that stalled drives and short-fused their every attempt (it seemed) to get out of the shadow of their own ineptness.
Four, Kirtland wouldn't allow Reid Carrico to get untracked.  For the game Carrico has just 30 yards rushing…and Ironton just three first downs, total.  And on the one run that Carrico did break…it was negated by a penalty for illegal formation.
The score grew against them, and the frustration grew amongst them.
"This was supposed to be a better team than last year," said one elderly Tiger fan seated close to the Ironton bench.  "Bigger and stronger."
But it never became manifest.  Confident to the point of dancing to the public address music before the game, by midway in the third quarter when the running clock (31-0) kicked in, chins were down and people were making their way towards the parking lot and route 30.
I, too, had a twinge of remorse, thinking of family and friends along the river who live from year to year on the anticipation of Tiger football finally winning the big one.
"Well, as far as the program goes it's another step in growth,"  said a red-eyed Trevon Pendleton afterwards.  "But to those seniors…those kids have worked their tails off.  That's a special group and I couldn't have asked more from them.  It's just disappointing that things went the way they did for them."
But this one hurt back home, too…down on the river.  By the time I got back to my hotel in Massillon Saturday afternoon I had already received a pair of calls.
"Well, wait 'til next year,"  said a friend from Wheelersburg, one of the Ironton's contemporary rivals now in Ohio River football.
"Do you ever wonder about how many more 'next years'?"  I asked.
"Never,"  he said hopefully.  "Nothing comes easy in Ironton, or for Ironton."
But seriously…maybe next year.
Hope always wears orange and black.