Once again the state recognized and paid tribute to the consistency and style of play in Darke, Auglaize, Mercer, Allen and Shelby County that has now claimed 36 'official' titles, with 37 hanging in the balance.
Massillon, OH – Thirty minutes following the finish and the trophy presentations of Friday's Division VII title game, Warren JFK coach Dominic Prologo waxed nostalgic about his team's demise in the face of the season's biggest challenge, and opportunity.
"The moment just got too big for us,"  said Prologo to reporters. "That hadn't happened to us all year, but it happened today.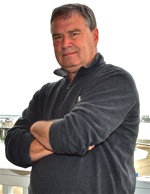 "We couldn't do what we normally do.  They won the line of scrimmage. That hasn't happened at all (this year). That's the first time it happened, and I give them a lot of credit. They came out, they won the line of scrimmage and they won the ball game.  We just had an uncharacteristic afternoon."
Prologo's comments were accurate.  New Bremen dominated the line of scrimmage, as well as the end zone and the scoreboard.  More impressively, they did it in their initial trip to the dance, a statistic underplayed in the final analysis of the game.  By contrast, Warren JFK was making its sixth championship appearance, playing for their third title.
But it didn't surprise everyone.
"I was here for the St. Henry game in 2006,"  said an observer from Trumbull County (where Warren is located).  "They won that game the same way New Bremen played today.  That style is good football, and it's hard to beat.  Doesn't matter how many times you've been here.  Every one of of them (the MAC) have it."
That style of play…..
JFK had played that style of play throughout the year, quarterback Cam Holloway having rushed for more than 1,400 yards and 30 touchdowns.  But Friday New Bremen's quickness from tackle to tackle, and in their linebackers, took it away.
"We couldn't make the plays we usually do,"  said Prologo.  "That was the difference in the game."
But they had a full half to make the adjustment.  And New Bremen, like JFK, pretty much tip-toed through the first half, missing gift-wrapped scoring opportunities on their first drive of the game and in the second quarter when they had the ball on the one yard line, first and goal.
"We were a little sloppy,"  said quarterback Mitchell Hays.  "We could have been better, but we got the win.  And we still put up 31 points.  That shows what kind of team we have."
Coach Chris Schmidt put it this way.
"The longer we played the better we played, like the LCC game.  One of the coaches – I don't know who – said it at halftime.  Go out and take control of the game.  In our league if you're not physical you're going to have some long nights and a long season."
So they went out in the second half and got physical, like St. Henry and running back Andy Puthoff did in 2006…like Fort Recovery and Will Homan did in 2015…like Minster and Jared Huelsman did in 2016…like Anna and Riley Huelskamp did in 2019… and like Marion Local has done now for a record-tying eleven times.  It doesn't matter the team, or the style of offense.  They all play it with that style – physical!
"It's just kinda' always been that way," said former St. Henry coach Tim Boeckman.  "It's the way the kids are brought up.  They work hard, and they're not afraid to kick someone's butt.  But they respect someone when they do it.  They give you their best shot every freakin' time."
"And Coldwater's back this year,"  someone was heard to say as they left Paul Brown Tiger Stadium on Friday.  "They've won it a bunch of times."
After 47 years they're all doing it with style – a style responsible for a lot of uncharacteristic afternoons.