A rematch of the 2019 Division V state championship proved more of a mismatch, with Kirtland flexing its dominance over the past decade in an 38-0 takedown of Ironton.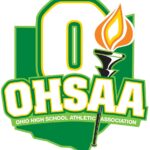 Massillon, OH – They put jumbotrons in the end zone of opulent football stadiums for myriad reasons.
Part big-screen TV, part billboard, they display the game clock, down and distance, update statistics, show replays and, of course, serve as a revenue stream for as many advertisements as can be crammed around the periphery.
But the gargantuan video board at Paul Brown Tiger Stadium did one other thing Saturday at the Division V state championship game.
It told a big, fat lie.
Looking up at halftime and seeing Kirtland's 10-0 lead, it seemed a closely-contested second half might ensue. Maybe Ironton could rally and make a run at avenging its 17-7 loss to Kirtland in this same game a year ago.
If you thought so, you hadn't been watching very closely. And you certainly weren't privy to the conversation going on in Kirtland's halftime locker room.
"We thought we were in good shape," two-way senior Mason Sullivan said. "We'd gotten only one touchdown, but we were moving the ball and that's why we defer, so we can take the ball to start the second half and get the momentum."
That plan has worked pretty well for Kirtland for a pretty long time, judging by the third straight state title the Hornets secured with a dominant second half and subsequent 38-0 victory.
Sullivan set the tone with a bruising 32-yard run on a toss sweep to the right — remember that — on Kirtland's first play of the second half.
To that point, Kirtland had misfired on several opportunities, moving the football successfully, but never scoring until late in the half when receiver Joey Grazia's nifty one-hand catch along the sideline resulted in a replay reversal and an eventual TD.
"I knew I had to go up and make a play," Grazia said. "I really didn't know where I was on the sideline. I was able to get my toe down and get the reversal, which was huge for us."
Now, trying to increase that lead, Sullivan carried three more times in succession to get his team closer to the end zone and ultimately finished the opening drive of the half with a 17-yard run for a 17-0 margin.
Ironton, which managed only 41 offensive yards in the first half, now needed something dramatic to respond, but instead suffered quarterback Tayden Carpenter's fumble at its 35.
Carson Andonian knocked it free and Nick Schwartz recovered, but Schwartz also drew an unsportsmanlike conduct penalty that pushed Kirtland back to midfield.
Not to worry, because it turns out, winning state championships isn't the only tradition at Kirtland
Winning them with the Sullivan brothers each scoring touchdowns is also a thing.
They each scored one in the 2019 win over Ironton, and they each got one Saturday.
After the Ironton fumble, Mason Sullivan took another pitch on first down for just another sweep right…until he pulled up and lofted a perfect throw to his brother, Gage, free behind the collapsing Tigers' secondary.
"That was a touchdown from the minute it was called," Mason Sullivan said. "He was so wide open, all I had to do was loft it out there for him."
The resultant 24-0 lead gave Kirtland coach Tiger LaVerde a feeling he's now known six times, starting with every-other-year titles 2011, '13 and '15 and now his current three-peat.
"We had run enough tosses," LaVerde said. "That was working pretty well, so they were starting to have to get more guys to the ball to stop it. We thought it would be there.
"We took a shot and hit it, which made it pretty hard for them to come back."
It was, and the Hornets weren't done.
Sullivan's 24-yard run started another scoring drive that pushed the lead to 31-0 and Kirtland added to that early in the fourth quarter with its final TD.
"We just couldn't hang with them once they got the momentum," Ironton coach Trevon Pendleton said. "We had a chance to score early, but we came up short on fourth down. Once they got going, we couldn't stop them."
Kirtland limited four-star OSU recruit Reid Carrico to 30 rushing yards on 11 carries.
Carrico couldn't convert a fourth-and-one gamble at the Kirtland 29 early in the first quarter after Ironton downed a punt at the 1-yard line.
Ironton held and regained possession at the 38, but Carrico went down for a loss to foreshadow the nightmare his team would have moving the ball and stopping Kirtland.
The Hornets accumulated ridiculous advantages of 25-3 in first downs, 264-45 in rushing yards, 144-13 in passing yards and 70-28 in offensive snaps.
Ironton threw for 205 yards against Kirtland last year in losing the state title game by 10 points, but with a different quarterback this year was no threat through the air.
"We were incredible on the back end," LaVerde said. "There weren't many places to throw to, so they tried the power run and we did a nice job against that."
Although outsized up front on both lines, Kirtland had its way in the trenches, evidenced by Sullivan's 125 yards on 19 carries and Anthony DeMarco's 79 yards on 17 tries.
Carrico, who projects to play linebacker at Ohio State, had four solo tackles and four assists on a day when Kirtland rushed 55 times for a 4.8-yard average.
Offensively, Carrico entered with 1,544 rushing yards and 25 TDs, but his longest run against Kirtland went for just 12 yards.
"We knew where he was at all times," said linebacker Mason Rus, Kirtland's second-leading tackler "We thought if we could blow up his lead blocks, we could get the job done and that's exactly what we did."
Bruce Hooley is a former sports editor of the Troy Daily News. He hosts the Bruce Hooley Show from 5-7 p.m. Monday-Friday on 98.9 The Answer in Columbus (www.989theanswer.com) and the We Tackle Life podcast with College Football Hall of Famer Chris Spielman on iTunes and GooglePlay.