Close for a half, New Bremen found their MAC mojo in the second half and pounded Warren JFK Friday afternoon for the Division VII state title.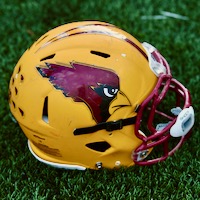 Massillon, OH  –  By the start of the fourth quarter in Friday's Division VII title game between New Bremen and Warren John F. Kennedy Coach Chris Schmidt and the Cardinals must have been feeling downright 'fraternal'.
Fraternal for the fact that it was obvious by that point…the Cardinals were about to win the 2020 Division VII title, the 36th overall state title in football by the Midwest Athletic Conference, and the league's 137th OHSAA state title, overall.  So, yeah…welcome to the club!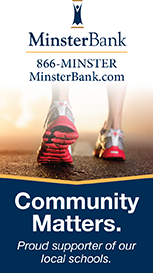 A close-to-the-vest affair for the first twenty four minutes in which Bremen led 7-0 at halftime, the Cardinals (10-2) flexed their MAC muscle in the second half and simply blew away JFK (9-3), which was seeking its own third OHSAA title in football.  They scored 24-answered points in the final twenty four minutes to win, 31-0!
Dominating…but it could have been better – or worse.  While they led 7-0 at the halftime break, it could have been more – and probably should have been more.  Driving to the nine yard line on their first possession of the game, Schmidt decided to go for the first down on fourth and nine instead of having reliable kicker Owen Gabel attempt a chip-shot field goal.
And in the second quarter, after quarterback Mitchell Hays hit a 34-yard strike through the air to Wyatt Dicke that put the ball on the JFK 1 yard line, they frittered that scoring probability away, as well, with Hays being intercepted in the end zone on a fourth down attempt to Dan Homan.
But other than that…yeah.  Domination!  New Bremen finished with 247 yards to 133 for JFK – 166 of it on the ground, as opposed to just 61 for the Eagles, a team known for its running attack.
"Yeah, there were a couple of play calls I'd like to have back,"  said Schmidt, afterwards.  "I don't know that I called a great game, offensively.  But we found a way to weather the storm.  We've done that all year long, and today we made enough plays for that to be the difference."
But at first it didn't look that different.  JFK, team with a running pedigree and a big physical quarterback, Cam Hollobaugh – a linebacker dressed in quarterback's clothing – would run 23 times for the game and gain 81 yards (54 net).  But beyond the fact of having Dick Butkus running kamikaze style, JFK showed little or no offensive options.
When they threw the ball it looked unnatural.
And when they handed it off to Jesse Likens, their other principal running option, Likens wasn't quick enough to get to the boundary or past New Bremen's pursuit.  The Cardinal linebackers had a heyday.  JFK, who couldn't pass, could manage just 66 yards on the ground in 31 attempts.
Meanwhile, that JV running back that we wrote about last week, filling in for the fallen Zach Bertke for New Bremen…Hunter Schaefer was having his own heyday.  Schaefer ran for 101 yards on 15 carries, his longest being a 39-yard sprint for the end zone for the first score of the game four minutes deep into the second quarter.  It gave the Cardinals a 7-0 lead, but to veteran MAC observers watching from the stands and the sidelines, it gave them a foretaste of things to come.
"This could get really interesting in the second half if New Bremen chooses,"  said former St. Henry coach Tim Boeckman.
But that's how it ended for the half, 7-0, as New Bremen had the ball with 1:08 and all three time outs left from the JFK 15 yard line, and chose not to play aggressively.  But when they came out for the second half, they were DEFINITELY the aggressor.
"One of the coaches reminded in the locker room that we had been a second half team all year,"  said Schmidt.  "So let's go out there and take control of the game.  Obviously the first drive was huge."
New Bremen got the ball to start the half and on a squib kick by JFK, in excellent position at their own 40 yard line.  Eight plays later, and after a 23-yard pitch and catch to Hunter Shaefer, Mitchell Hays ran it in from a yard out to make the score 14-0 at 9:09.
On the ensuing kickoff they set up shop again…because JFK's Jesse Likens bobbled the kick, then had to fall on it at the 13 yard line.  Four plays later the Eagles fumbled an exchange between Hollobaugh and running back Nick Fordeley and Wyatt Dicke pounced on it at the eight yard line.  Four plays later Gabel did get his field goal opportunity and connected to make it 17-0.
Enter the sharks – that feeling of being the best team on the field and it being time to prove it.  Blood in the water, if you will.
On the ensuing kickoff JFK again stalled on third down, and faced four and 15 after New Bremen's Branxton Krauss ran down Hollobaugh for a ten yard loss and a quarterback sack.  Forced to punt into the wind, New Bremen, and sophomore David Homan, made the most of it.
Homan fielded the punt at the JFK 45 yard line, cut inside a block, veered to an open spot in the coverage, then found an alley to the New Bremen sideline and clear sailing all the way to the end zone.  In the blink of an eye it was 24-0 and the hefty lady began yodeling from a camper parked in the lot behind the visiting stands.
And at the start of the fourth quarter…the New Bremen stands, warned once by the governor's office (someone must have been watching) just before halftime about sitting too close together, got that happy, fraternal feeling that comes when you're just about to win a state title in football.
To make sure Mitchell Hays and Dan Homan, the most appropos scoring candidate of all for his heroics to help win the Marion game, hooked up on a twenty yard pass at 10:49 of the fourth to make it official.
"Definitely, that meant something to me,"  he smiled, post-game.  "It was such a great opportunity and Mitchell made a great throw.  I told everyone that this was the last time that we'd be playing together and we had to make it count.  That's just what we did.  We came out in the second half and played like we were the best team on the field.  All of those great MAC teams that we play…we've worked so hard to get this far.  That was the way we wanted to finish it."
At 5:00 left they started the chant….M-A-C – M-A-C – M-A-C.
At 1:45 left they gave Chris Schmidt the Gatorade bath.  He didn't seem to mind.
And afterwards Mitchell Hays, who has to be remembered now among the most impactful athletes in the history of New Bremen sports, spoke to the irony of the season, the day, and the accomplishment.
"I really don't know what to say,"  he began.  "We were kinda' sloppy in the first half, I guess.  And we still put up 31 points so that shows what kind of team we are.  We could have been better, for sure, but we got the win."
The longer they played, the better they played…as it was against Lima Central Catholic.
"You know, once you get in the game and adapt to a rhythm you relax and start playing,"  added Hays.  "And it's such an honor…to stand on this field and to play for something like this."
For Hunter Schaefer…playing for injured Zach Bertke for a second consecutive week, playing was again more fun than talking about it afterwards.  And no one contributed bigger yards, or a bigger score, when both were so desperately needed to help get everyone relaxed.
"This is just great," he said quietly.  "To be the first football team in Bremen history to win state…just to be a part of it is amazing."
As good as he had been in the LCC game, this was that to the third power.
"I felt good all week in practice,"  he added.  "But I exceeded any expectations I had for myself."
They posed for photos, tackle Hunter Williams pointing to the huge Paul Brown Stadium scoreboard that read, Congratulations New Bremen Cardinals…Division VII State Champions, 2020. 
"Look at that,"  shouted Williams.  "Can you believe that?"
They accepted the Division VII trophy from someone from the OHSAA, turned to the stands and lifted it high over their heads to the once-again assembled New Bremen crowd that cheered wildly.  Mike DeWine, masks, and social distancing were the farthest thing from their mind.  This was title time, MAC time, and that long-awaited and unexpected fraternity initiation."
Reporters were pressing Chris Schmidt over how they had become the more physical team against a JFK team that obviously was bigger from tackle to tackle, and had made its living all season by running the ball down the throats of opponents.
"In our league, against the teams we play, if you're not physical up front you're going to have some long nights and a long season,"  said Schmidt, still stunned thirty minutes after the conclusion by the reality of what his team had accomplished.
"We just tried to control the line of scrimmage and wear them down.  Taking their running game away was huge.  It was tough early on because they were moving it and we didn't have the ball much.  But once we clamped down on that it obviously made a difference."
They join Diana Kramer's volleyball team now as the second sport in New Bremen history to win a state team title.
But while no one said it publicly…#36 in all-time state football titles for the MAC will sink in quickly to those who longed to belong. – Marion Local (11) Versailles (6 non-MAC, 1 MAC state title), Delphos St. John (6), Coldwater (6), St. Henry (6), Minster (3), Fort Recovery (1), Anna (1)…and now New Bremen (1).
Any way you count it it's impressive.  And now a new day, and new rule, in the MAC.
Cardinal rule!