Sometimes two leaning posts can right each other. That's what's happened with New Bremen's remarkable advance to the Division VII state football championship game, which grew out of a struggling coach and a struggling program finding what each needed in the other.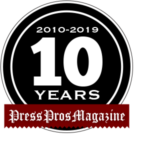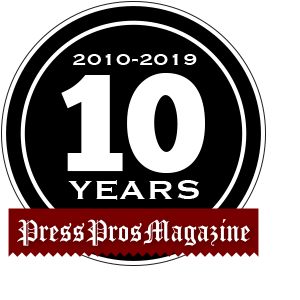 Columbus, OH – It sounds like they're either not giving an answer or they don't know the answer when those in New Bremen are asked a simple question these days.
"Who made this happen?"
No one can supply specifics. No one can identify the responsible party.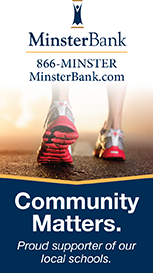 It's nevertheless a very fair question to ask, with the football Cardinals poised on the precipice of the Division VII state championship game at 1:15 p.m. Friday against Warren John F. Kennedy.
JFK is football royalty. The parochial school powerhouse is making its sixth straight Playoff appearance and 25th overall. The Eagles have won three state titles — including a take-down of Minster in the 2016 championship game  — and have finished runner-up seven times. They're 41-22 in Playoff history. 
New Bremen is just that on this kind of stage — new.
It's the furthest the Cardinals have ever advanced in the post-season, but that's only the surface view of this journey coach Chris Schmidt is leading.
The three-dimensional perspective is much more breathtaking.
Schmidt is in his fifth year at New Bremen. When he arrived after the 2015 season, he inherited a program that had won one game the previous three years and five games the previous six years.
Over that span of a half-dozen seasons, five different schools in the Midwest Athletic Conference had won a total of nine football state championships.
New Bremen football led the MAC in only one thing during that era — homecoming appearances. The Cardinals were everyone's guaranteed win. They were everyone's de facto off week.
Schmidt's hiring didn't exactly set off alarms around the conference. The program that could barely field a team was now in the hands of a guy who'd gone 7-22 in his only three seasons as a head coach at his alma mater, Bellefontaine.

Let's just say the kings of the MAC castle weren't exactly on high alert of a coming palace coup.
If you saw back then what was about to transpire with New Bremen football, you're the sort who took out a second mortgage on your home and put it all on Amazon at $5 a share.
No one, of course, did that.
But New Bremen did that with Chris Schmidt.
"Of all the people we talked to, Chris rose to the top," said Jason Schrader, superintendent of New Bremen Schools and a search committee member at the time of Schmidt's hiring. "The one thing we all noticed about Chris was he's just so darn genuine. He has strength of character and he's a very humble person. We weren't looking for a short-term solution. We wanted a long-term solution. He had that grit we were looking for. He had vision. He definitely fit the bill."
The Cardinals trek through the Playoffs testifies to Schmidt's success getting his players to adopt the hunger, belief and resilience common to all high-achieving teams.
After two wins his first year, three his second, a 6-4 finish in 2018 and last season's 10-3 success that ended in a regional finals loss to eventual state champion Marion Local, the Cardinals came into this weird, COVID19-adjusted season with big aspirations.
They promptly wasted six Marion Local turnovers and lost to the Flyers again in Week 2, then suffered a 24-7 home loss to Coldwater two weeks later.
"Everyone was frustrated," Schmidt said. "Coldwater is a great program and everyone wants to get to their level, but getting to that level is hard. So we brought everyone together and said, 'Let's talk about it. What do we need to do to get better?' I challenged the seniors. I asked them, 'What do you guys need from us as coaches?' 
Wait….what?
Did you notice that Schmidt's challenge wasn't a chesty, "You guys need to do more." It was a humble, "What else can we do for you?"
Players will walk through fire in a gasoline suit for a head coach and a coaching staff with that commitment to serve them, so it's no coincidence the Cardinals haven't lost since.
They've taken down defending DVI state champion Anna (38-7), regional finalist Versailles (36-7), St. Henry (28-13), Fort Loramie (16-8), Marion Local (24-17) and Lima Central Catholic (28-26), making every needed big play at winning time the last two weeks on offense, defense and special teams.
"There's definitely an element to it that's pretty surreal," Schmidt said. "Parts of it, I'm not sure I've processed yet."
With a title to win on Friday, he can't pause take the 40,000-foot view right now, but Diana Kramer can.
Her season is over, and it certainly didn't end the way New Bremen's remarkable volleyball coach wanted or is accustomed. Her team fell in the state title game last Sunday, coming up just short of defending its championship and winning a third in four years.
Those are the only state titles in New Bremen athletic history, and they've grown out of Kramer's arrival and immediate transformative impact on her program at the same time Schmidt began a more incremental build of the football Cardinals.
That's right, Kramer and Schmidt were chosen in the same hiring season, so New Bremen might want to put the members of those search committees on permanent retainer.
Kramer has had a front-row seat to observe Schmidt's success, but she was also there when the seed for it fell just perfectly into the soil from which it's sprouted.
Back in 2012, the New Bremen administration and some concerned community members convened for a meeting to discuss the Cardinals' athletic misery across the board. Few programs were achieving at the level everyone believed possible.
The options discussed included disbanding the football program, or withdrawing from the MAC, because maybe the League of Champions just wasn't the place to practically expect the Cardinals to compete.
Kramer was teaching and coaching at St. Henry then, but she lived in New Bremen, having married a man who wouldn't think of leaving the community he loved. That's where they were raising their four children when Kramer attended The Meeting.
"I'm so proud of how the community responded that night," she said. "We were either going to leave and take the easy way out, or we were going to look ourselves in the mirror and say, 'If we want different results, we have to do things differently.' We chose to rally together."
Marcus Overman wasn't just an interested observer at The Meeting, he was a passionate participant. New Bremen's high school principal now, Overman was teaching and coaching on the football staff at Marion Local then, but he burned with innate Cardinal pride.
The son of long-time New Bremen football coach Howie Overman, Marcus had played on his dad's regional runner-up team in 2004 and then played for four seasons at the University of Dayton under Hall of Famer Mike Kelly.
Overman believed in his heart that what's happening at New Bremen now was possible, even amid the ineptitude in which the Cardinals were mired back then.
"I was sitting in the first or second row and I just stood up and said, 'We need to figure out how to overcome these problems,' " Overman said. "I voiced my belief that it would be a big mistake to leave the MAC. What would we be showing our kids? We'd be showing them that it was OK to take the easy way out. Sure, we were taking our lumps. But we needed to figure it out."
Getting to the state title game proves they have indeed figured it out, which brings us back to that question no one in New Bremen can answer:
"Who made this happen?"
Kramer has the answer, but it's not what you'd expect, because it isn't a person, it's a personification of an old adage.
"I don't think any one person would want to take the credit," Kramer said. "It's everyone pitching in to achieve a common goal. The whole community culture has changed. Kids want to be successful. They expect to be successful. They expect to win. I see the shift in their mindset. I see the shift in the parents' mindset. That's the key. It's everyone, pulling together. That's what's made this happen"
Bruce Hooley is a former sports editor of The Troy Daily News. He hosts Press Pros Wednesday Night Huddle with Sonny Fulks. Listen to the Bruce Hooley Show on 98.9 The Answer 5-7 p.m. Monday-Friday (989theanswer.com) and the We Tackle Life podcast with Chris Spielman Monday, Wednesday and Friday on iTunes and GooglePlay.