In hindsight, I actually like the way the 2020 football season turned out, and with some tweaks I think it's something to build on in the foreseeable future.  And some players that might not make anyone else's all-something team, but they sure made ours.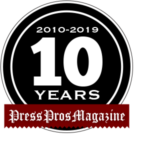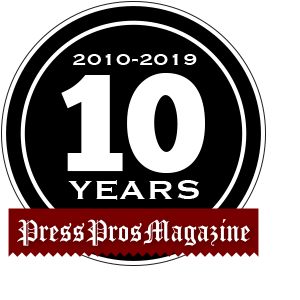 This will come as no surprise to area football coaches and blue-bloods who have disagreed with me for the past decade – since Press Pros first appeared in 2010.
For during that time I've consistently opined that the high school football season is too long – takes too long to conclude, anyway, with the eventual champion in a respective division having to play 15 games to claim the title, with the season concluding one week deep into December.
Now I know there's a lot of guys out there who like that weekend in December and being out of the house on the road trip with the boys.  I get the part about tradition and letting your hair down – two dollar drafts and 'paninis' at some hole-in-the wall pub in a strip mall in Canton.
I get the part about your obsession with football.  Short of taking some pill or supplement, it keeps your testosterone level high without damaging your liver…as long as you don't overdue on the two dollar drafts.
And I know that what you're about to read is radical…but if it wasn't you wouldn't care.  And what's not been radical in 2020?
But the fact is that from an outside view…the 2020 football season with its eight regular season games and the playoffs concluding the week before Thanksgiving has opened my eyes to the possibilities for better high school football in the future.
First and foremost it's over and a champion will be crowned this year two weeks earlier than normal.
Two, the playoff process actually started two weeks earlier, thereby promoting interest for players and fans alike…instead of less-meaningful games at the end of the regular season between two 1-8 teams.
Three, it shortens the year-long process of preparation and commitment to football, which makes high school football less of a job, like it is in college.  It actually allows for a two-week rest period between the end of one season and the start of another.
There's more that I could name, but catch me on the sidelines sometime and I'll expound further…if you're even interested.
Things I don't like?
I don't like the open playoffs with everyone invited.  Bad idea, and too many bad football games with 1-7 teams this year just wanting an extra game with a #2 seed team that wins by 50 points.
What I'd like to see is a nine-game season, the old point system (Harbin rankings), and the tenth game of the season being the first week of the playoffs, especially with the new 12-team region format (another, different participation trophy).  That would give host teams the advantage of an extra gate, and they would keep that gate exclusively.
The second week of the playoffs would also constitute a home game for the top seeds, thereby helping them out financially (they would split the gate with the OHSAA, as is presently done), but it would cut down on travel for at least one team to a neutral site, which no one really favors, anyway.  Coaches consistently tell me that it doesn't make any difference if you play at home or on the road.  So with this system at least someone plays at home.  For that matter…let the top seeds have home field through the regional final!
Yes, teams that don't make the playoffs are not going to play ten games, but they used to play nine, anyway.  But if you're not good enough to qualify maybe that's an incentive to get better…and earn that tenth game of the season, and a more meaningful game.  I think that's a plus from a competition standpoint.
And last, I didn't think I'd like the idea of Canton not hosting the championships because of the tradition, but I'm getting used to it.  A central location is not a bad thing, as long as it works out financially.  And if you're the OHSAA you wince at the prospect of renting Ohio Stadium and having 4,500 people show up for the Division VII finals, as happened last year.  4,500 people in the horseshoe looks like orientation day for the ushers.
Now, could it be something different than Fortress Obetz?  I'll reserve judgment until I see that facility this weekend.
And would it be a good idea to move it around to different cities, and different high school or small college facilities, depending on the division?  That would probably be a logistical nightmare, so one central site makes sense…as long as it's the right site.  Personally, my favorite has always been Paul Brown Stadium, in Massillon.  But the in-and-out there is a bottleneck, and the media facilities (internet) could be beefed up.  But the facility, itself, and the ambiance is just fine – and a whole lot cheaper, I suspect, than Tom Benson Stadium (Canton), Ohio State, or Nippert or Paul Brown Stadium in Cincinnati.
Just my opinion, of course.  And you know…there's never a shortage.
For the first few years of Press Pros we used to have an all-area team for football and write a little something about players from the GWOC, the CBC, the MAC, and the CCC that impressed the different PPM writers who saw them play in person.  We don't do that anymore.
One, because it's hard to make a fair judgment if you only see a team, or an individual, play one game.  And that happens.
Two, you inevitably leave someone out.
And three, because of two…you inevitably tick someone off that reminds you of it for the next five years.
But this year I think it's fair to point out a player here and there in area football who impressed for the times that we did get to see him play;  and with respect to others out there, their achievements and success, even if we didn't see them many are no less deserving.
And the one that comes to mind first, in football, is New Bremen quarterback Mitchell Hays.  We saw him a bit last year, and you jot down a name sometimes for future reference.  Such was Mitchell Hays.
The second one that comes to mind is Coldwater's Myles Blasingame.
Both emerged this year as the two most impactful players in the entire Midwest Athletic Conference.  Blasingame, by the way, was selected as first-team quarterback in the league, and he deserved it.  Coldwater probably wouldn't be where they are this weekend without Myles Blasingame.
But New Bremen DEFINITELY wouldn't be where they are this weekend without Mitchell Hays (2nd-team All-MAC), who impressed with his ability to make plays running and passing, as well as a defensive back on the opposite side of the ball.
Someone said during last weekend's state semi-final round that Myles Blasingame just followed the tradition of good Coldwater quarterbacks – Keith Wenning, Austin Bruns, Brody Hoying, Jack Hemmelgarn, et. al.  But Mitchell Hays is the blueprint for good New Bremen quarterbacks in the future.
We couldn't agree more, and congratulate them both.
In addition…other area players who stood out to us:  Ca'Ron Coleman (Piqua, running back and great young man), Jerell Lewis (Piqua, defensive end and tops the chart for enthusiasm), Duncan Cooper (Covington, running back/DE, as intense as they come), Grant Meier (Marion Local, linebacker, defensive player of the year in the MAC), Zach McKibben (Coldwater, running back, and just fun to watch), Nick Kawecki (Troy, running back, the next in line at Troy), Carson Bey (Versailles, quarterback, the talk of pre-season '21), Jack Osborne (Versailles, running back, helped restore Versailles running tradition), Collin Moore (Fort Loramie, quarterback and a great leader), Logan Eilerman (Fort Loramie, receiver, still learning the tricks of the position), and Brady Klingshirn (Coldwater, kicker, and who doesn't like kickers).
Just a sampling, I assure you.  If you want to hear about more…see me on the sidelines.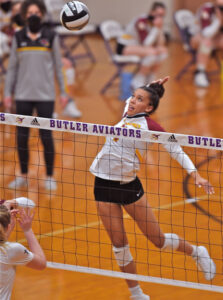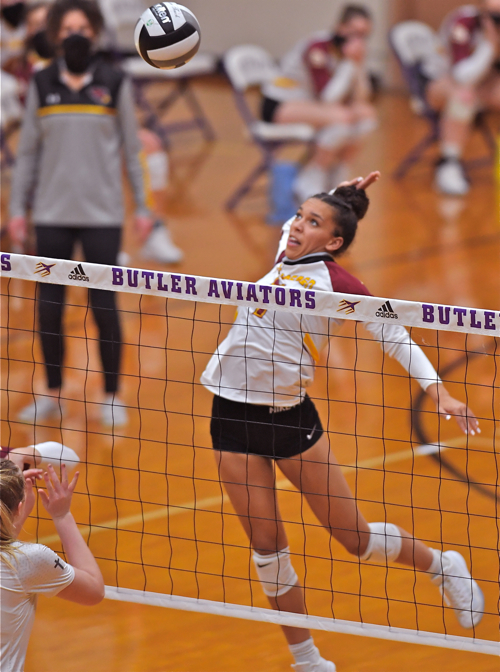 And in volleyball, if you look at the area all-league teams it's like a Who's Who list in state volleyball, particularly in Division IV.  There were just that many standout players this year, particularly in the Shelby County League and the MAC.
And to try and single out one that's more impactful, or more important, would be splitting hairs.
But there is one we will point out, who without question among area coaches we asked is the most athletic of all the area players we noticed in 2020 – New Bremen junior, Kaylee Freund.
Kaylee helped the Cardinals to a Division IV runner-up finish in last weekend's state tournament, and earned second-team All-MAC honors.  But where she really impresses is with her ability to elevate above the net and drive the ball on a downward angle through opposing defenses.  If you look at photos she's the one player in area volleyball whose torso is actually above the net when she hits the ball.
Fun to watch, and we're delighted to highlight Kaylee Freund if you didn't see her play this fall.  And if you didn't…she'll be back in 2021.