It wasn't their day…a pair of lost leads and a stubborn opponent who refused to let up cost New Bremen dearly in the Division IV volleyball championship finale.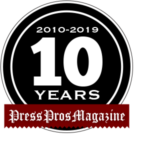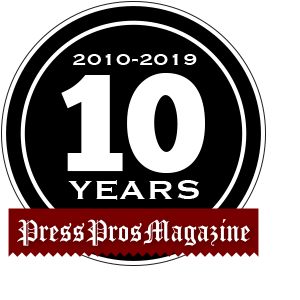 Vandalia, OH – To an individual – every one of the New Bremen Cardinals volleyball team, coaches and players – this one hurt.  It really hurt.
Because after an auspicious 6-1 New Bremen start in the opening set, and an eventual 25-20 win of that set…a talented and focused Tiffin Calvert (28-0), ranked #2 in the state, came back to take the next three sets 25-23, 25-22, and 25-21 to win the OHSAA Division IV title in volleyball Sunday afternoon at the Student Activity Center.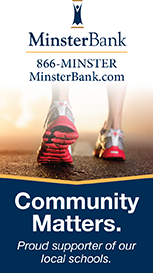 It denied New Bremen (25-4, and #3-ranked) a third title in four years.  But more, it will no doubt serve as a haunting reminder of opportunity lost…and the fine line that separates a champion performance from one that was almost.
Afterwards Cardinal coach Diana Kramer could only agonize and shake her head over what might have been – could have been – and on a typical Cardinal day…should have been.
It started well, that 6-1 start in the first set that had Tiffin Calvert on their heels and forced coach Lori Rombach to call a timeout to stop the bleeding.  Calvert regrouped, but Bremen maintained that early edge to take the set, and more importantly…the momentum, 25-20.
Big 'Mo' absolutely rules in the sport of volleyball, especially on championship Sunday (as it were), and the Cardinals came out with plenty of it in set 2, building off the hitting of junior Kaylee Freund (12 kills for the match), Josie Reinhart (15 kills), and Elli Roetgerman (13 kills).  Aggression on offense is their mantra, and talented as Calvert is, they could not stop the rush of offensive confidence that saw New Bremen eventually build a 20-12 lead.
Rombach called a timeout, and one that for whatever reason changed the course of the match, and the day.  A different Calvert team came out of timeout and immediately went on a 9-0 run, took the lead and the momentum from New Bremen, and stunned the Cardinals with an eventual 25-23 win.
Tied 1-1, that spurt in the second set gave Calvert new life – a second wind – and they took the momentum and a more aggressive personality in the third set.  Competitive, there were nine ties and four lead changes.  But try as New Bremen might, they could never get over the hump.  A team that relies on scoring off its serve, too many service and hitting errors denied them of that run to take command of the game, and one could sense that they had burned too much gas to stay close, and could not muster enough to finish.  Calvert closed out the third set, 25-22.
Kramer and the Cardinals are a proud and resilient group, and they came back with renewed life in the fourth, trading points to lead at 5-4, and then went on a 10-3 run that saw them build another 8-point advantage of 15-7.  Rombach again called a timeout, and again a different Calvert team emerged from the huddle.  The Senecas immediately went on a 14-5 run of their own, took the lead at 21-20, and closed out the match and the championship by taking four of the next five points to win, 25-21.
It was crushing…heart-breaking…for a Bremen team that had lived on the edge so many times in previous years and previous matches.  They always seemed to find a way to win.  And statistically, on a different day, they would have won.  Claire Pape closed her career with 41 assists and 20 digs.  And Diana Heitkamp had her usual defensive effort, with 20 digs.
"We expect to win, every set and every match, at New Bremen,"  Diana Kramer would say later.  "Right up to the final point of today's match I believed that we would find a way."
But that wasn't the case, leaving the Cardinals, instead, with the runner-up trophy for 2020…but still, four consecutive Finals appearances and two Division IV titles in those four years.
"I want to thank my team – my players," said Kramer in the post-game interview room.  "I want to thank them for buying into a system, for leaving their hearts out there on the floor, for working hard every single day.  And I want to thank the New Bremen community for being behind us when we needed them.
"It's a great time to be a Cardinal,"  she continued, forcing a tearful smile.  "And the reason this hurts so much is because we love each other.  If we didn't it wouldn't be so hard.  Losing is not fun when you're so close to a dream.  However, the medal isn't the color we wanted it to be, but it signifies something we accomplished together and memories that these girls will share for a lifetime.  And that's the most important thing…that, and I love them."
As for the match itself, it's easy to over-simplify the fact…that lost leads of 20-12 and 15-7 in the second and fourth sets turned the tide of the championship.  But in competition, when titles are at stake, such facts cannot be ignored.  Lost leads meant lost momentum that Calvert was only too happy to claim.
"It absolutely did hurt us,"  said Kramer.  "And I have to take responsibility for that.  I should have done something differently – called a timeout at a different spot, put someone at a different position…something.  And that really hurts because we were there…we were in control, in the driver's seat, and unfortunately we took a break.  We didn't stay focused.  We didn't play to win…we played to hopefully win.  That was the difference, and I think we were on our heels for the rest of the match.
"We always expect to win at New Bremen, but it didn't happen today.  And that's because Tiffin Calvert continued to fight, they stayed focused, and they made the plays down the stretch."
She was joined one last time, officially, by her seniors – Diana Heitkamp, Claire Pape, Katie Howell, Elli Roetgerman and Josie Reinhart – who fractured as they were by the moment, took the time to bring life and perspective to lowest of moments.
"I look at it, today, as a blessing,"  said Reinhart.  "I've been here for four years, I've won twice and I've lost twice, and I think each one of those years was a blessing.
"And as for volleyball, she (Kramer) has made me what I am.  I was a terrible volleyball player when she came here, and now I'm going to play college volleyball.  She's the best."
"You couldn't ask for a better coach,"  added Katie Howell.
Pape, Roetgerman, and Diana Heitkamp, whose voice was nearly gone, swore by the experience of the day…and their four years with Diana Kramer.
In the end it magnified the issue of championship days having but one happy outcome – that fine line.  And on the other side of the line…introspection, second-guessing, and the disappointment of not having your best day when it mattered the most.
"You have to respond,"  said Kramer.  "And unfortunately…I don't know if I would call it a step back, but it just wasn't big enough step forward."
Teenagers are quick to heal, and the tincture of time is the best possible antidote.
"A couple of weeks from now we'll look back and think about it as look how much we accomplished in the past four years,"  said Diana Heitkamp.
In the meantime, New Bremen football is alive and well, playing in its first championship game in school history next weekend. The excitement may have taken a step back on Sunday, but it's true…there's still another huge step to take in Columbus come Friday.
And in a matter of weeks…off-season play begins the build towards another year of the claw and dagger competition in west-central Ohio that's come to define Division IV volleyball, in large part thanks to New Bremen.
So to anyone who left Butler High School Sunday believing they'd seen the last of the run of Kramer and Cardinal volleyball…well, that's just silly.  It's still a great time to be a Cardinal.