They wanted a challenge, they got it from Columbus Grove, they met it, and now Coldwater moves on for a coveted return engagement in next week's state finals.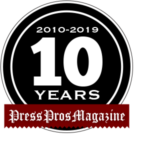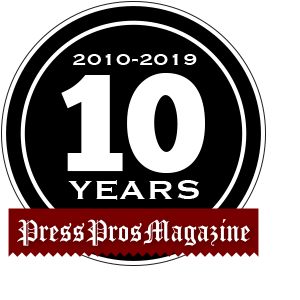 Sidney, OH – Chip Otten admitted as much after Saturday night's Division VI state semi-final game at Sidney's Memorial Stadium.
He wanted a win, yes, to advance on to next week's state championship round in Columbus.  But he also wanted a physical challenge from a good football team to get there.  He got both from previously unbeaten Columbus Grove (10-1), passed both tests, and now will take the Cavaliers back to the state finals for the 13th time in school history with a 41-27 win.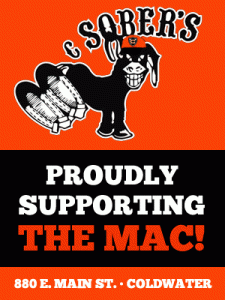 "Well, it was a heckuva' battle,"  said Otten afterwards.  "And it's a good thing to have a physical game like this before the state finals, as long as you come out of it healthy.  The Fort Recovery game (second time) was a similar game to this one in terms of being physical, and I think they borrowed some from that film because they went two tight [ends] in the first series and we hadn't seen them previously in that formation.
"It was a good physical test, and all the way across they had good players.  Fortunately we came out of it healthy, but they lost their good wideout (Gabe Clement) and that just stinks…for them to lose one of their best players."
In a nutshell…it was a hard-fought football game for a half – back and forth and hard-hitting before Coldwater's attribute of depth at skilled positions began to take its toll.  They hit 'em with a couple of big plays – a long touchdown pass from Myles Blasingame to Tyler Schwieterman (twice) and a 79-yard cross-country touchdown run by Zach McKibben to take a 27-13 halftime lead.  And along the way they showed enough big-play potential to give next week's opponent, New Middletown Springfield, some sleepless nights.
But Columbus Grove came out aggressive.  They won the coin toss and chose to take the football, a rarity in this day of deferring to the second half.   They traded possessions until Grove finally moved the ball inside the Coldwater red zone on seven plays with 2:35 left in the first quarter and punched a 30-yard field goal to go up 3-0.
Coldwater answered, taking the following kickoff and going right down the field to score on a 26-yard Myles Blasingame run to go up 6-3.  The extra point try ricocheted off the upright, no good.
Then, at 10:58 of the second quarter McKibben got loose beyond the line of scrimmage, changed direction a couple of times, finally found a crease across the Grove secondary and outraced everyone to the end zone for 79 yards and a 13-3 lead.
"I don't even remember what the play was,"  said McKibbon after the game.  "I just remember cutting across the field and Jesse Meyer was out in front and gave me a great block.  I just cut in behind it and it worked out perfectly."
Seconds later, 45 of them to be exact, Grove caught the Coldwater secondary flat-footed and struck on a 68-yard bomb from Blake Reynolds to Clement for a shocking answer to the McKibben's run.  It cut the deficit to 13-10.
Big plays were dictating the game at this point – that and a spate of flags from an overly-motivated officiating crew – and on Coldwater's next possession Blasingame found Tyler Schwieterman behind Grove's secondary for a 32-yard touchdown strike to extend the margin to 20-10.
Columbus Grove came right back and answered with another field goal at 1:15 before the half, to make it 20-13.  And for Grove fans who believed that Chip Otten would sit on that lead and take it to the halftime locker room…think again.
Seven plays and 80 yards later Blasingame again found Schwieterman down the sideline for 30 yards and another score…and this one they did take to the locker room, leading 27-13.
The series after Gabe Clement scored on that 68-yard strike, he went down with a knee injury and never returned to the field.  It visibly hampered Columbus Grove in the second half, who had to rely more on both the legs and arm of Blake Reynolds, a 6'4″, 212 pound specimen who showed he relished contact.
But without Clement, and with Coldwater getting the second half kickoff, the Cavaliers began playing ball control, took eight minutes off the clock, and score at 3:05 on a two yard run by Myles Blasingame to add to the margin, 34-13.
Two minutes into the fourth quarter Reynolds added his own score, a 7-yard run to make it 34-20.
Coldwater got the football, and a fortuitous call from the officials on a personal foul penalty that moved the ball into Grove territory, moving one frustrated Bulldog fan to yell out, "Why don't you just gift-wrap the game and give it to the MAC?"
That's not necessary, of course, as 34 state titles since 1992 will confirm, and seconds later Zach McKibben was loose again on the sidelines for 34 yards yards and his second long touchdown run of the game…41-20.
"He told me before the game, 'I can cook on the turf,' "  laughed Otten.  "And this was the first time we had been on turf this year, so he made some plays."
Grove would score once more on another Reynolds touchdown run, but it was of little consequence as Coldwater milked the final two minutes of the game clock.
There were some impressive numbers, owing to a pair of impressive football teams.
Both teams tallied 400-plus yards in total offense.  Coldwater had 470.  Columbus Grove had 425.
Zach McKibbon had 199 yards rushing with his two touchdowns, and carried the ball just 15 times.
Myles Blasingame add 95 yards and a pair of touchdowns, on 17 carries, and complete 9 of 14 for 157 yards.
Tyler Schwieterman took the receiving sweepstakes – six catches for 128 yards and two scores.
"The big plays were there tonight,"  said Blasingame in a loud and happy locker room.  "This was a good, physical game and we needed that.  They came out and surprised us with how hard they hit.  Everyone will be juiced up for the state final game and we've got to go out and execute like we did tonight.  We made the big plays…Tyler had two big catches, the O-line blocked well, we had some big runs, and the defense stepped up when it mattered."
"Myles made a couple of good throws,"  said Schwieterman of his two touchdowns.  "And with #21 (Clement) out we were able to take advantage.  Prayers out to him for his injury."
But perhaps no one is looking forward to a return to Columbus more than Zach McKibben, who flashed the 'deuces' sign on his way to the end zone with the crowning touchdown in the fourth quarter.
"Yeah, my brother won four state titles when he was playing,"  he grinned.  "We've got to get one here or he'll give me crap for the rest of my life."
Aside from winning, of course, Chip Otten wanted to win healthy.  And by all accounts he did.  He'll have a full complement in next week's tool box.
"You've seen us enough,"  he concluded.  "And with all those good skill guys, when enough of them make plays – tonight it was 'Sweets' and 'Kibby' with his big run –  offensively we did what we've been doing.  And defensively we made them work.  We gave up a couple of big plays, but for the most part they had to work hard for everything."
They'll face New Middletown Springfield next week (who lost to Anna in last year's title game) for the 2020 Division VI championship.  Coldwater has six titles in twelve previous tries.  Otten has four.
All Zach McKibben needs….is one!