They did it in four sets, and at times made it look tantalizingly easy.  New Bremen advances to Sunday's championship round with a convincing win over New Catholic in the Division IV volleyball semi-finals.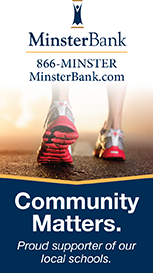 Vandalia, OH – Newark Catholic coach Caleigh Hughes said she was proud of her girls, for their effort, and for the fact that they never quit…against a high-powered team like New Bremen.
"Even when we were so far behind in the final set I looked out there and saw their determination to fight back,"  said Hughes with an emotional smile.
Unfortunately, except for one set-long hiccup in the third game that's about all she had to smile about…as the New Bremen Cardinals advanced to Sunday's Division IV championship round in volleyball Saturday with a 25-18, 25-16, 22-25, and 25-13 win over the 20-6 Green Wave from Licking County.
Third-ranked New Bremen (25-3) will seek its third state title in four years tomorrow, hoping to carry over some incredible momentum and good feeling for how they played Saturday…and for a night's worth of healing rest for senior leader Josie Reinhart, who played Saturday while nursing a sore knee.
"I was going to play, regardless of how it hurt,"  smiled Reinhart.  "I could have torn everything, and I would probably still have been out there."
Some ice and Advil tonight, however, she admitted.
Which goes a long ways in describing the kind of competitive mindset Newark Catholic ran into, as New Bremen streaked out to a 6-1 lead in the first set and never looked back.  The only apparent competition was their own hitting mistakes as they rifled one shot after another through and over the Green Wave defenders.
The second set was little different, albeit Newark did get out to a slim 6-5 lead as they regrouped and found their own competitive mojo.  But a couple of serving errors opened the door for Bremen, who went on a 12-5 run and got out to an 18-10 lead…and never looked threatened again, eventually winning the set, 25-16.
But as is their occasional custom the Cardinals seemed to take those first two sets as fool's gold, became complacent, and allowed Newark to get back in the match in the third set, falling behind early, trailing by as much as ten points, before kicking it in at the end.  Too little, too late, however, as Newark held on for a 25-22 win.
And did the Cardinals take their foot off the gas, as Kramer admitted in other recent late-season contests?
"Newark's a great team,"  said Kramer in defensive mode.  "They have great athletes and they're well-coached.  They didn't get this far by it being easy.  So I think it was a combination of them making plays and us looking frazzled at times.  However, we were down ten points in the set, but the clear message to everyone was that we expected to win.  We will not be out there in a Cardinal uniform and stop playing.  We expect to win every single point…we expect to win every single match."
As if to confirm that statement the Cardinals came right out in the fourth set and immediately went up 7-1, then 11-2, and eventually 17-4 before Newark got over the shock of Kaylee Freund at the net…Josie Reinhart, Ellie Tangeman and Elli Roetgerman blistering shot after shot to all corners of the floor.  They came back to reach double digits in the points (25-13), but the game, and match, was never in doubt.
As is their custom, New Bremen spread the wealth statistically, with Reinhart and Freund each having 10 kills, , while Ellie Tangeman and Elli Roetgerman had 7 apiece.
Pape had a brilliant match, offensively, with 32 assists.
Libero Diana Heitkamp had 21 kills.
Brynn Peddicord led Newark Catholic with 12 kills and 14 digs.
"I'm just really honored to be these girls coaches,"  said Kramer in a concluding statement, afterwards.  "They worked so hard, they've bought into a system, and this is something they dreamed about since the eighth grade, my first year here as coach.  Some of them have been in uniform for all four trips to the state tournament and the fact that they will have an opportunity to play now in eight state matches is just remarkable.  They've bought in, and they learned from those that have come before them."
Now they await the anticipated matchup with Tiffin Calvert in Sunday's championship round – 27-0 entering the tournament, ranked #2 in the state, and a team that will be considered the favorite to win.
"Doesn't matter,"  said Kramer, echoed by Pape, Reinhart, and Diana Heitkamp, who joined her in the post-game press conference…each admitting that the Cardinals stirring football victory Friday night provided plenty of carryover effect for the rest of the weekend.
"It really does carry over,"  said Heitkamp.  "We've all grown up together, so we're a close-knit family with kids in every sport at New Bremen.  The excitement and momentum is awesome."
"And you can't tell me that sports doesn't matter,"  said Kramer.  "In the world we live in now there's no much hatred and division out there.  You can't tell me that high school sports doesn't mean something.  You can't tell me that the town of New Bremen is divided right now.  It's closer than it's ever been.  The amount of support that we're getting – the amount of love that we feel – is remarkable.  You walk the halls at school and you see the excitement on the faces of little girls, and teachers, and the excitement in our stands.  I know there were tons of subscriptions bought to watch our match today.
"For people to say that it doesn't matter…it really makes me crazy.  So we welcome the competition – doesn't matter who it is.  We're excited to play Calvert, if that's who we play, and look forward to the competition.  I know they're going to be favored to win, but it doesn't matter.  We want to play."
"Bring it on,"  smiled Elli Roetgerman, intent on making the most of her final campaign – living that eighth grade dream as time ticks down.
They're just one win away…from three out of four.
"Remarkable!"