It was thorough and business-like, as Coldwater outplayed Mechanicsburg to return to the state semi-final round for the first time in four years.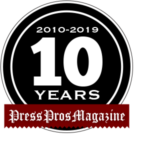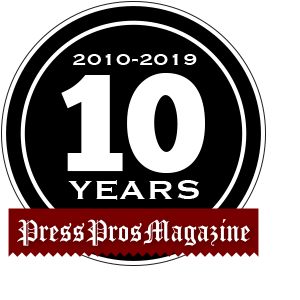 Coldwater, OH – They made it look like a board meeting, something they do on a quarterly basis – so thorough was Saturday night's 35-14 over #2 seed Mechanicsburg by #1 seed Coldwater in the Division VI regional final.
The irony is, rather than once every four months…it's been four years since the six-time state champion Coldwater Cavaliers have actually been to the state semi-finals that come next week, where they'll meet Columbus Grove for the opportunity to play for state title number seven.
It doesn't seem like all that big a drought to the average high school football program, but…."That's a long time for Coldwater,"  said Cavs statistician Chris Cron following Saturday night's win.  And with the efficiency with which they went about it, Chip Otten and the Cavaliers left no doubt that they believed just like Cron.
From the get-go the offense was spot on, racking up a two-to-one advantage in total yards to Mechanicsburg (408 to 225), and they did it with only one big play for the night, a third quarter 89-yard run by Tyler Schwieterman on a reverse.  The rest was dink and dunk – take what you give me – and 221 yards passing by Myles Blasingame to Zack McKibben (7 for 93 yards) Jay Muhlenkamp (3 for 42 yards), Jesse Meyer (4 for 55 yards), and Schwieterman, who grabbed a pair of tosses for 28 yards.  Blasingame, himself, rushed for just 23 yards on 12 attempts…and for three touchdowns!
All this is impressive, of course, but to temper any questions or doubts about dimensionality…it was the Cavalier defense that delivered the win, holding a strong, tough, Mechanicsburg running attack to 167 yards through the combined efforts of Aaron Conley, Jake Hurst, Gabe Chandler, and Chayse Probst.
It was academic, actually.  After 'Burg quarterback Aaron Conley found teammate Jake Hurst for an 11-yard touchdown pass at 7:35 of the first quarter, it was all Coldwater all the time until the final five minutes of the game.
At 3:47 of the first quarter Blasingame scored the first of his three consecutive touchdowns from a yard out to tie the game at 7.
At 10:04 of the second he scored the quinella from six yards out to make it 14-7.
At 5:13, on their next possession, he hit the trifecta from three yards out to extend the margin to 21-7 at halftime.
Taking the second half kickoff, they piddled away a minute and fifty four seconds before Tyler Schwieterman went playground with that 89-yard reverse, a call by Otten from the sideline….28-7, Coldwater.
Then, at 8:49 of the fourth Luke Sudhoff, who had worked like a sled dog on both sides of the ball all night, finally rang the end zone bell with a 1-yard run of his own to push the margin to 35-7 and effectively snuff out the Indians' candle.
But the 'Burg wasn't done.  Playing for pride, they took their final possession of the game and used most of the last seven minutes of the quarter to go 98 yards on the ground and score on a three-yard run by Conley to make the final deficit at least respectable…35-14.
"We're a running team," said 'Burg coach Kurt Forrest with a smile, afterwards.  "And we wanted to finish this thing the way you started it –  be true to who we are.  We weren't going to go out there and do a bunch of things and look silly.  You want your kids to end the game by doing the things they know how to do."
And for much of their 9-1 record in 2020, what they had known was a massive ground assault that piled up yards and points on the Ohio Heritage Conference.  Saturday, however, Coldwater wouldn't let them do that.
"Obviously they're a well-coached football team with kids that play really, really hard,"  added Forrest.  "They just don't make mistakes.  They did a great job of keeping the ball in front, and keeping the ball inside.  They fly to the ball, they tackle, and they did an excellent job with team defense.  They slowed down what we do and a tip of the cap to them.  They're the #1 team in the state for a reason."
But Mechanicsburg entered the game as the state's #2 team, and deservedly so.
"They're a tough team…tough-minded and they hit,"  said Chip Otten afterwards.  "One of our JV kids was in the game late and he came to the sideline and said, 'Those guys are really strong.'"
But Coldwater negated most of that with their tried-and-true, and time-tested method of spreading the wealth on offense…and flying to the ball on defense.  Not the biggest, or even as big as Coldwater teams of the past, they get it done by committee…or more appropriate to Saturday's performance, like a board of directors.
"All we worked on this week was keeping contain on them,"  said defensive end Jesse Meyer.  "Work the edge, and keep contain.  We knew they used a lot of formations and in our walk-through this morning we went over that again.  I thought we did a pretty good job because their breaking point came earlier than what we expected.  We sped up on them and that seemed to get them tired."
Meyer and company pursued them relentlessly, maintaining the edge, containing the sweeps, and denying Conley, Chandler, Hurst and Probst anything more than a five-yard average.  The more they tried – the more they ran – the more time they took off the clock, which of course suited Chip Otten just fine.
"What they do is use a lot of different formations to get good angles,"  said Otten.  "But our coaches did a great job of figuring out what we needed to do to stop 'em, and except for early in the game, and that long drive at the end, we made 'em work hard and didn't give them anything big.  Our kicker was awesome tonight (Meyer) and he was bombing the kickoffs deep, so they had to go eighty yards, and if you can do that you've got a chance.
"They're obviously committed to the run game, even when the outcome was inevitable at the end.  But Kurt (Forrest) is doing a really good job over there and they've been in the playoffs a bunch of times.  So hats off to him.  He's a class guy.  I was happy to meet him tonight.  And I'm sure they'll be back."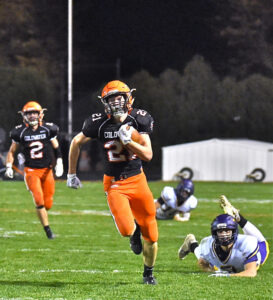 Next up…a date with Columbus Grove, who knocked off Fairview, 42-21, Saturday to set up another first-time experience with an unfamiliar opponent.
"Really don't know anything about them,"  added Otten.  "I saw them on WOSN last week and they looked like a big, physical team with a quarterback that looks like Keith Wenning (former Coldwater quarterback).  Other than that, that's what I know."
But unfamiliarity doesn't seem to matter anymore.  Spread the wealth on offense, and get to the ball on defense.  Be efficient, don't turn the ball over, kick it deep on kickoffs, and make 'em go eighty yards.  If you can do that…you gotta' shot.
And oh…to a man they're playing like they're offended by it being four years since they've been to the Final Four.  Like the man said: "That's a long time for Coldwater."