New Bremen took the next step in establishing a new order of power in the MAC with a display of big plays and a stunning win over defending state champ Marion Local.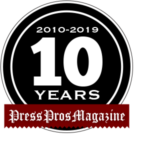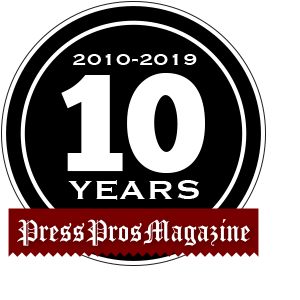 Maria Stein, OH – New Bremen coach Chris Schmidt took some time in his post-game comments to his football team to remind them…that if you don't give up – if you keep your head down and just keep playing – sometimes you get that second chance.  A chance at redemption!
And that's exactly what happened Friday night for the #3 seed New Bremen Cardinals, who used a couple of big special teams plays – a blocked field goal and a blocked punt – to turn the tide of the game and beat Division VII defending champ and #1 seed, Marion Local, 24-17, in the regional final.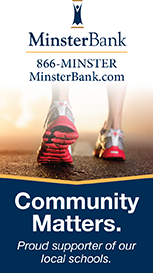 In doing so the Schmidt's Cardinals atoned for a disappointing loss in week 2 of the regular season, a game in which they held a commanding halftime lead over Marion only to see the Flyers come back in the second half and outplay and outscore New Bremen, 21-13.
"To be honest our focus after that game was about how to get back to play Marion for a second time, and if we see them again what can we do,"  said Schmidt Friday, post-game.  "And I'm so proud of these kids because they had to win games to get back here, to get that second shot at Marion.  We had to work our way back, and after the Coldwater game (a 24-7 loss) we had to do some soul-searching.  We had to have some things come together.  So yeah…I'm speechless."
And Schmidt and company might well have been speechless again in the first quarter Friday when Marion took the opening kickoff, and on the third play from scrimmage scored on a swing pass to tailback Drew Seitz that went 73 yards for a touchdown and a 7-0 lead just :53 seconds into the game.
But the sign of a good team…..?
New Bremen didn't panic, didn't look for a black cat as a curse…they just played;  and on their second possession of the first quarter drove to the Marion 10 yard line before stalling and settling for a 27 yard field goal.
In the second (quarter) Marion answered with a kick of their own, a 30 yarder from Kevin Partington to go up 10-3, establishing the fact that they were prepared in all phases of the game.
The Flyers had not allowed an offensive touchdown in six weeks, but that did not deter New Bremen quarterback Mitchell Hays, who came back in the final two minutes of the first half to engineer a scoring drive that saw him run it in from 11 yards out with 1:30 left to tie the game, at the half, 10-10.
"We weren't surprised,"  said Marion coach Tim Goodwin later.  "They're a good team, they played extremely well, and they made plays."
But Marion hadn't seen anything yet – prophetic on Goodwin's part – as New Bremen would save their best plays for the second half, when they needed them most.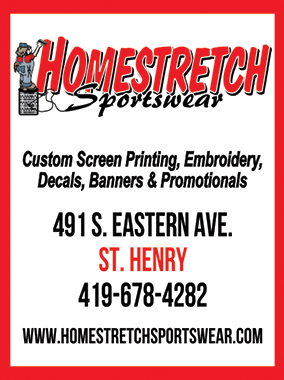 Outside of Seitz's long touchdown catch and run in the first quarter, New Bremen's quickness and aggressive defense had thwarted Marion's ability to move the ball with consistency.  But Goodwin and the Flyers came out of the halftime locker room intent on reprising the basics of Marion football.  They started to run the ball.
And New Bremen helped them…a costly fumble by running back Zach Bertke gave Marion the football with a short field on the Cardinals 45 yard line.  Goodwin called on Seitz, who powered the football all the way inside the ten yard line on six plays before diving across the goal line from five yards out to put the Flyers up 17-10 at 7:45 of the third quarter.
More, while Marion wasn't punching up more points, they were controlling the clock and the game on offense – more Seitz, more yards, and a familiar pattern of Flyer football.  They held that 17-10 lead into the opening moments of the fourth quarter, when with fourth down and five yards to go from the New Bremen twelve, they attempted another field goal to go back up by ten points.
Marion prides itself on execution of the details, blocking on special teams, for instance.  But this time when Kevin Partington stepped into the ball for a 29-yard attempt he looked up to see what looked like a team photo of the New Bremen Cardinals.  Sophomore David Homan was front and center, and he blocked the kick to thwart the attempt for points.
No harm done, yet, as Marion would get the ball back and start another drive midway through the fourth quarter, still clinging to that 17-10 lead.  Running plays with Seitz and Peyton Otte took the ball out from the shadow of the Marion goal line to near the thirty, when Goodwin attempted to catch New Bremen stacking the line to stop the run.  Otte threw the ball down the sideline, intended for Charlie Huelsman, but David Homan loomed again, tipped the ball away, and it was intercepted to stop Marion again.
It sparked new life in New Bremen, who almost gave it right back with an interception by Marion, but a personal foul penalty allowed them to maintain possession inside the thirty yard line.  Mitchell Hays, who had dazzled all night with his ability to evade tacklers, worked the ball to the two yard line where Zach Bertke atoned for that earlier fumble, scoring from two yards out to tie the game at 17-17.
But Marion had time – 3:06 on the clock – and the confidence of running the ball with Seitz, Peyton Otte, and Grant Meier, and took over on their own 25 yard line.  Only this time, New Bremen's defense stopped them on a three-and-out, forcing the Flyers to punt from their twenty yard line.  The snap to punter Dylan Fleck was good, but he took a second longer than normal to kick the ball…enough time for the Cardinals' Dan Homan to slip the wing blocker and smother the punt.
More, the ball bounced right up into Homan's hands and he ran the remaining twenty yards for a touchdown…the go-ahead score, 24-17.
What noise that could be heard was all 'Cardinal' and gold, as the Marion bench and the crowd behind it looked on in stunned silence.
"We gotta' score," someone yelled out on the sideline, and indeed they had 1:30 on the clock to try.  But a run and three consecutive pass plays failed to net a first down, and Marion's undefeated season, and their aspirations for another championship run and title #12 ran out, right there on the forty yard line.
New Bremen got the ball back, ran four plays, and took the clock all the way down to 4 seconds before turning it over on downs at midfield.  One more Hail Mary pass for Charlie Huelsman was their final hope, but it was intercepted by who else…David Homan.
New Bremen would finish the night with just 179 yards of total offense.  While Marion Local nearly doubled that with 301, including 189 on the ground.  But three big plays – two on special teams (the block field goal and the block punt and return for a touchdown), and the interception that thwarted Marion' momentum in the fourth quarter – proved to be the decisive factors in the game.
On the blocked field goal by David Homan:  "It hit me right in the chest, and it kinda' hurt,"  he smiled, showing no residual pain.
And on the blocked punt and touchdown by his older brother, Dan:  "I had been working the blocker to the outside all night, setting him up.  Once I saw he was going outside again I just gave him a shove and went inside and had a clear path to the punt.  It hit me in the stomach, I boxed him (Fleck) out with my body, picked it up and scored."

"Those two plays on special teams were the difference,"  said Tim Goodwin.  "That's 14 of their 24 points right there.  And that kid (Homan) made a heckuva' play on that blocked punt – a heckuva' play.  It wasn't a bad snap.  It seemed like it took a little longer to get it off, but the kid just made a heckuva' individual play.
"We had our chances,"  added Goodwin.  "The blocked field goal?  We had a chance to go up by ten points again, they make another special teams play, and we were fortunate they didn't pick it up and return it for a score.  They've got seventeen seniors, they made some plays, and they played well."
It was an outcome that no doubt stunned the state.  New Bremen, under Chris Schmidt, has been on the rise for five years – has been competitive in the MAC for the past two seasons, but lost to Marion last year in the regional final, 27-0.  No one expected such an outcome, especially after Marion had survived six turnovers to win back on week 2 of the regular season.
"I'm so happy for these kids,"  said Schmitz.  "We were really struggling as a program when I came here, and these seniors who were in the seventh grade back then really believed that we could turn the program around.  And man…this is a very special win because they're obviously (Marion) a very special program.
"We talked about it this week…we had to make special teams special if we were going to win.  We felt we had to win there [that phase of the game] because we knew it would be tough to put points on the board.  And what a play by Dan Homan.  He just found a way to get it done…a senior stepping up, and I'm so happy for him and all our kids."
"This is huge for our team"  added the younger Homan, David.  "I think there was a stretch there where they were thinking about cutting our football program.  But our senior class…it's a great class and they stuck with it.  They're great leaders and they've shown us the way and how we can be a great team."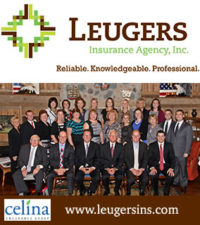 Marion Local closes its season with a 9-1 mark, and New Bremen (8-2) has now won six straight since that loss to Coldwater.  And not to be overlooked in those six straight are wins over top-seeded teams, Versailles, Fort Loramie, and Marion Local.  Never has anyone been happier over not cutting football (if that was the case). Never has the pecking order of the MAC looked more interesting going forward.
And never has there been more anticipation for a weekend in New Bremen sports as the volleyball team plays in Saturday's regional final, seeking their third state title in four years.
As for football, 'Cardinal' rule prevails.  Don't ever give up.  Sometimes you get that second chance.