They fought like Tigers…but came up a play short.  Versailles sees its season end in an exciting 31-28 loss to Roger Bacon in the Division V regional semi-final.
By Rob Kiser for Press Pros      [VIEW/ORDER ACTION PHOTOS]

CINCINNATI, OH — For a half it looked like Roger Bacon was in control against Versailles in a D-V, Region 20 football regional semifinal Saturday night at Roger Bacon.
But, Versailles pushed the unbeaten Spartans to the limit in the second half, coming up just a field goal short in a 31-28 Roger Bacon win.  Roger Bacon improves to 9-0, while Versailles drops to 5-3.
"I am so proud of all my staff and players," Versailles coach Ryan Jones said. "And Tigerball nation for the way they supported us. I couldn't be prouder of the effort tonight."
And Roger Bacon coach Mike Blaut tipped his hat to the Tigers.
"You have to give Versailles a lot of credit," Blaut said."They did a great job of adjusting to what we were doing."
Things really got interesting when Versailles hit for a 48-yard touchdown on a halfback pass from Landon Henry to Alex Kaiser. When Wes Bruns booted the extra point, the Tigers were within 28-21 with 1:37 remaining in the third quarter.
"Landon (Henry) made a great throw and the offensive line did a great job of giving him time on that play," Jones said.
A Versailles defense that had no stops in the first half, continued to blank the Spartans in the second half.  And the Tigers appeared en route to a tying touchdown.
But, on a first down play from the Bacon 33, Alex Wolf intercepted to give Bacon the ball back at its 22 with 7:17 remaining.
"He is a quiet player out there," Blaut said. "You don't hear his name called a lot. He stepped up and made a big play. He is another one of our seniors."
Bacon then went on a 12-play drive, forcing Versailles to use all three of its timeouts.
Star running back Corey Kiner, a LSU commit — ground out yardage in small chunks before the Spartans faced  fourth-and-three from the 20-yard line.
"We just needed to move the ball and use up the clock," Kiner said. "We just needed to put points on the board."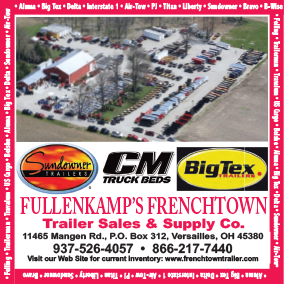 Dylan Rolfert delivered with a 37-yard field goal to make it 31-21 with just 2:36 left.
"It is kind of ironic," Blaut said. "We got beat last year on a field goal and we make a big one tonight. I feel great for him (Dylan Rolfert) to make a big kick like that."
The Tigers weren't done yet.
Carson Bey skillfully directed the team down the field for a quick score.  He connected with Noah McEldowney for a 16-yard catch and on second-and-goal from the five, found Henry in the back corner of the end zone for the score. Bruns' kick made it 31-28 with a little over a minute remaining.
"Carson (Bey) had a great game," Jones said. "He threw the ball extremely accurately tonight and he took some big hits out there."
Bacon was able to fall on the onside kick and took a knee twice to end it.
"We just came up one play short," Jones said.
The game had begun with Kiner exploding out of the gates.
He went for 115 yards on his first three carries, including touchdown runs of 33 and 82 yards on consecutive plays.
"I hadn't played in two weeks because of my ankle," Kiner said. "So, I was ready to go. My offensive line really stepped up tonight."
And Blaut was happy to see it.
"We couldn't use Corey (Kiner) much last week," Blaut said. "You could see it was the old Corey right away."
Quarterback Logan Huber also threw a 25-yard TD pass to Ryan Hallau on fourth-and-14 and Danny Hudepohl ran for an eight-yard TD late in the first half.
"He (Logan Huber) has really stepped for us this year," Blaut said.
Jack Osborne had touchdown runs of one and three yards for the Tigers and also had a 40-yard reception in the first half.
"They were bottling things up (at the line of scrimmage)," Jones said. "When, we hit that big pass to Jack (Osborne), that kind of opened things up."
Still, the Tigers were left with a 28-14 halftime deficit, before the second-half comeback came up just short.  Bey was 14-for-15 passing at one point in the game and finished with 21 completions in 30 attempts for 261 yards. Combined with the halfback pass, the Tigers finished with 309 yards passing.
Eli McEldowney had nine catches for 113 yards and Osborne had 55 on three catches.
Bacon was able to counter with a more balanced attack.
While Kiner had 204 yards rushing on 21 carries, Huber completed 12 of 18 passes for 175 yards.  Jake Tschida had three receptions for 74 yards and Hallau added three catches for 52 yards.
For Jones, while the future is bright — the toughest part was saying goodbye to his nine seniors.
"I can't say enough about those guys," he said. "We wouldn't have gone this far in the battle without them. I am going to miss those guys."