They played nearly perfect football on both sides of the ball, impressed their guests, and advanced to next week's regional final game with an "old-time" Coldwater win over West Jefferson.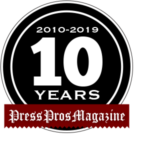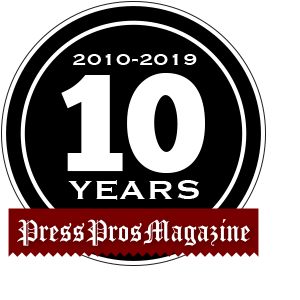 Coldwater, OH – West Jefferson coach Shawn Buescher summed up Coldwater's 42-8 win over his Roughriders this way Saturday night.
"I knew they were a good program – that they were a good team,"  said Buescher.  "They have all the ability in the world and they're a team that can go on now and finish this thing off.  I wasn't happy with the way we played, and I know our kids weren't.  But if you let things get away from you like we did this is what can happen against a quality opponent like Coldwater."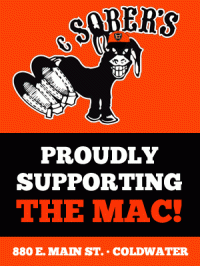 What happened was total domination of a good West Jefferson team that came into Saturday night's game with a 7-1 record (their only loss was to Mechanicsburg) and the state's top passer in Tyler Buescher, who owned better than 2,900 yards for the year.
But in a span of twenty four minutes (the first half) Saturday, Coldwater's defense held Buescher to ZERO yards passing – 0 for 7.
They outgained West Jefferson 309 yards to 68 in the first half.
They held Buescher to just two passing first downs for the game, 123 yards and one touchdown.
They outgained West Jefferson 415 yards to 205 for the game…and 84 of those 205 came on one pass play in the fourth quarter.
They outpassed West Jefferson 174 to 123;  and outrushed the Roughriders 241 to 82.
In short, Coldwater answered any and all questions from anyone prior to Saturday night as to their quality, their offensive balance, and especially their ability to defend – what someone at halftime called an "old time" Coldwater game.  They did it all against a good and representative Division VI football team, and they did it impressively!
"We did everything well,"  said Chip Otten.  "The kids seemed pretty focused, we felt like we had some mismatches with their alignments (more than players), we spread the wealth on offense, and we were very efficient.  When you can spread the wealth like we do on offense it's kind of hard to find the ball."
How efficient were they?
They scored on six of their nine possessions for the game, beginning with the opening possession of the game – an eight play drive that ended with Myles Blasingame carrying it into the end zone for 7-0 lead at 8:35.
Forcing West Jeff to punt, four minutes later they scored again, this time on a Luke Sudhoff run at 4:57.
They opened the second quarter with the ball and a 57 yard run by Blasingame to the end zone to make the score 21-0 as the faithful from Madison County began to squirm.
West Jeff fumbled on the following possession, setting up Coldwater on the Roughrider 30 yard line…and 44 seconds later Myles Blasingame bounced one through the hands of Tyler Schwieterman and into those of a waiting Jay Muhlenkamp to make it 28-0.
And with :52 remaining before the half Otten obviously wanted to have the running clock to start the second half.  So they went over the top on first down, from West Jeff's 42 yard line, and found Muhlenkamp again for the crushing touchdown to all but seal things…and still with a half of football to play.
Their final score came with two minutes left in the third quarter when Blasingame again found Muhlenkamp in the end zone from 18 yards out for his third touchdown of the game…and a 42-0 lead.
Muhlenkamp, who would rather play than talk, simply said afterwards of his outstanding night:  "It was a great feeling…lots of fun."
All that offense, of course, but the focus really should be on a Cavalier defense that played as well as anyone can remember – "old time" – against a team with that much firepower.
"Our defensive linemen really played hard, our linebackers played hard, and we tried to get as much pressure on their quarterback as possible,"  said defensive tackle Nolan Tobe.  "We knew he was a good player, and our safeties and corners held up real well.  They were batting balls down and that made the job a lot easier.
"We always try to focus on our game.  We tried to take away their main thing and that was passing the ball.  We wanted to take away their plan."
They did that, and more, limiting Buescher to that one harmless 84-yard touchdown against the Coldwater seconds in the fourth quarter.
They limited Hayden Salyer, a talented runner, to just 70 yards on 16 carries.
Tyler Oberle, a dangerous threat on sweeps and as a receiver was held to just 17 yards rushing…and no catches for the game.
MJ Book's name, the other deep threat as a receiver, was barely mentioned.
Adam Fry had all three catches for Buescher, including the touchdown.
Myles Blasingame led the Cavaliers in rushing with 108 yards.  Zack McKibben added 69, Luke Sudhoff had 45, and Marcel Blasingame had 20.
Muhlenkamp was the big target through the air, with 76 yards on three catches…and all three for touchdowns.
"We had a good week of practice and our skill guys were really good tonight,"  added Otten.  "We've got guys that can run just like they do.  Our coaches put a good plan together, and defensively we used five DBs most of the time, and we made sure we knew where #10 (Oberle) and #21 (MJ Book) was at all times.  We got enough pressure up front with four guys, and some underneath guys, to where they couldn't beat our DBs deep."
With their history it's hard to imagine anyone questioning Coldwater's 9-0 record and the fact that the longer they play the better they seem to play.  Not as big as Coldwater teams of the past, still, you have to play Coldwater on their terms – spreading the wealth on offense and impeccable game planning on defense.  Mechanicsburg, the only other team to beat West Jefferson this year, is next up, having advanced Saturday with a win over Frankfort Adena.
"I don't think we've ever played Mechanicsburg,"  said Otten.  "But we saw the film of their game with West Jefferson this year and we know their history.  They always have tough kids and a lot of wrestlers over there, so we'll prepare for them like we prepared for West Jefferson.  We get to play another game…and we get to play it at home."
Any other questions?