A handful of defensive stops and timely offense was enough for New Bremen to hold off Fort Loramie in the Division VII, Region 28 semifinals on Friday. The win set up an all-MAC regional final with Marion Local.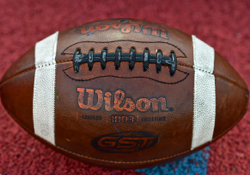 Fort Loramie, OH – Teams playing in a football conference that's won 35 state championships can sometimes get overshadowed, especially if you're not one of those eight state-title programs.
That's the plight of New Bremen, one of two Midwest Athletic Conference football teams (along with Parkway) still searching for its first championship. It's not that New Bremen isn't good enough to do it. It's more that the league is loaded with teams who are … and have … to snag all the attention.
"I think people in the MAC know we're pretty good," New Bremen coach Chris Schmidt said. "It's kind of this perception on the outside – maybe it's because people don't hear about New Bremen a  whole lot – that we're not on the same level as other teams. I think this year we proved that."
They did it again Friday night in the Division VII, Region 28 semifinals. New Bremen's defense came up big one final time, batting down Fort Loramie's fourth-down pass from the Cardinals' 32-yard line with 1:23 remaining to preserve a 16-8 victory. New Bremen (7-2) plays Marion Local (9-0) next Friday for a regional championship and trip to the state semifinals.
The two teams met in last season's regional final, a 27-0 Marion Local victory that continued the Flyers' march to their 11th football state crown.
New Bremen returned behind dual-threat quarterback Mitchell Hays and an aggressive, hard-hitting defense. The Cardinals unofficially put up 353 yards of total offense – 235 coming from Hays' combined rushing and passing yards – while holding the Redskins to 214.
Fort Loramie entered averaging 296 yards rushing per game. The Redskins finished with 11 on 22 carries. The Cardinals defense harassed the Redskins in the backfield with 10 tackles for loss and pressured Loramie quarterback Collin Moore into a 19-for-32 effort with 203 yards.
"We knew we couldn't let him sit back there and have a lot of time," Schmidt said of Moore. "If that happened we'd be in trouble. … He does throw a great ball, especially if he has time. We just wanted to make it as hard as we could on him and their offense."
A Fort Loramie team averaging 468 yards per game struggled to find consistency in the first half against New Bremen's pressure. The Redskins punted on their first six first-half possessions – converting just one of eight third-down opportunities – and tossed an interception on a Hail Mary pass attempt as time expired for halftime.
Still, the Redskins had a chance at the end to force overtime with a touchdown and two-point conversion. It ended when New Bremen's Branxton Krauss batted down Moore's pass near the line of scrimmage on fourth down. The drive started on the Redskins' own 1-yard line after a Cardinals' defender dove to keep a punt from rolling into the end zone, batting it back to Krauss to down.
Moore drove the Redskins downfield in eight plays – connecting on 5-of-6 passes – before it stalled.
"I thought our kids fought like heck until the end," Fort Loramie coach Spencer Wells said. "I had no doubt they would fight to the end. We believed we were going to win right up to the end. Credit to them, this senior class is such a special group of young men. They all left it all on the field. We have a really bright future because of them."
As for New Bremen, the Cardinals scored 10 points in the final 5:36 of the first half after flirting with the end zone. New Bremen's first three drives ended with an overthrown pass into the end zone on fourth down from the Redskins' 33-yard line, a 27-yard field goal that missed and Sam Barhorst's interception on Loramie's 10-yard line.
The Cardinals made good on their fourth drive with a 28-yard field goal from Owen Gabel with 5:36 left in the second quarter. New Bremen forced a punt with 59 seconds left and two plays later Hays sprinted up the middle, bulled through a tackle attempt just past the line of scrimmage and bounced off for a 44-yard touchdown run.

"He tackled me up high. When you see someone stand up like that you just have to run through them," said Hays, who rushed for 94 yards and completed 7-of-18 passes for 144 yards. "Luckily he fell off and I got a lead block from Kyle Tenkman. He did a great job and that's how I got in the end zone."
The Cardinals opened the second half with a five-play, 68-yard scoring drive for a 16-0 lead. On third-and-5 from the Loramie 14, Hays took the snap and rolled out. Receiver Wyatt Dicke … and couple other Cardinals … never moved after the snap. Dicke – who set up the TD with a 67-yard sweep — then sprinted into the flat where Hays hit him in stride for the 14-yard touchdown.
"Yeah, that was not by design," Schmidt said. "I was like everybody else, I was becoming a spectator and seeing what happens. Thankfully Mitchell kept scrambling around and our kids kept playing. … That was a big play because obviously we needed to get as much room as we could because we were worried about their offense."
Fort Loramie answered on its next drive. On fourth-and-2 from their own 40, Moore dropped back and found Logan Eilerman down the sideline for a 60-yard TD strike. Eilerman hauled in the pass near the 20-yard line and scored untouched. Moore's two-point conversion pass was batted right back to him, which he then ran into the end zone to cut the deficit to 16-8.
Loramie had four more drives in an attempt to tie the game. The next three drives ended on a turnover on downs at New Bremen's 48-yard line and a pair of punts. The fourth was the batted down pass.
"We watched a lot of film," New Bremen receiver and defensive lineman Dan Homan said. "We watched almost every game and filmed up. We just have great players who make the plays."
Homan hauled in three passes for 96 yards. Homan and Hays just missed connecting on a couple more that also would have resulted in big plays.
"(Homan's) great. Obviously when you have a 6-foot-3, 195-pound stature and you run a 4.5 or whatever he runs … he's definitely a great receiver and one of our key guys," Hays said. "You want to talk about how great of a receiver he is, if you've seen him play on defense it takes three guys to block him. He's that good of a player. He's just an athlete."
"Mitchell is the best (defense) reader I've ever seen or played with," Homan said. "Just run my route and the ball's there."
Of Hays' 1,118 yards passing this season, 501 have gone to Homan.
"Darn it, I wish we'd connected a couple more times," Schmidt said. "We just seemed to be off on a few of those. Ever since they were younger kids they always had this kind of connection. They're almost like a married couple, too. You watch them and they kind of get into it, but they love each other and want the best for each other. They're great competitors, too."
Fort Loramie (7-2) was looking for its second state appearance in three seasons. The Redskins reached the state semis in 2018. Injuries, especially in the backfield, hamstrung the offense toward the end of this season. Moore led the team with 24 yards on 13 carries. Nate Meyer gave the team a morale boost by returning after a multi-game absence and finished with minus-8 yards on three carries against a Cardinals' defense allowing 105 yards per game.
"(The Fort Loramie defense) fought like heck," Wells said. "Offensively we struggled in that first half to get anything going. We kept putting them in some bad spots, to be honest. They fought like heck. … We talked about big plays usually make the difference. Credit to New Bremen.
"We've got a really bright future. I can't wait to get back in the weight room this offseason. I can't wait to hopefully take that next step as a program. … We're going to win these games. I'm not sure when it's going to be but I'm going to be here until they'll have me to keep fighting tooth and nail. And when we do break through it'll be because of the classes like these seniors and the foundation they've set."
New Bremen gets its chance to break through next week against Marion Local. The Flyers won the Week 2 game 21-13. Marion shared the MAC title with Coldwater at 6-0, while New Bremen finished third at 4-2.
"We know next week we have another tough opponent in Marion Local. That's just how the playoffs are," Hays said. "When you look at Loramie you look at their size. They're huge guys. … I think with playing teams like Marion and Coldwater and Versailles and even last week we were in a dog fight with St. Henry, (MAC experience) shows in games like these.
"Fort Loramie did a great job. They got hats to the ball. They definitely are a good team and I think they'll make a good run next year as well."