They played as well as they have in years past, titles past.  New Bremen swept #1-ranked New Knoxville to take their first straight district title.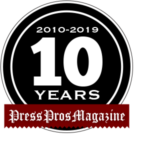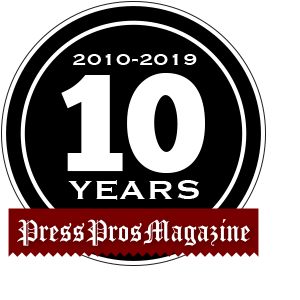 New Bremen, OH – They won it in straight sets, and at times they played as well as they did during their two state championship matches (2017 and '19).
The #3-ranked New Bremen Cardinals more than atoned for their 0-3 loss to #1-ranked New Knoxville two weeks ago by returning that same favor to the Rangers Thursday night…25-17, 30-28, and 25-23…this time knocking the state's #1 ranked team out of the tournament at the district round.
They improved to 22-3 on the season and advanced to next week's regional round at Northmont High School, and at times looked every bit like those teams from 2017 and '19 – excluding Paige Jones, of course.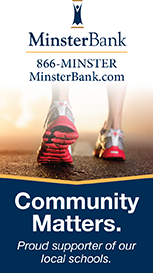 "I've always said that if you want to win you've got to play well, but you've got to have a little luck along the way, too,"  said Cardinals coach Diana Kramer.  "But I also believe that good teams get lucky at the right times, because they deserve it.  And my girls deserve it tonight, because they work hard, and they found a way to win tonight against a very, very, very good New Knoxville team.
"You don't go undefeated, and win the MAC undefeated, lose four or five sets all year, and not be good.  They (New Knoxville) are really, really good."
Make no mistake, New Bremen was good on Thursday, coming out in the first set with all the aggressiveness you've come to expect, but with a defense that also made it much tougher for New Knoxville to score than it was two weeks ago.  They blocked, they dug, and made it much harder for the Rangers to score this time.
In the meantime…their service game, one of the mantras of 'Kramerball' never looked better during the course of the regular season.  They served with aggression – laser shots that just cleared the net with little or no arc – and they served with unerring accuracy.  They missed a few, but very few.
The first set was a game of runs – 4 points by one team, only to be matched by four by the other – until New Bremen went on a 6-1 run that took them out to an 18-13 lead that they never relinquished before winning, 25-17.
The second set was another matter.  New Knoxville regrouped, found their composure after the opening loss and after tying the set at 11-11, the Rangers went out to a 17-13 lead.  But Bremen refused to dwell on a deficit, chipping away at the lead until they finally tied it at 24-24 when New Knoxville drove a serve into the net serving for match point.  Then…back and forth.  They tied at 25, at 26, at 27, and at 28 before New Bremen took the final two points to win the set, 30-28.

New Knoxville coach Meg Langeman might have thought there was a black cat under her bench.  You do have to be good, but there was little or no luck on balls from New Bremen that kept finding the floor.  And on one particular serve in the second set, Bremen libero Diana Heitkamp launched herself at a vacated spot on the court just in time to get her wrist under the ball…and with enough momentum to propel it back over the net and in amongst four stunned Ranger players.  It hit the floor untouched, and counted as a Cardinal point.
"I was trying to get my hands on the ball,"  said Heitkamp aftewards.  "Our mottos is 'All In', and that's what I was trying to do."
There would be more bad luck for the Rangers.
But before it showed up…they came out in the third set with composure and resolve unaccustomed with teams in a win-or-else scenario that had just dropped the first two sets.
They traded leads with New Bremen three times, took at lead at 16-13, and looked like they were back to their measured, consistent style of defense and with the dependable hitting of outside hitter Carysn Henschen.  They led 21-18 when New Bremen, and Kramer, called a timeout.
"I reminded them of our team motto (Al In), and that I expected everyone in the huddle to go out and do their job,"  said Kramer.
In a nutshell, that's what they did, wiping out that vapor-thin lead in a matter of shots that tied the game at 23-23.  Then…more bad luck for New Knoxville.
New Bremen Ellie Tangeman went to the service line with a chance to push her team to a win, and a sweep.  She hit one of those serves that appeared to be low, but it caught net…and hung ever so precipitously on the top of the net for a second before toppling over and onto the court.  It caught New Knoxville totally flat-footed, but it counted as the 24th point.  It's part of the game, yes, but you could also hear the hiss of confidence and optimism seep out of the Rangers' mojo.  The 25th and winning point came a second later, and to no one's surprise.
"I was surprised it went over,"  Tangeman said of her serve for the 23rd point.  "I thought it was going into the net and I was thinking 'Oh my gosh'.  But it went over and we got the point.  It was amazing and a good feeling."
In the hallway outside her locker room later, Meg Langeman said the only thing you can say after losing your only match of the season (21-1), and at the worst possible time.
They had played better than the score indicated, losing the final two sets by a combined four points.  Yes, there is the matter of being good enough, as Kramer had alluded to earlier.  But there's also the matter of luck.
"There were some things that didn't go our way tonight, but all I can say is how proud I am of my team, their effort, and how they always bring 100% effort.  We just didn't have our 'A' game tonight, some things didn't go our way, and it gave them a lot of momentum.  We just couldn't quite finish."
At the other end of the gym Diana Kramer was settling into regional mode, her team now in position to advance to the Division IV Final Four for the fourth consecutive season, seeking its third title in four trips.
"We've had some ups and downs this year, especially at the end of the year," said Kramer.  "But they trust the process.  And one of the things that's powering us is the fact that growth isn't linear.
"You can't always move in the direction you want to, and sometimes you have to take step back.  But when you do that sometimes it propels you and allows for reaching that final destination.  So growth isn't linear, and we've proved that we can find a way to continue to grow, and that's our goal for the rest of the season."
If that sounds deep, roll with it.  By now you know the script.  However they did it, they've won another district, vying for another regional, and a shot at another title.
Yeah, it took a little luck.
But you have to be good, too.
Oh – So – Good!