Lions lost 36-35 in overtime to Indiana in opener and must win Game 2 or face real possibility that it's Big Ten championship hopes are all but over.  Mark Znidar writes today's report.
Columbus – There aren't many ideal dates for Ohio State to wage war with Penn State, but this season might rank among the  worst other than Art Schlichter's surprise first start as a freshman in the opener way back in 1978.
Woody Hayes was mum the week of the game about whether incumbent Rod Gerald or Schlichter, one of the most heralded recruits in Buckeyes history at the time, would be No. 1.
Gerald was a triple-option guy and even Hayes, the run-first curmudgeon that he was, gave in to the fact that the forward pass was the way to go.
Hayes chose Schlichter to play against one of the heavy lifters in the nation and he was intercepted five times as Penn State banged out a 19-0 victory that was a lot more lopsided that the score indicated.
This time, the Buckeyes will be playing an angry and desperate Lions team that lost 36-35 in overtime at Indiana when video replay of a two-point conversion run by Hoosiers quarterback Michael Penix was upheld.
And it's Week 2 with only eight more regular-season games remaining.
The Lions either defeat Ohio State on Saturday night at State College, Pennsylvania on ABC, or most probably lose any shot they have of winning the Big Ten East and having a shot to get into the College Football Playoff.
"They're always going to be hungry when they play us, but when you lose a game like that everyone gets a little more hungry,'' Day said. "The issues are there (with out team) and we have got to get them addressed. That's coaching. The goal is to win the game. There can't be anything else. The last few years (against Penn State) it has taken the last few plays to win.''
Day was asked what it takes for a program such as Ohio State to remain one of the finest in college football year in and year out. His first bullet point was saying the Buckeyes must stay on top of recruiting.
Then he said that every week, no matter the opponent, everyone wants a piece of his team.
"Everybody is swinging for you,'' Day said. "You are going to get their best shot week in and week out. This being a strange year and not having a bye week, we're going to have to bring it every single week. You just can't have a bad day.''
There also is the constant pressure of trying to make every game almost work of art with 10s of thousands of people in Buckeye Nation acting as judges.
"The other thing is that expectations are just ridiculous,'' Day said. "You win 52-17 and some guys are walking around in the locker room looking like, 'What happened?' Fifty-two-to-17 is a good day, boys. That part probably is the biggest challenge. Those are all good problems to have. I think we're in a good place. We just have to get this one. This win right here will go a long way for us, so it's all hands on deck.''
Ohio State, he said, is "at least a couple of weeks behind'' thanks to not having spring ball, a long dormant period and all the uncertainty about whether the Big Ten would even have a season.
The last three Ohio State-Penn State games have been decided by a single point, the 2016 game was a three-point spread and the 2014 game a seven-pointer.
The Buckeyes have won five of the six, with the defeat being 24-21 in 2016 when the Lions came from behind.
"We've had some great battles with Ohio State and we're one of the few teams to beat them these past few years,'' Lions coach James Franklin said. "We've found a way to beat them when very few people have, and we have played them to the wire. Sometimes, those games to the wire are the most painful for everybody.''
QUARTERBACK ROOM PRECAUTIONS
There had to be some trembling among the other 13 Big Ten teams when it was announced that Wisconsin redshirt freshman quarterback Graham Mertz would miss a conference mandated 21 days for testing positive for COVID-19. He completed 20 of 21 passes in throwing for five touchdowns and 248 yards in a 45-7 victory over Illinois opening night.
The Badgers are without starter Jack Coan for an indefinite period after having foot surgery October 6.
How do the Buckeyes handle their quarterback room?
"We break it up,'' Day said. "When they are in the quarterback room with (assistant) Corey (Dennis) they obviously are all masked up and distanced. They do a great job of that. I'll grab Justin (Fields) and take him on my own at times for a lot of reasons, and that's one of them. I try to keep him away from some of the other guys.''
Day called staying away from a virus spread a "tricky situation.''
"It's a very, very contagious virus and I feel for all of the teams going through this,'' he said. "That's where we just keep talking to our guys and tell them not to take a deep breath because if it gets one guy a lot of people are at risk.''
NO UPDATE ON CHRIS OLAVE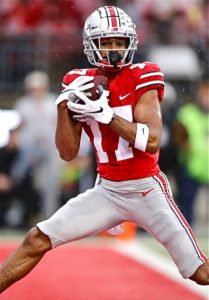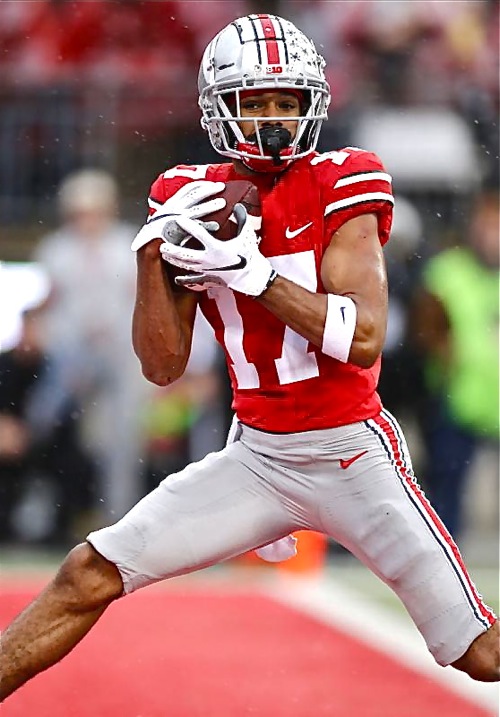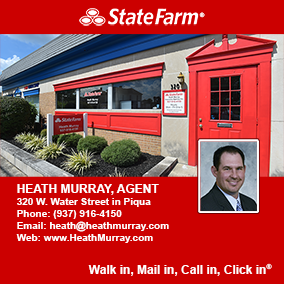 There was no progress report on receiver Chris Olave, who walked off the field by himself but didn't play another down after being sandwiched by two Nebraska defenders in the second half.
What will the Buckeyes do if Olave can't play?
"We'd just move some things around just like we always do,'' Day said. "That's where depth comes into play. We'll see as the week goes on just how it goes."
Slot receiver Garrett Wilson said Olave should be ready.
"I'm super confident (he'll play),'' Wilson said. "I talked to Chris and he seemed all good. I think he'll be ready to play on Saturday.''
MYERS: O-LINE READY FOR NEXT STEP
Left guard Josh Myers said an empty Ohio Stadium didn't have anything to do with the Buckeyes offensive line giving up four sacks and the team running for a modest 222 yards. The team failed on three third downs.
"It's not something we're extremely worried about,'' he said. "I think we have confidence. It's something that they are all things we can get fixed. Also, it was just one of those things that as an offensive line we wanted to run the ball, but things just didn't go our way. There were a lot of times when holes were there.''
Myers said last season's opening victory over Florida Atlantic had the same strange feel even though the crowd count was 103,228. The Buckeyes won 45-21.
"Really, last season when we played FAU (in the opener) it was a similar kind of feel,'' he said. "It just didn't feel like the rest of the games. I can't explain it. I can't put a finger on what it is. I think there will be a lot of improvement from last week to the next one.''
AND FINALLY
Day said employees in the program that handle travel have worked hard to make sure the Buckeyes don't have many if any glitches traveling to and from Penn State.
"It's very, very different in a lot of areas,'' he said. "We go to the hotel and we have protocol in place, how we handle the food, where do we eat. All of those things, the plan ride, the bus ride. It's a lot of stuff. So many people are working hard here to make sure those logistics are good and that we cover all of that stuff so the players don't have to worry about it. We want as few distractions as possible because we've got to get that first road win. No matter what happens it's hard to win in Happy Valley.''