#4 Fort Recovery and #7 Marion Local breezed to district tourney wins, as the rest of the Division IV looks on at the log jam of talent in the Midwest Athletic Conference.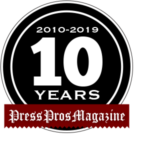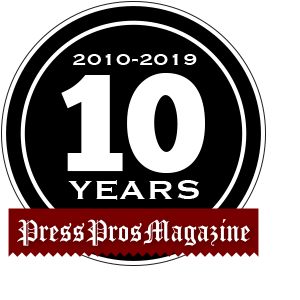 Fort Recovery, OH – Fort Recovery coach Travis Guggenbiller looked visibly relieved – relieved for the fact of winning a tournament volleyball match against a #9 Lincolnview for the right to move on.
And, for the fact that his #4-ranked Indians appeared to have their nerves, their wits, their sea legs – the whole package – about them in a convincing 3-1 win Tuesday night (25-22, 25-13, 20-25, 25-16) that sets up the the all-MAC district final on Thursday against Marion Local.
In the second match of Thursday's semi-final #7-ranked Marion dispatched St. Henry in straight sets, 25-14, 25-15, and 25-20.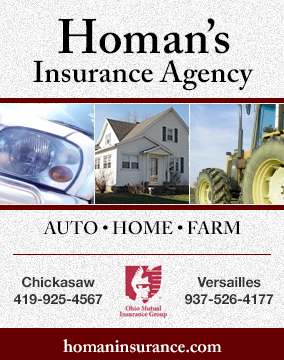 "Happy with the way we played, but we probably got a little too comfortable against them in the third set,"  said Guggenbiller.  "I told the girls, 'You can't do that against a great team like Lincolnview', and I mean…they are a fantastic team.  I told them you're going to have to go out there and fight and push to win, and that's what they did."
Lincolnview proved to be pesky in the opening set, exchanging runs with Recovery until the Indians size and power at the net began to tell.  Paige Fortkamp and Whitney Rammel were the two big hitters, and they established themselves early.  Fortkamp would end up with 20 kills for the match – Rammel with 18.  They played well enough in that opening set to actually 'get' comfortable in set 2.
Recovery went out to a 6-1 lead, built upon that, and at one point led by as much as 14 points.  They served aggressively, passed well, hit accurately, and in general…looked like the #4 team in the state, or even better.  In high stakes volleyball, they looked TOTALLY comfortable.
Lincolnview might have noticed, because the Lancers threw the kitchen sink at them in the third set, getting ahead, playing with some confidence of their own, and finished on a confident not with a 25-20 decision.
But Fort Recovery's power, and some awareness of the moment set in early in set three.
"I think we did get too comfortable after the second set," said senior Paige Fortkamp, who'll play at St. Francis (Indiana) next fall.  "You can't do that in the tournament when it's win or else."
They chose to win, turning up the pressure, the power, the defense – the whole extent of their game – to run away with the deciding set, 25-16.
"They turned up the energy in the final set,"  said Guggenbiller.  "And I was proud of that.  And, there was 100% MAC pride at stake here.  I really believe that we have the strongest, the best, conference in the state for volleyball.  And the games we play throughout the season get us prepared for matches like this one.  We want to represent the conference well, and that's what I thought we did."
If that's what he thought…Marion Local (21-4) seconded that emotion in the final match with a young St. Henry team (15-8) whose bad fortune it was to catch the #7 Flyers on one of their best nights.
Anthony Chappell had his team obviously prepared to put aside tournament pressure and play up to their potential, as well as their ranking.
The Flyers overwhelmed St. Henry in the first two sets (25-14 and 25-15), with superior serving, power at the net, and by being a step quicker.  Before the Redskins knew what had hit them, they were down two and by all accounts…with little hope of a comeback.
But they didn't quit – flipped the script, actually – and jumped out of an early lead in the third set with energy (and a bit of pride) that might have caught Marion napping.  They led by as much as five, twice, but at 11-6 Chappell called a time out – he might have quoted something from the 'book of Steininger' (Amy Steininger coached the Flyers to five state championships), and before you knew it they were on the threshold of taking the lead.  They did it with a three-point burst to go ahead at 18-17, and from the point the outcome seemed academic.
"They've got a lot of good young talent over there,"  said Chappell afterwards, complimentary of St. Henry.  "And I told Tricia (Rosenbeck) before the match that the light was going to come on at some point.  I said, 'If you could have those light bulbs come on sometime next year and not tonight I'd appreciate it.'  You could see the lights come on in the third set, they made the adjustments, and they started coming at us."
Marion's power game was in evidence throughout.  Hitting a volleyball hard and keeping it inbounds is a delicate balance.  It comes without warning, and just as frustrating, it goes without warning as well.  Led by senior Alana Pohlman ( one of only five on Chappell's roster), they found that balance and used it to great effect.
"I think sometimes it's just a matter of playing the MAC,"  said Chappell, trying to explain why it's there some nights, and not others.  "When you're playing a MAC team, or another area team, your juices get flowing a bit more.  Sometimes the girls say, 'I'm barely touching the ball and it's going four or five feet out of bounds.'  So you have to reel it back in, control your emotions, and harness your energy in a good way.  We were able to do a better job of that tonight."
They will face Fort Recovery for a second time this year on Thursday with a berth in the regional round at stake.  They lost to the Indians back on September 22, 3-0, in a match that Fort Recovery played like they did on Tuesday night…and Marion did not!
"We should have plenty of motivation,"  smiled Chappell.  "It was nice to get a win on this court, and hopefully we can get another one on Thursday.  They pretty much waxed us the first time we played.  It seemed like we didn't get off the bus, and that starts with the coaching.  We weren't prepared enough for that match, but we'll see plenty of tape between now and Thursday."
In the other area district, New Bremen and New Knoxville both won, setting up another titanic district final on Thursday, in New Bremen.
And yes, to quote Travis Guggenbiller, yet again Fort Recovery, Marion Local, New Knoxville and New Bremen done the conference proud.