Borrowing from a bygone era that built the foundation on which Versailles' tradition stands proved the perfect tonic for the Tigers, who bounced back from a head-scratching defeat in their most recent game to breeze into the Region 20 semifinals.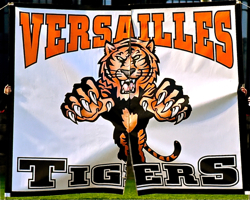 VERSAILLES – It came on a simple dive play, one of those test-of-wills battles Versailles dominated Saturday night in a 35-19 Region 20 Playoff victory, the kind that typified all those teams that hung state championship banners under the legendary Al Hetrick 
Don't' bother looking in the box score.
You won't find the play in there that brought the locals to their feet, because it wasn't one of the four rushing touchdowns the Tigers rang up before the break, and it wasn't the clincher that came after Cincinnati Hills Christian Academy cut the deficit to two scores.
Just ask someone in Tiger gear this week and they'll tell you all about Landon Henry's second-and-one carry from the 27-yard line as the first half was about to expire.
For a hot second, it seemed Henry had nothing but a clock-killing plunge that might, at best, prompt officials to summon the chain gang for a measurement.
And then the rugby scrum of Versailles lineman and CHCA defenders started to move, sort of like a collection of 5-year-olds congregating around the soccer ball in their first exposure to the sport, or like a bunch of those vibrating players once did when you'd hit the button on an electric football game.

The pack first moved a modest three additional yards, then five, then seven…and with every advance a few more partisans came to their feet.
They were bellowing by the time Henry and his caravan of escorts pushed 12 more yards downfield.
In some other places, they call that Big-Boy football, or Bloody-Your-Nose football; but in Versailles such reach-into-your-chest-and-remove-your-heart football has a hallowed name:
"That's Tigerball right there," Versailles coach Ryan Jones said. "If you want to sum up Tigerball, it's that play right there. It was just 11 guys pushing on another 11 guys. There was probably a lot of that back in 1869 when Rutgers and Princeton played."
Jones wasn't certain he'd see such will and effort from his charges in the hours before kickoff, knowing the legitimacy of CHCA's 6-1 record — its only loss having come versus Region 20's top seed, Roger Bacon — and with nagging thoughts of a 36-7 regular-season-ending loss at New Bremen still on his mind.
"We got off the bus that night and just had no energy," Tigers quarterback Carson Bey said. "The brackets came out the day before and we thought we had that one in the bag. We didn't think we needed to worry about them, and obviously that wasn't the case at all. We knew we had to bounce back."
A first-round Playoff bye kept the Tigers wondering how they'd respond. Then, last week, their post-season opener got cancelled when Preble Shawnee encountered COVID issues.
"I didn't know what to expect after three weeks of not playing," Jones said. "That's pretty unprecedented. Plus, we're a team that's never experienced Playoff football before.
"You don't know how the nerves are going to be. Thank goodness our running game got us going. When you can run the ball, it calms the nerves a little bit."
It didn't take long for Jones to go from uncertain to serene.
Safety Adam Kremer intercepted at midfield on the game's second offensive snap and soon the Tigers flexed a dominance so thorough it seemed at times they were almost showing off by making their task tougher, only to make it appear just so easy.
After Bey capped an opening TD drive with an 11-yard scoring run, Versailles seemed set to score again until a holding penalty inflicted a first-and-goal from the 17 predicament.
Predicament?
What predicament?
Henry took the handoff around left end and sped into the end zone without being touched.
Back came the Tigers after a three-and-out defensive series and a CHCA 14-yard punt.
On second-and-10 from the 13, Versailles jumped the snap count and went backward five yards.
Hey, it worked once, right?
Sure enough, the Tigers sniffed at the inconvenience of a penalty intruding on their plans and watched Jack Osborne sprint 18 yards untouched around right end.
That score increased the lead to 21-0 on the first snap of the second quarter, and Chase Detrick's interception and 20-yard return set Versailles up for more with 10 minutes left in the half.
Osborne cashed that in with an unfettered 18-yard run around right end for a four-touchdown margin.
"Both those touchdowns were the same play," Osborne said. "We got those penalties and just knew we had to keep pushing and pounding the ball. We had to bounce back from those mistakes."

Oh, pound it, they did, with Henry's pile-driving gain before halftime the takeaway from this one.
"That's the best feeling in the world," Bey said. "When our running back hits a big pile and our O-line gives him a big push. That was probably a 15-yard push. That's what we're known for, Tigerball."
Versailles' 28-0 halftime lead all but sealed the outcome, although CHCA made it interesting for a few minutes early in the fourth quarter when quarterback Colin Ames began connecting with his receivers.
Ames sustained two touchdown drives with a series of fourth-down completions and Versailles' lead shrank to 28-13 with 11 minutes remaining.
Bey took care of things from there with a 38-yard scoring run after Osborne's 45-yard kickoff return put the Tigers in enviable field position.
"That was a big one," Bey said. "We needed that to clinch it. Our offensive line just opened things up and all I had to do was make one man miss."
Now the Tigers (5-2) will get their own crack at Roger Bacon on Saturday, and the Spartans' star running back, Corey Kiner, an LSU commitment.
Kiner had five touchdowns and 180 yards rushing on just 17 carries in a 42-14 win over CHCA earlier this season.
Versailles' skill players may not be as flashy, but the numbing efficiency of what they do behind a physical offensive line has the potential to be even more impressive than was on display Saturday night.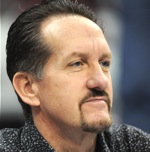 "Two guys stood me up on that play and then I just felt like our entire O-line just started pushing me forward," Henry said. "I actually could have kept going, but near the end of the run I felt a couple guys start to grab for the ball, so I thought it would be safer to just go down."
Bruce Hooley is a former sports editor of the Troy Daily News. He hosts the Bruce Hooley Show 5-7 p.m. Monday-Friday on 98.9 The Answer in Columbus and hosts the We Tackle Life podcast Monday, Wednesday and Friday with College Football Hall-of-Famer and Fox NFL analyst Chris Spielman.