Operating at full strength for the first time since 2018, Thayer Munford is back and better than ever in his third year starting for Ohio State at left tackle.
By Andy Anders for Press Pros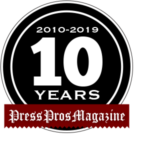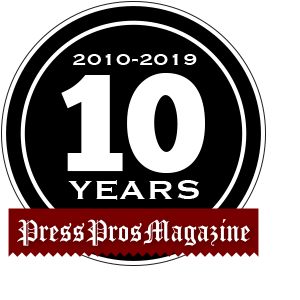 Columbus, OH – Hampered by a back injury, Thayer Munford trudged through the 2019 season at 80 percent capacity.
The ailment affected his workouts, practices and game play, limiting him in ways both seen and unseen.  Munford earned second-team All-Big Ten nods from the conference's coaches and media in 2019.
Now healthy and playing alongside a group of potential All-Americans within Ohio State's offensive line, the senior offensive tackle is back and prepared for an astonishing season anchoring the front at left tackle.
"No words at all," Munford said when asked to describe how motivated he is for this season. "After watching last year's film with all the games, I knew I wasn't 100 percent. I knew I wasn't powerful in my run game. I knew I wasn't as fluid as I am right now in my pass sets."
Through offseason workouts, spring and camp last year, Munford toiled with a back injury following his first year as a starter in 2018.  Because it affected him throughout the year, Munford said it affected every area of his game. He wasn't as strong because he couldn't work out as hard. He wasn't as quick off the ball because he couldn't commit fully.
"Everybody saw it last year," Munford said. "Toward the end of the season, I slowly got better. But it wasn't the area that I wanted myself to be at, or my teammates wanted myself, because everyone knew that I wasn't the best [I could be]."
This offseason the Ohio native worked out at 100 percent again, as opposed to the 70 to 80 he estimated he was at in 2019.  No longer did he have to lighten his weight for certain exercises. No longer were there drills he had to stop because he was in pain.
Fueled by a desire to demonstrate what he can do at full strength, Munford was chomping at the bit to get on the field in August.
Then the season got postponed.
After waiting six weeks longer than he thought he'd have to, what was eagerness to get back to playing for Munford is now a full-blown need with Ohio State's once-dead season now starting Saturday.
"I just want to go out there and compete and dominate whoever's in front of me right now," Munford said.
Munford stated Buckeye fans should be on the lookout for a player that sustains his blocks far longer and demonstrates far more power.  Ohio State offensive line coach Greg Studrawa doesn't hold any concern for the reinvigorated mauler.
"He's in the best shape of his life," Studrawa said. "His weight's 318. He seems quicker than he was last year to me, and his strength levels are back up. He's got some more drive, leg power coming off the football. I noticed the other day in the scrimmage he was driving guys down the field."
Coaches always look for leadership from their upper-class stars, and Studrawa enjoys Munford's moves in that discipline as well.
"Thayer does a great job with those young tackles, helping those kids along," Studrawa said. "His leadership has really developed tremendously now that he's back into the swing of things."
With all the exemplary talent up and down Ohio State's roster entering its revived 2020 season, the offensive line still stands out from other position rooms.  The five-man starting group from left-to-right reads Munford, sophomore guard Harry Miller, redshirt junior center Josh Myers, redshirt junior guard Wyatt Davis and redshirt sophomore tackle Nicholas Petit-Frere. As a collective, they could be the best pile-pushing quintet in college football this fall.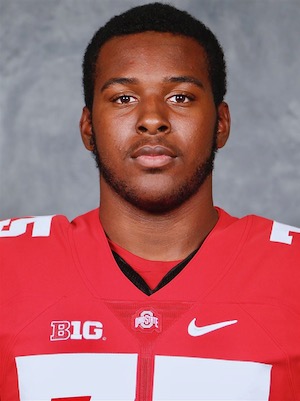 "Last year everyone said that we were one of the best offensive line groups that Ohio State has ever had," Munford said. "But what I've seen and what we have been doing in practice all this time — I do think that we are gonna be the best offensive line in the country."
Davis is back off a first-team All-American season in 2019, opting back in after the Big Ten announced the season was back on.  Myers garnered second-team All-Big Ten honors next to Davis and was named to the Rimington Award, which names the nation's best center, watch list ahead of 2020.  Miller and Petit-Frere are the two new additions to the starting group. Both are former five star recruits.  Petit-Frere added weight through a calorie-intensive diet in the offseason, fueled by the talented tackle's mother during quarantine.
"He's done a great job during this pandemic," Studrawa said. "There's a few guys, but he's one of them that has really changed his body. He's stronger, he's bigger, he's 315 pounds now. He's as strong as he ever was. And his offseason, his development has really pushed him to the top of that position."
Miller takes over for the graduated Jonah Jackson at left guard, switching from center in his second year in the program.
Studrawa is confident in the Georgia native's mental and physical capabilities at the position.
"That's No. 1, the mental aspect of it," Studrawa said when asked about Miller's strengths. "No. 2 is, much like Nic [Petit-Frere] during this pandemic when he was home, he had a place to work out. He had someone to train with. And the numbers in his lifts when he got back blew the numbers from when he left away."
Munford, the offensive line and Ohio State receives its first test against Nebraska Saturday at noon.