Down 24-7 in the second half, Covington staged the biggest comeback in its playoff history to shock Arcanum and move on in Division VI.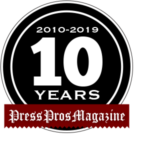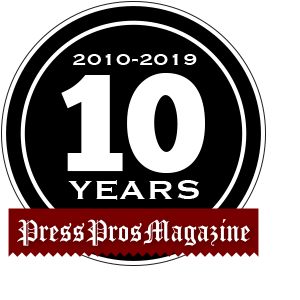 Covington, OH – Covington coach Ty Cates said it with emphasis after the game.
"All the praise goes to God.  He had a hand in this."
And we're pretty sure….he meant it!
What he was referring to was a dramatic comeback in the second half of Saturday night's Division VI playoff game with Arcanum that saw his Covington Buccaneers rebound from a 24-7 deficit in the fourth quarter and overtake the Trojans, 30-24, in the game's final 71 seconds.
A late touchdown by Trentin Alexander (his second of the game) from six yards out negated a remarkable performance by Arcanum sophomore quarterback Bryce Schondelmyer (son of the coach), who threw for 374 yards (27 of 46) and three touchdowns.  And, it dissolved what appeared to be one of the most confident playoff performances in the history of Trojan football, as well.
But ten critical minutes in the fourth quarter completely flipped the script, changed the momentum of the game, and saw Covington come back from 36 minutes of flubs, and dubs, and shooting itself in the foot…to stage its own biggest moment in the modern history of Buccaneer playoff football.
"There's no way to describe this, or to describe the fight in our kids,"  said a hoarse Ty Cates afterwards, his voice shot after forty eight minutes of larnyx abuse.  "They never gave up, and I give them credit because it felt like we had everything going against us in the game.  A lot of teams would have just packed it in.  But this bunch found a way to fight.  What a tribute to our seniors, and our staff, to stay together during some tough times."
Bryce Schondelmyer wasted little time getting the Trojans on the board, driving them the length of the field on their first possession before stalling on Covington's 17 yard line.  A 32-yard field goal by senior kicker Joe Beck put them up 3-0.
And those three points would hold up for the remainder of the quarter because Covington's offense, which has had the inconsistency of Wall Street throughout the season, could not move the football.
In the meantime, Schondelmyer got Arcanum going midway through the second quarter and hit Brennen Troutwine with a 23 yard touchdown pass in the corner of the end zone to put the Trojans ahead, 10-0.
Talk about confident?  Daring?  On the ensuing kickoff Beck pulled off a perfect onside attempt, fell on it, and Arcanum was back in business at the 50 yard line.  Covington held, however, and got the ball back with three minutes before halftime.
Quarterback Jenson Wagoner made the most of those three minutes, quickly driving the Buccs downfield in eight plays, and with 2:17 on the clock Trentin Alexander would score from eight yards out, the first of two touchdowns by the senior on the night.  Arcanum led at that point, as the two teams broke for halftime, 10-7.
Arcanum got the third quarter kickoff, driving the ball deep inside Covington territory, where on fourth down and goal from the five yard line, Covington held on downs when defensive back Banks Koffer knocked down a would-be touchdown pass in the end zone.
A fired up Covington offense came out to take over the ball on its own ten yard line…only to have senior running back Deacon Shields fumble on  the first play from scrimmage, and Arcanum jumped on it at the twenty yard line.
Schondelmyer immediately took advantage at 8:23 of the quarter, finding Troutwine in the end zone again, this time from 22 yards out to put Arcanum ahead 17-7.  You could have heard a pin drop among the home partisans in Smith Field.
Because…on the ensuing kickoff Joe Beck again executed a perfect onside kick, covered it, and the Trojans were in business again from the 50 yard line.
This time it only took one play.  On the first snap from scrimmage Schondelmyer found teammate Ian Baker wide open on a post pattern in the middle of the field and Baker sprinted the remaining distance to the goal line to put Arcanum up…24-7.
It looked dark for the team in home black, and it was about to get darker.  Taking over on their thirty yard line, Covington went backwards instead of forward, owing to a pair of holding calls that negated nice games by Shields and fellow running back Duncan Cooper.  Those calls backed the Buccs all the way back to their ten yard line, where they faced third down and forever.
"That was a low moment for us, because I just don't have a third and forever play to call,"  Cates would later say.
But thanks to a twenty yard run by Duncan Cooper, they did get it far enough away from their own goal line to punt the ball and put Arcanum on its own side of midfield.  But Arcanum couldn't move the ball, and punted, giving Covington the ball back with good field position near its own forty yard line.  Three plays later, with 39 seconds remaining in the third quarter, Deacon Shields burst off tackle and up the sideline for 42 yards and a touchdown to cut the deficit to 24-14.
"I felt pretty bad after losing the ball on that fumble," he would later say.  "But my teammates…they just kept telling me to go on to the next play.  They had my back."
Covington kicked off, and again Schondelmyer and company had the ball and an opportunity to milk the clock, but they couldn't sustain a drive, and eventually turned the ball over on downs.
And with 11:10 remaining the in the game it began a critical ten minute period that saw Covington completely rejuvenate itself, its season, and whatever playoff hopes that might lie ahead.
Cates began to alternate quarterbacks – Duncan Cooper, the better runner, and Jensen Wagoner, the better passer.  Cooper ignited, running like a man possessed, moving the ball in chunks inside Arcanum territory.   Wagoner took over and hit Deacon Shields in the secondary with a perfect strike for his second score of the game, a 28-yard touchdown with 3:06 left on the clock.  Then, taking advantage of Arcanum being offside on the point-after attempt, Cates called his kicker off the field and went for two.  With all the momentum now on their side, Shields made the two-point try, and trailed 24-22.
Imitation is the sincerest form of flattery, of course.  And on the following kickoff Covington kicker David Robinson duplicated what he'd twice seen Joe Beck do earlier in the game.  Forced to get the ball back quickly, Robinson dumped a perfect onside kick and Covington jumped on it at the Arcanum 48 yard line.
Cooper again took over at quarterback, and again he moved the ball, leaping over would-be tacklers and literally willing his team to finally take control of the game.  But the play that perhaps made it possible came at the hands of Jensen Wagoner and Jakob Hamilton.
Needing eight yards for a first down, Wagoner hit Hamilton near the twenty yard line on a leaping catch that gave Covington the first down, extend the drive, and further put Arcanum in panic mode.  Time was evaporating off the clock as Cooper and Wagoner pressed on.  With 71 seconds left they finally took the lead.
From the six yard line Trentin Alexander got the ball and sliced through no fewer than four sets of arms, finally diving across the goal line to give Covington its first lead of the game, 28-24.  Cates again rolled the dice, went for two, and converted with 1:11 remaining.
"It took a total team effort to score,"  Alexander would later say about the go-ahead touchdown.  "They were blitzing hard, but my lead blocker and my linemen, man…they opened a big hole and pushed me forward."
With a minute to work with, Schondelmyer's remarkable night was in jeopardy for the sake of its relevance to a win.  And Covington now could smell the comeback, the win, and the magic of the moment.  They played quicker, tighter to the Arcanum receivers who'd run free all night long.  And on fourth and 10, when Schondelmyer's final pass of the night sailed out of bounds, they raced to the sideline to embrace Ty Cates and notarize their remarkable comeback.
"We went into the season trusting kids to make plays, and tonight our senior leaders made plays," said Cates.  "It's hard to call plays when it's second and five thousand, like it was there in the third quarter, but you have to chip away at it, keep your head down, and get one play at a time.  And that's what our kids did."
No one had a bigger play than the catch Jakob Hamilton made in the fourth quarter to extend the winning drive.
"I just tried to do my job,"  said Hamilton.  "I knew the game was at stake, it looked like the line gave Jensen time, and I put my foot in the ground to get as high as I could to catch it.  I was confident that I would."
Duncan Cooper usually makes his contribution on defense, one of the hardest hitters on the Covington defense.  But on this night it was his impact on offense in the second half that made the biggest difference.
"I've played O-line this year, I've played running back, and almost every position on defense,"  said Cooper.  "So when Coach told me I'd probably have to play some quarterback that's what I had to do.  I wasn't going to say 'no', or complain.  I did what I could, and honestly I don't know what happened.  I think we just caught the momentum, it started to snowball, and we kept rolling."
Senior running back Deacon Shields went from goat to glory in that ten-minute period following his fumble on the goal line in the third quarter.
"I just have to thank my teammates,"  he said quietly.  "They supported me after the fumble."
And then…he came back to make two huge plays that contributed greatly to the win and their faith in him.
"It was exciting to see my teammates play.  Jake Hamilton pancaked one of their players during the touchdown run, and that made me smile.  And our coaching staff – Coach Tobias – did a lot to help us prepare for their passing game, and we were aware that they had been throwing the ball the way they did tonight.  We had some bad plays, but we came back from that, and our DBs did a great job at the end."
Covington finished the night with 315 yards of offense of its own, thanks to 201 yards on the ground from Alexander, Cooper, and Shields.  And Jensen Wagoner added 112 yards through the air.
Of course there's another side of this story.  For every great comeback there has to be a great letdown, and Arcanum coach Jason Schondelmyer looked every part of a man who'd just seen defeat snatched from the jaws of victory.
"There's a lot of things going through my mind, but the big thing was we didn't finish," said Schondelmyer.  "That's been our motto this year and it happened to us a bit last week against Dixie.  We were up multiple times by three or four touchdowns and we'd let them back in the game.  And that's what happened here tonight.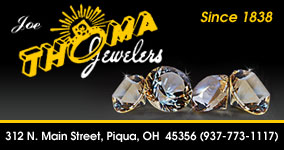 "I don't know that I have an answer.  I just know you've got to finish.  And we didn't.  Credit to them, really."
How big a win was it?  Well it pales in comparison to that day, if and when it comes, when Covington finally brings a state championship back to Chestnut Street.  But one patron who'd seen almost all of the highs and lows of Covington football over the years put it this way as he left for his car.
"I can't remember a better playoff win in Covington,"  he said.
Or at least…one more shocking.