Fort Loramie erased the memory of a poor performance against Tri-Village with a resounding performance and Division VII playoff win over Troy Christian.
By Troy Flanagan for Press Pros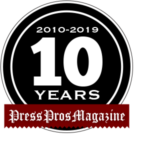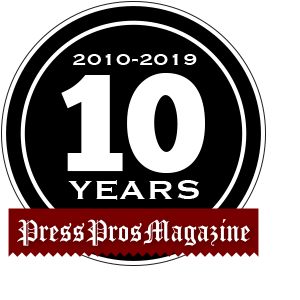 Fort Loramie, OH — Quarterback Collin Moore referred to Fort Loramie's Week 6 loss to Tri-Village as a "punch in the mouth."
Well, that game is out of sight and out of mind … and the Redskins got back to throwing haymakers on Friday night.
Moore, running back Sam Barhorst and company carved up Troy Christian's defense time after time, as Fort Loramie kicked off what it hopes will be a state-championship run with a 49-6 romp in Round 2 of the OHSAA Division VII playoffs.
"Tonight was really fun," Moore said. "It's nice whenever football starts clicking again. It was nice to get back on the field after two weeks."
It would have been a good night to own Moore and Barhorst on your fantasy team.
Moore passed and ran for big chunks. Barhorst showed his big-play ability running and catching. Loramie had a pair of two-play touchdown drives in the first quarter and another that lasted just one play en route to hanging a 42 spot on the scoreboard in 24 minutes. The lone blemish on its first-half offensive resume was an under-thrown ball by Moore that was picked off by Charlie Knostman.
Knostman had a few more big plays for the Eagles. The Redskins simply had many more.
Troy Christian received the ball first, and it was tough sledding for the offense from the get go. Five plays into the game, Barhorst made a one-handed interception off a pass attempt by Eagle quarterback Ethan Twiss to give Loramie the ball at its own 37.
The Redskins had no zero issues with their passing game whatsoever.
In fact, two pretty passes form Moore to Logan Eilerman gave Loramie its first touchdown with 9:11 still remaining in the first quarter. Moore dropped a beauty into Eilerman's breadbasket for a 23-yard gain on the opening snap, then connected with the receiver for a 40-yard score one play later.
After a quick three-and-out and punt by TC, Loramie again took over at its own 37. Moore called his own number on first the snap and blazed up the middle untouched for a 63-yard touchdown.
"He's a special kid, man," said Loramie coach Spencer Wells of his three-year starter. "It's an honor coaching him, and I tell you, I hope we earn another week after this one and another after that, because I don't want to stop coaching him. He's a special, special kid. He's the leader of our team. I love that kid."

Wells loved the play of Barhorst and his offensive line, too.
Barhorst had four touchdowns before the first half was over — all of which came during a 15-minute window. He had scoring runs from distances of one, four, 15 and 30 yards.
"I thought our offensive line did a good job of communicating," Wells said. "They threw a bear front at us, which we haven't seen them play on film. I thought our offensive line did a good job of communicating that and picking that up. When your offensive line does that and they communicate well and they pick everything up, it allows you to pretty much do what you want. It was fun. I thought we did a good job of running the ball, and guys just made plays."
The Eagles punted five times in the first half. The Eagles did have a few missed chances … a couple dropped third-down passes, an overthrow on what would have been a TD pass, and a missed 30-yard field goal attempt after Knostman ran a kickoff back inside the Loramie 20. None of that, however, would have made mattered too much considering the rate in which Loramie was scoring.
The third big play of the first half for Knostman led to Troy Christian's only score. He hauled in a 30-yard reception from Twiss with under a minute remaining. Twiss then found Gavin Blore for a three-yard TD connection with 23 seconds to play. A missed extra point left the score 42-6 at halftime.
Jacob Sherman's 46-yard touchdown run in the third quarter dented the scoreboard one final time.
"They are really a good, strong football team — and we knew that coming in," Troy Christian coach Steve Nolan said. "They had some injuries and got upset by Tri-Village, who has an outstanding quarterback. Everybody in the state knows that. But (Loramie) is a very strong team, both offensively and defensively.
"We fell apart early," he added. "They can run the ball and they can throw it. They hit two passes on us early, and he put that ball on the money. I mean, we're talking right in stride on everything. Our strength this year defensively has been our secondary, and we were with them on both plays. It took perfect passes. That's what he had. That got us down, and then we got caught and (Moore) broke one early. You're down 21-0 and the kids started to get rattled. The ball's on the ground, we fumbled some snaps … That early pick, all (Twiss) had to do was run and he just threw it up for grabs. That gave them all that momentum as well. It's tough when you're on the road and that happens to you. But all in all … we got a score and we fought back a little bit."
Nolan's message to his team after the game: finish strong. Troy Christian (4-4) visits Northridge next Friday and concludes its season at home against Fisher Catholic Oct. 30.
Fort Loramie (6-1) hopes to finish strong as well.
The Redskins' last game prior to Friday was a 60-43 loss to Tri-Village, which ended a 27-game Cross County Conference winning streak and gave them a runner-up finish after having won the previous two CCC titles. But a state title is still in play, and this team might have the experience and talent to get it done.
The sixth-ranked Redskins, seeded second in Region 28, host seventh-seeded Ansonia next Friday. The Tigers defeated Tri-County North 17-6 to advance.
"I think after we played Tri-Village, it kind of just punched a lot of us in the mouth," Moore said. "We were just like 'OK, we kind of got knocked off that pedestal a little bit.' Coach just tells us that now people are going to think that we're not that good, so we can come in with that underdog mentality. We know we can still compete with any team we play — it's just about winning that next play. Coach has been preaching on that all season, just winning the next play and doing your job."