They weren't the favorite at season's beginning, but New Knoxville has become the darling of Division IV with wins in the span of a week over #1 New Bremen and #4 Marion Local…and oh yeah, the 2020 MAC champion.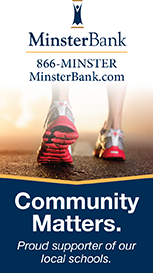 Maria Stein, OH – No one saw this coming two months ago.  After all, New Bremen was the reigning Division IV champion in volleyball and had a full contingent back with which to bulldoze to another.
Marion Local, Fort Recovery and St. Henry were also considered to be strong candidates to vie for the conference title in 2020, as per usual.  And of course, you can never count out Versailles and Coldwater.
But the team that no one considered the favorite – the New Knoxville Rangers – turned the tables in the span of those two months, rising to the #2 ranking in last week's coaches' poll.  And in the span of three days this week took down #1 New Bremen on Tuesday…and #4 Marion Local on Thursday night to actually capture the 2020 MAC volleyball title, and without question ascend to next week's #1 ranking, state-wide.
They did it with a 3-1 win Thursday over Marion Local…25-19, 25-21, 23-25, and 25-20…exacting some almost certain vengeance on those who overlook them as a full-fledge MAC member because they don't play football.  But more realistically, they simply exhibited again just how good, and how consistent, they are against the best competition in the state.  And they also put to rest the notion that just because there's no football in New Knoxville…there's no such thing as 'no-name' Knoxville.  They ARE making a name for themselves at 19-0, against all comers, and making fans out of rival coaches.
"We've played against power houses this year, but that's the most well-rounded team we've played all year,"  said Marion Local coach Anthony Chappell following Thursday's match.  "It's hard to highlight what their best asset is because all six girls know the game so well.  It's almost like playing against a bunch of old guys who've been around the game a long time, but they just happen to be inside a stud girls' volleyball player's body.  They represent a lot of experience and a lot of physical attributes to play against."
Marion (18-4) came out with a head of steam, but ran into that same New Knoxville defense that thwarted New Bremen on Tuesday.  Everything that the Flyers hit over the net…if it was in the court it got returned.
And Knoxville's blocking was even a dimension above their defense, sending countless shots back over the net, or deflecting them to waiting teammates who passed, set, and turned them into points.
The Rangers rode an early 12-6 lead throughout the first set, holding off a pair of late Marion rallies, to win 25-19.
They took another 12-6 lead in the second set, only to have Marion come back to within a point at 12-11.  But that superior blocking, and defense, again frustrated the Flyers and helped New Knoxville go on a 7-2 run that extended their lead out to 19-13.  And while Marion would make a late run of their own, the Rangers' defense kept them at bay for 25-21 win.
Marion isn't #4 in the state for no reason, and kept the heat on in the third set, facing elimination.  It went back and forth until at 12-11 the Flyers took their first lead of the match.  But no sooner had they taken that lead…New Knoxville went on a 10-5 run to make a sweep look like reality.  Unfazed, Marion played their best volleyball of the night over the next eight points, going on a 5-3 run at the end, with Reagan Kremer serving a thunderous shot at the end, to take the third…25-23.
The fourth set out like the end of the third, with both teams battling back and forth, and a pair of lead changes before Knoxville got into full 'attributes' mode.  They streaked out to a 20-15 lead, and nothing Marion could conjure up was enough to grab momentum away from them.  They took the set, the match, and the title…with a 25-20 win.
"They always had an answer," said Chappell with a smile.  "It's a pleasure to coach against them because they're a tight-knit group, I've talked with Meg all year – we email almost everyday – and they did the MAC proud tonight.  Somebody's got to win it…it sucks that it's on our home court…and hopefully my girls can utilize this experience as some fuel."
There were tears of happiness on the other end of the gym as MAC commissioner Don Kemper awarded the league trophy to the Rangers and each player took her turn being photographed with the trophy, teammates, and family.  None appreciated it more poignantly than senior Morgan Leffel, playing in her last league volleyball match.
"At the beginning of the season I never believed I'd play my last senior game and we'd win the MAC championship,"  she said, eyes red with emotion.  "It's unbelievable and I'm so thankful for this – my coaches, my teammates, and our community.  Everyone's been so supportive.  Our communication and our team bonding has been so good.  We've played together for as long as I can remember – backyard volleyball.  Five of the six of us are neighbors.  But this is something we've dreamed about since we've been little."
Their coach, Meg Reineke, smiled at Chappell's suggestion that her team played like a bunch of old guys who've never done anything but play volleyball.
"Well, he's not completely wrong," she said.  "During volleyball season their main focus is volleyball.  They live and breathe it, and you can tell because they always give every single point everything they have."
"Their instinct, reaction, and knowledge of each other on the court makes them tough for any opponent.  "They outplay you,"  said New Bremen coach Diana Kramer Tuesday.  "They can outhit you, they can outblock you, and they can dig and outserve you.  They can do it all.  They're a great volleyball team."
"Yeah, we definitely have good instinct,"  says Reineke.  "And I think that comes from hard work…and they want to win.  They expect the ball to come to them, even if it doesn't.  We didn't block very well against Bremen on Tuesday, we addressed that in practice, and tonight they proved to me that they could block better.
"Look, this is so awesome to be the MAC champions because the MAC is so competitive.  We've earned it, we've worked hard for it, and when our senior Gretchen Dwenger tore her ACL at the beginning of they year it put us at six players all the way around – no libero.  And to see those six players never come off the court and go undefeated, and win the MAC title, that's pretty special."
And as to the daily emails from Anthony Chappell….?
"He's a great coach and a great guy," smiled Meg.  "But we'll text later."
Odds are…she and the Rangers had some celebrating to do.