Ohio State quarterbacks coach Corey Dennis has faith that any of the three can step in and do the job in an emergency.  At the moment, Gunnar Hoak would be that man, but the freshmen are highly regarded prospects.
Columbus – If Ohio State fans have their wish, graduate transfer Gunnar Hoak and must-have freshmen recruits CJ Stroud and Jack Miller will be seen wearing ball-caps on the sideline wiggle-waggling plays to All-American quarterback Justin Fields or handing off to running backs during the fourth quarter of blowouts.
The reality, though, is that players get injured, and the living proof was Fields going down with a left knee injury trying to run out the clock last season in a victory against Penn State.
Fields was moving out of the pocket to his left when safety Lamont Wade rushed to the line of scrimmage in run support.
The next sound anyone heard might have been spectators in Ohio Stadium hyperventilating because Fields didn't get up right away. Wade made a form tackle, first landing on Fields' left ankle with his left leg.
The worst was to come when Fields went down with his left kneecap first. He did trot to the sideline without help and did lead the Buckeyes to victories over Michigan in Game 12 and Wisconsin in the Big Ten championship game. But one could tell during those games and during a loss to Clemson in a College Football Playoff semifinal in the Fiesta Bowl that his mobility was not the same.
What will happen should Fields have to miss part of a game or many games this season?
First-year quarterbacks coach Corey Dennis and coach Ryan Day think Ohio State will be just fine.
"In the past, guys would prepare to be backups,'' Dennis said during a Zoom call Tuesday. "Guys were, 'Hey, who's the next backup? What can you do to be the backup?' But we've all seen it. We've seen it with Cam Newton in the NFL. Right now, you truly have to prepare like you're the starter because you don't know when your number will be called. So it's not like the old school, a guy got dinged up on a play or whatever it is. It truly could happen tomorrow, and so everyone in that room is going to prepare like they're the starting quarterback at Ohio State."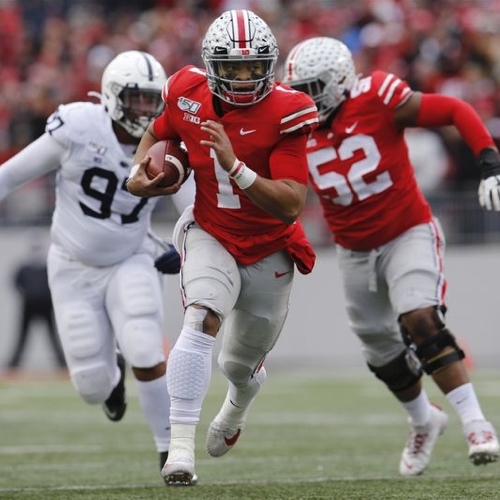 First up would be the man with the most experience, and that's Kentucky graduate transfer Gunnar Hoak, of Dublin Coffman, and of suburban Columbus.
Hoak's only game action was completing 13 of 26 passes for 167 yards and two touchdowns in five games for UK in 2018 and going 6-for-6 for 104 yards with one touchdown pass in mop-up situations last season for Ohio State.
Next up would be Stroud and Miller.
"From the time we've been back from that time in spring that they were here, I think they've learned a lot and they've grown a lot," Fields said. "They're both fast learners, they're both very smart guys and of course they're both talented, so I'm just really excited for the season to see kind of how they pan out, because they're both great players and great people off the field, too."
Here's the book on Stroud: He was the No. 2 pro-style prospect nationally as a senior after throwing for 3,878 passes for 47 touchdowns for Rancho Cucamonga High School in California. He was a five-star recruit. He was intercepted 15 times in 754 pass attempts in his career.
The book on Miller: He was the No. 14 pro-style quarterback prospect and a four-star coming out of Chaparral High School in Scottsdale, Arizona. As a senior, he threw for 3,653 yards and 53 touchdowns for state 2A records. His 115 touchdown passes are a state career record.
Beyond them, there's sophomore preferred walk-on JP Andrade of LaVerne, California, sophomore Texas A&M transfer Jagger LaRoe and junior Danny Vanatsky of Cincinnati Hills Christian Academy.
There were two days of practices in March before COVID-19 shut down the program, so all the backups had to fast forward their learning the offense.
"We've done a great job and those guys are grinding in the Zoom meetings and things like that,'' Dennis said. "You can talk about it and you can show film and you can show diagrams and you can do kind of whatever walkthrough or step-through, but it's just the actual live reps (a player needs). Those are definitely things that are hard to come by."
Hoak was a prize catch for Kentucky coach Mark Stoops, but he quickly fell behind a dual threat quarterback and was never a serious candidate for the No. 1 job on a team that was rising quickly from mediocrity.
"He has been around for awhile, he has seen a lot of football and he knows our offense in and out," Dennis said. "Any time that you're in an offense for the second year, getting to be around the verbiage and things like that, that's definitely a benefit to you. Gunnar, he's smart, he knows our offense, he's a great player and he is a great leader. He's one of those guys too that the young guys can kind of look up to and see the way that things are supposed to be handled. So Gunnar's extremely valuable to have."
Day has been a quarterback whisperer or guru of sorts since former coach Urban Meyer hired him after he was quarterbacks coach for the San Francisco 49ers in 2016. The season before he had the same title with the Philadelphia Eagles.
A lot of credit went Day's way after Dwayne Haskins, who had attempted 57 passes the season before, wowed the nation by throwing for 4,831 yards and 50 touchdowns during the 2018 season. The Washington Redskins picked him 15th in the first round of the draft.
Fields is supposed to be taken even higher – perhaps first overall – in the 2021 draft.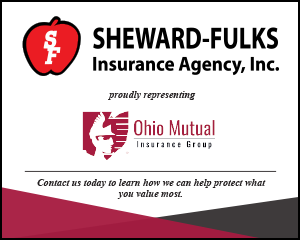 But what if Hoak, Stroud or Miller have to play out of necessity?
"We'd be ready to go," Dennis said of the backups. "There's no doubt. They'd be ready to go. They know the offense, but they're continuing to get better, they're continuing to grow and learn. They know that they're not where they need to be, but they're definitely grinding every single day and getting where they want to go."
In an attempt to force-feed Stroud and Miller, Dennis and Day have been giving them repetitions with the second team.
"They're both doing really well," Dennis said. "They both have good days, they both have bad days, but those guys are grinders. They're both extremely talented. They're really diving in, wanting to know the offense and in all reality, they have a great guy to look up to in Justin Fields. So they know, if you're not preparing as hard as this guy, then can you truly be where he is in the future? So Justin's a great example, and those guys are trying to do everything that he does."
Remember that Day hand-picked Stroud and Miller to fit the Buckeyes system.
The vast amounts of information, Dennis said, haven't led to either getting brain freeze.
"They're literally just pedal to the metal, trying to learn everything they can, trying to soak it in," he said. "They're both doing an unbelievable job.''
COOPER TO WEAR #0: The coaching staff wanted to honor the spirit and legend of the late Bill Willis on a yearly basis, but the question was how to do that with his No. 99 having been retired by the athletic department.
Day and his assistants came up with No. 0, which also brings "Block O'' into play. Fifth-year senior defensive end Jonathon Cooper will wear the number this season.
Willis, who passed away at age 86 in 2007, was a star defensive lineman when the Buckeyes won their first national championship in 1942. He was from East High School in Columbus.
The winning didn't end there for Willis. He played on the Cleveland Browns first NFL championship team in 1950 and later was voted into the Pro Football Hall of Fame.