They saved their best for when it mattered most.  #2-ranked New Knoxville pulls a shocker with a win over defending champ New Bremen, and did it with a lasting impression.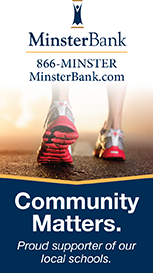 New Knoxville, OH – For a team that had been looming in the ranks of 'next-to-be's' for the last three seasons…..
For a team that was just licking its chops to make a statement in Division IV Ohio volleyball…..
Credit the New Knoxville Rangers for making that statement Tuesday night with a straight-set win over defending champion New Bremen – 25-22, 26-24, and 25-22 in a MAC showdown that could well represent a new order in things come next week's rankings.
And no worries about having a target on their back, or for at least this week feeling like they're the leader in the clubhouse.
"It's fine if we're #1 now,"  said an excited Rangers coach Meg Lageman.  "How do they say it?  It's a privilege to play with pressure."
They did it in style, exhibiting mastery of every phase of the game – serve, serve/receive, hitting, blocking…but mostly defense in a debilitating three-set sweep that had New Bremen coach Diana Kramer in the locker room with her team for a full forty minutes following the match.  When she finally emerged she was classy, as always.
"We got outplayed,"  she admitted.  "We came out flat.  They served better than us.  They defended better than us.  They hit better than us.  And they dug better than us.  The only thing they didn't do was block better than us.  Credit to New Knoxville, they played that well."
New Bremen did come out flat, serving poorly in the first set, a set in which they sent five serves out of the court, had some early hitting errors, and found themselves down 20-11 before some errors by New Knoxville allowed them back in the game.  New Bremen closed the deficit to 24-22, but could not detain the Rangers from closing it out, 25-22.
In between sets Kramer apparently raised the stakes in the huddle, because the Cardinals came out to take a 6-1 lead in the second, only to let that slip away with some sloppy play, more hitting errors, and frankly, some brilliant defensive play by the New Knoxville defense.  Ellie Roetgerman and Josie Reinhart, Bremen's two big hitters, did their best to send shots down the throat of the Ranger blockers, but time after time they kept the ball off the court and in play.
That 6-1 lead became a 12-11 deficit.  Bremen came back to take control again with the hitting of Reinhart and Roetgerman, and took a 24-19 lead – a point away from taking the set.  But Knoxville's defense loomed again, enabling them to take the next seven points, and the set, 26-24.
"We're ahead 24-19 and we started playing not to lose,"  said Kramer afterwards.  "That's what happens."
It was devastating, sapping the life out of the Cards, who still came out in the third set to play well enough to trade leads with New Knoxville – four times.  And at 12-11, New Bremen looked like they were getting their mojo back for a win to extend the match.
But New Knoxville had other ideas.  Behind the constant big hitting of middle hitter Carsyn Henschen the Rangers went on a 9-0 run to take a 20-12 lead, keeping the pressure on New Bremen.  The Cardinals closed again, salvaging some momentum.  But after trading points on long rallies, New Knoxville finally closed out the set, and the match, 25-22.
It was a big deal – a loud deal in the tiny Rangers gym.  The doors on the west end of the gym were torn open as a vocal student cheering section rushed out into the night to celebrate.  They had knocked off the #1 team in the state, the defending state champion, and suddenly felt a bit like champions themselves, if only for the moment.
"We played relentless defense, all night,"  said Lageman, fighting to be heard over the roar.  "They work hard, they communicate, and they block.  And off those blocks we don't let the ball hit the floor.  They just don't give up.  My girls don't give up.  They didn't give up against Fort Loramie when they were down two sets, and they didn't give up tonight.  I give them all the credit.  They didn't want to lose and they played typical Ranger defense tonight to beat a great team.  New Bremen is a great team.
Defense?  No question…as good as we've seen in three years.  As Lageman put it, they let nothing hit the floor.
Hitting?  Carsyn Henschen, their best hitter, was as big as the moment, and bigger than New Bremen's ability to adapt to her challenge.
But timeliness!  Volleyball is a game of momentum and runs, and time after time the Rangers had runs that broke the backs of the Cardinals – none bigger than the 7-0 run that enabled them to take the second set.
"That took the life out of them,"  smiled Lageman.  "And it gave us a lot of energy and a lot of momentum.  That's volleyball."
Diana Kramer understood very well the ramifications of her team suffering its second loss of the season (19-2).
"They were prepared and they responded to our mistakes with big plays in the big moments.  Kudos to them.  They outplayed us, and when you get outplayed in every aspect of the game you're not going to beat a good team.  We talk about being the first team to five, and we haven't been doing that for the past month.
"We were down big in some sets, but we found a way to chip away and get back into it.  We made it close.  We had our chances.  But then those chances got taken away from us."
New Knoxville improved to 18-0, and has little time to rest.  They'll travel to #4-ranked Marion Local (18-3) on Thursday, seeking to extend their momentum and eliminate all doubts.
That the orders of things in Division IV volleyball has flipped!