Troy's ground game literally ran Franklin Heights out of Friday's playoff matchup at Memorial Stadium – 386 yards rushing and six touchdowns.
By Andy Anders for Press Pros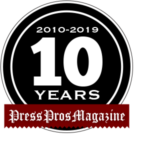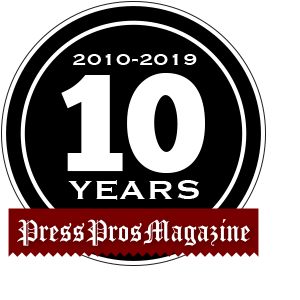 Troy, OH – As the clock wound under six minutes to play on a dominant Troy victory Friday, five monsters mamboed off the field to a standing ovation.
Among them wasn't sophomore running back Nick Kawecki, who piled up 164 yards first-half rushing yards. Junior quarterback Josh Mayfield, who proved a dual threat with both a 43-yard touchdown pass and 62-yard touchdown run in the contest, wasn't among the group either.
The five men taking a curtain call had no individual offensive stats to their credit, but instead paved the way for others to accumulate theirs. The quintet was Troy's offensive line: senior left tackle Zach Ray, senior left guard Jakob Moorman, senior center Ethan Freed, junior right guard Joe Cusick and senior right tackle Dawson Hilldebrand.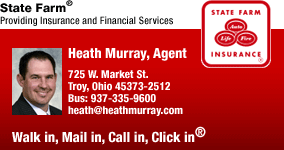 "When you've got your hands on your legs, ready to go get the ball and you see that in front of you, you feel pretty good about yourself," Troy head coach Dan Gress said. "But the thing I love most about this O-line — did you see the excitement from them when we score?  They don't want the credit. They just come out here and have fun playing the game of football."
Behind the five-man wall of maulers Troy's offense racked up 386 rushing yards — 265 in the first half, which unlike the second didn't feature a running clock — and obliterated Franklin Heights 49-6 to advance to the second round of Ohio's Division II football playoffs.
For Hilldebrand, it was his first game back in the lineup since a lower body injury against Piqua in Week 1. Mayfield embraced him before anyone else after the line exited.
"It feels great," Hilldebrand said. "I'm happy to be back and starting. My ankle's still in pain, but it is what it is. Just play through it."
Kawecki missed Troy's regular season finale against Stebbins with a knee injury last week, and was seen "walking gingerly" in class by at least one teacher in the week leading up to the Trojans' playoff opener.
If the speedster was truly hobbled for Friday's game, the rest of Troy might want to play with the same limp.
Gress opened the game with four straight handoffs to the 2020 breakout star, and he picked up seven, 13, nine and four yards in kind, often untouched until he reached the second level of Franklin Heights' defense.
Hilldebrand said the offensive line felt fired up for the postseason spotlight.
"Just the adrenaline, just of being back and that excitement of the playoffs," Hilldebrand said. "It's so much different than the regular season."
After the sequence, senior running back La'Manual Kemp-Short, often the thunder to Kawecki's lighting, entered the backfield and received a fake handoff. Mayfield immediately pitched it — to Kawecki.The edge sealed off by his imposing line, Kawecki strode 29 yards to polish off a personal five-carry, 62-yard scoring drive.
"Another thing that stuck out on our sideline, on my side, was our wide receiver blocking," Gress said. "They keep getting better with that week to week, and really taking it to heart — because we have some big, physical wide receivers — that you are a game changer for when they hit the second level. You are the difference maker."
It appeared Franklin Heights had a long night in front of them, but Kawecki helped shorten it some.
With less than two minutes to play in the first half, he rolled around the right end with Freed chugging along in front. After the guard dove into the chest of a Franklin Heights defensive back, Kawecki sprung forward for a 46-yard pickup.
He scored a few plays later, and after a two-point conversion went through, Troy set up a running clock for the second half with a 36-6 lead.
Kawecki finished the opening 24 minutes with 164 yards and two touchdowns on the ground.  Across 15 attempts, the Falcons failed to pull the sophomore to the ground for anything less than a gain of four.
"He hits the hole different than how other people hit that hole," Gress said. "He's a nice changeup."
When a back is chunking the defense down in and down out, a few plays where he's used as a decoy can be dominant.
With Troy already ahead 14-0 in the opening quarter, Mayfield kept the ball after a fantastic fake on an inverted veer option and it was as if a bomb detonated in the middle of the Falcons' defense.
Any ground between the hashes became no man's land.  Mayfield sprinted through the deserted space, untouched by defenders until he strode past the goal line for a 62-yard touchdown. Troy led 21-0 after one quarter of football.
"He has a read a lot of the time, and then there are some times where we're getting a call down from the box, it's there to go," Gress said. "And those backs garner a lot of attention."
Kemp-Short got in on the fun too, going on his own personal 33-yard touchdown drive in the third quarter. Five defenders met him on the scoring run, but apparently Falcons aren't a tackling bird because he carried all of them seven yards into the end zone with him.
Troy led 43-6 after three, and soon the junior varsity came on to salt away a 49-6 victory.
"Between Nick and Manny and Josh, everything's a nice little changeup," Gress said. "We didn't have to use Evan, but you guys saw we have him to use in the backfield as well."
The Trojans, the No. 8 seed in Division II region 8, now advance to play ninth-seeded Edgewood. The Cougars are coming off a 62-12 win against Columbus West, the 25 seed.
The two teams will meet Oct. 16 at 7 p.m.