In a match that resembled a five-set roller coaster, #6 ranked Marion Local outlasted #4 ranked Fort Loramie with a finish that had 'em on their feet.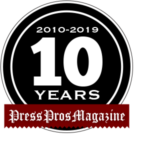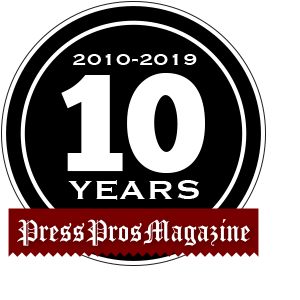 Maria Stein, OH – This one had the feel of a state tournament final – even a certain prizefight quality.
By the fourth set it looked like the 'Thrilla' from Manilla – Frazier vs. Ali – two heavyweights colliding, back and forth, give and take.
Significance-wise, it lacked the world stage of that famous fight back in 1975, but in the culture of local volleyball between Division IV contenders Fort Loramie and Marion Local, all that was missing were the gloves.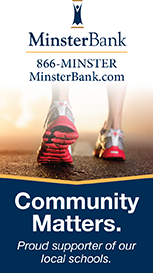 It took an hour and forty two minutes, five sets, and a fabulous finish by Marion junior Heidi Rethman, who served the final nine points, for #6-ranked Marion to finally outlast #4 Fort Loramie, 25-17, 14-25, 25-19, and 15-9, pushing the Flyers' record for the season to 15-2.  Loramie, suffering its third loss, drops to 16-3.
"Anytime two teams like this from the area play – two teams this evenly matched – you're going to have this kind of outcome,"  said Marion coach Anthony Chappell.  "There's going to be a playoff feel to it because there's so many good teams in this area.  The top five or six teams in the state are only twenty miles apart.  This was #4 against #6 tonight, and we've got #1 and #2 (New Bremen and New Knoxville) coming up, so we've had this week circled on the calendar for awhile."
Tight?  Closely-played?  The first set was tied eight times before Marion finally separated itself from Loramie, taking a 19-15 lead and finishing with a 6-2 run to win it, 25-17.
But momentum is such a part of volleyball and Marion could not keep the momentum they earned with that first set win.  Loramie came charging right back to score the final 7 points in the second set and win, 25-14.  Big "Mo' (momentum) seemed safe and sound in their huddle between sets.
But John Rodgers' Redskins lost it as quickly as they gained it, serving badly at the outset of the third set and allowed Marion to regain a positive competitive mindset.
"We were playing with a lot of confidence,"  Heidi Rethman would later say.  "Everyone was just doing their job – playing hard."
Loramie struggled to find consistency, while Marion Local began to rain shots through the Redskin defense.  Like the second set, this time it was Marion that rolled at the end to win, 25-19.
By the fourth it began to look like the middle rounds of Ali-Frazier.  Loramie took a quick lead, only to see Marion score the next six and go up 6-4.  Loramie then had a run of its own to go up 9-6…and so on, to eventually lead by as much as eight points.  But Marion would not quit, scored six of the final eight points before Loramie finally closed the set with a thunderous kill by Kenzie Hoelscher to win, 25-22.
Again, Loramie started out on fire in the fifth, taking a 3-0 lead before Marion again took advantage of a couple of serving errors to come back and tie it at 5-5.  But Loramie again caught fire when it seemed like Marion was playing with its best execution and emotion of the night, retaking the lead at 9-6.  Ironically, that would be Loramie's last lead.
Enter Heidi Rethman, a 5'8″ junior and the younger sister of former Marion state champion quarterback Dustin.  While she'd lived in the same house with conversation about big moments, she'd never had one of her own until now.  She was called upon to serve at 9-6 and she delivered – eight consecutive bullets that for whatever reason stymied the Fort Loramie back row.  Some fell at their feet, some went off their hands and out of bounds, and with each mounting point the crowd began to rise to its feet.
It was too much to expect, but somehow Rethman maintained her composure and just kept serving points – nine in a row to finish out the set, and the match, 15-10.
"It wasn't easy.  It was nerve-wracking," said Rethman.  "We practice game situations like that a lot, but I've never experienced anything like that.  It was a fun matchup, and it felt like a tournament game.  I thought it was very even between the two teams…we just had to compete better, and that's how we came out with the win."
On the other end of the gym…frustration had a stranglehold around Loramie coach John Rodger's neck.
"I can lose to a good team like Marion if we're battling,"  he said, shaking his head.  "When it's tooth and nail, I can accept that because they're a good team.  What I can't accept is us not getting the last eight balls back over the net, and them just standing there watching us trip over ourselves.  This is something that's never happened to us before and that's why I'm a little frustrated."
The fact of neither team seizing and maintaining the momentum was symbolic and how evenly matched it was.
"If you look up and down our roster I think we're pretty much toe to toe with them,"  said Anthony Chappell.  "We match up in the middle.  We match up on the outside.  Whether you're looking at them or looking at us, it's pretty even.  There's a lot of great players on both sides.
"At the end of the day coaches can only do so much,"  Chappell added.  "The players are the ones that secure business.  It came down to them and I think at any time someone could have run away with it if they could have gained an inch.  But neither team was willing to give up that inch."
It was loud in the Marion locker room, a lot of screaming and excitement that belied the physical fact of a five-set match and sheer exhaustion.
"I'm really tired,"  admitted Rethman before she left to join her teammates.  "This was just the second five-set match we've had this year, and we have New Bremen on Thursday."
But 16-year-olds don't have too many moments like what she'd just experienced – to deliver for your team when they needed you most.
"I'll probably be up for a while tonight,"  she added with a smile, obviously adrenaline-fueled.
Thrillas' like this one make it hard to sleep.  Ask John Rodgers!