A freshman and a junior showed the way for Tri-Village in a Cross County Conference battle of unbeatens that resembled a heavyweight fight with both boxers throwing haymaker after haymaker.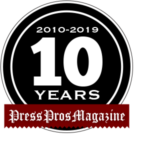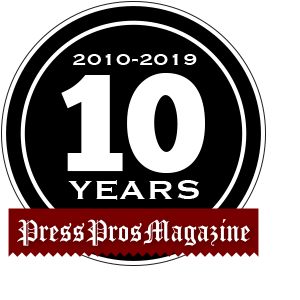 Fort Loramie, OH – When something like this happens in Hollywood, they call it a plot twist.
Everything is rolling in one direction, completely in keeping with expectations and past history, and then the anticipated trades places with the status quo and the outcome shifts from predictable to, "How did that happen?"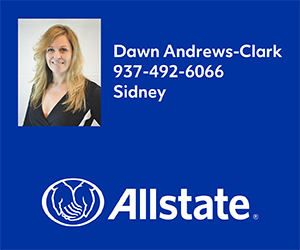 That's what they left the home grandstand asking Friday night at Fort Loramie, where Homecoming figured to end with the Redskins hoisting a third straight Cross County Conference championship in their farewell to the league.
Layne Sarver and Reed Wehr and the Tri-Village Patriots had something to say about that, though, and the longer things played out, that something became clearly discernible:
"GET ME, RE-WRITE."
Sarver, Wehr and their teammates didn't just flip the script on Fort Loramie, they dropped a 60-43 sledgehammer courtesy of four touchdowns from the fleet freshman running back, Wehr, and five scores from the slim junior quarterback, Sarver.
Wehr served notice of the horrific coming attractions the Redskins would endure when he sprinted 71 yards untouched on a simple sweep left on the third play of the night.
He'd score twice more in the first half, once on a 36-yard run and again on a gut-punch of a kickoff return that cancelled Loramie's advance to a 29-28 lead with 48 seconds left in the half.
"We told our guys all week, 'That's a really, really good team over there. They're going to make plays,' " Tri-Village coach Robert Burke said. "We had to step up and make a play after them and we did that the whole night. We just put it in our kids' hands and trusted them and they went out and made the plays. Man, that was fun."
If you like offense, it certainly was. If defense is your thing, the back-and-forth left your neck muscles in spasms.
As fantastic as Wehr and Sarver were for Tri-Village, Loramie's Collin Moore was just as terrific for his team.
He finished with three touchdown passes, another scoring run and more than 200 yards rushing. Max Hoying, Sam Barhorst and Jacob Sherman threw in big contributions for the Redskins' as well, but Hoying and teammate Nate Meyer left the game with hamstring injuries and Loramie eventually could not hang.
"One hundred percent credit to Tri-Village," said Fort Loramie coach Spencer Wells, who came up short in a bid for his third CCC title in as many seasons with the Redskins. "They have a helluva football team. I give them all the credit in the world."
Neither team had lost coming in, but Loramie's history — both recent given its CCC dominance, and long-term given the school's multiple state championships in multiple sports — suggested this one might eventually turn toward the home partisans.
After all, Fort Loramie crushed the Patriots, 47-6, just last season and returned 14 seniors, 11 of whom start on a defense that had allowed 14 points all season.
Tri-Village believed, though, long before Wehr's first touchdown run made the smattering of Fort Loramie fans wearing, "Outta Your League," T-shirts question their fashion choice for the evening.
"We didn't need that to believe," Burke said. "We believed on Monday. We knew that was going to happen. We weren't scared. We knew they were going to key on our quarterback, so we thought (Wehr) could make plays for us."
What Tri-Village couldn't have counted on, but what ultimately made the difference, were TDs from both Wehr and Sarver outside the offense.
Wehr's came on the kickoff return just before halftime, while Sarver's happened as Loramie attempted to pad an early, 7-6, lead.
Sophomore Logan Eilerman had been Moore's man on the edge all season, using his 6-4 height and speed to cause defenses nightmares.
But Sarver — as if he didn't have enough to do playing quarterback and punting — tracked Eilerman all over the field all night and read Moore going for him on a crossing route with a throw from the 16-yard line.
Sarver intercepted and sped upfield, with only Moore impeding his path to a 91-yard touchdown return.
Sarver cut inside and juked his opposite number just past midfield and was gone, setting the tone with his first of two interceptions and first of five for the Patriots.
"This is not a surprise to us," Burke said. "We were 5-0 and we've beaten the mess out of everybody we've played. We felt we were just as good as them. Even at 47-6 last year, not to take anything away from them, but we hurt ourselves in that game.
"We had a blocked punt for a safety and three turnovers inside the Red Zone that they scored on. We hadn't done that all year. I thought if we limited our mistakes, we would be in the ballgame and could win it."
The margin grew uglier with two late TD runs from Sarver, part of a senior class that's been with Burke all four of his seasons, culminating in Tri-Village's first CCC title in school history.
"We had a lot of people who believed in us for a long time," Burke said. "I've put in a lot of hours and I've asked a lot of people to sacrifice a lot of things. Parents, the great administration that hired me…they had the vision we were going to do this.
"We were not very good when I got here, but we've worked our trails off to get where we are right now. I'm so proud of these kids for believing."
Bruce Hooley is a former sports editor of the Troy Daily News.