Quarterback Mitchell Hays throws for touchdowns of 46, 38 and 6 yards and runs for scores of 66 and 12 yards. The Cardinals defense intercepts three passes and recovers a fumble.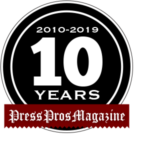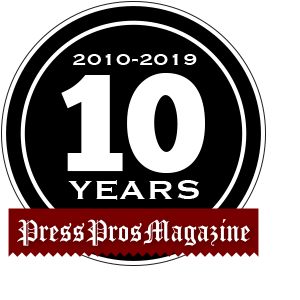 New Bremen, Ohio – It was senior night and New Bremen coach Chris Schmidt lined up those veteran players two-deep in front of the scoreboard so parents, friends and other well-wishers could snap some pictures for posterity.
Logan Opperman went so far as to neatly arrange the helmets in front of the first row of players.
Then you heard the click-click-click of the shutters as everyone smiled.
A nanosecond later, though, the players began groaning and moaning because No. 19, Kyle Tenkman, was tardy and ran full bore toward the group.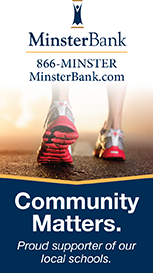 A retake was needed.
Of course, he was playfully ragged by teammates.
"I was talking to my grandpa, geez,'' Tenkman said in defending himself.
There were no worries on this Friday night. The 17 seniors could have smiled until it hurt underneath the light of what had been a Harvest Moon 24 hours earlier.
Quarterback Mitchell Hays threw for touchdowns of 46, 28 and 6 yards and ran for touchdowns of 65 and 12 yards and a smallish, nasty defense racked up eight tackles for losses and another five for no gain and forced four turnovers in a 36-7 spanking of Versailles.
It was the third straight victory in the series for New Bremen (4-2). Consider it had never defeated the Tigers before this mini run.
"This year, they were one of the top teams in the MAC and we went out and made a statement,'' running back and defensive back Zach Bertke said.
As for the townspeople, they can't get enough of their boys. They would love to hug every one of them if not for, yes, social distancing in an otherwise awful 2020.
"I can definitely feel it in the town,'' defensive back and running back Wyatt Dicke said. "The town is so excited for the team. When you go out in public people are saying great game. They love it. It has been everywhere. It has been a great feeling.''
The pre-game talk among fans from both teams centered around it being a fairly meaningless game with no MAC title at stake and both teams getting first-round byes in the playoffs.
But the Cardinals needed a game like this because their victories had come against one-victory teams in Minster, Delphos St. John and Anna.
Versailles has all those state championship banners and has every right to patent the words 'Tiger Ball' in helping make the Mighty MAC what it is, and that's the undisputed No. 1 small school conference in Ohio.
"Yes, the seeding thing already has been done, but to beat a team like Versailles . . . I wanted to go into the playoffs off a victory with that momentum and confidence,'' Schmidt said. "That's the best we played all year long, and that's what you want going into the playoffs. They have twice as many boys as us. We're the second smallest school in the MAC and they are the biggest school in the MAC, so anytime you can beat them, with all their tradition and history, that is a big win. For our seniors on senior night, man, what a big memory they have.''
For the first 2 ½ minutes, it appeared that both teams weren't into it mentally.
Versailles (4-2), which is the No. 4 seed in Division V, Region 20, lost a fumble on its first play.
On the next play, New Bremen lost a fumble after a pass reception that went to the 1-yard line. The ball was recovered by the Tigers in the end zone and went for a touchback.
The Cardinals defense, though, never stopped going after the ball. On third-and-17 from the Tigers 44, Dicke intercepted Carson Bey near midfield. He turned into a running back that he is on offense in faking out tacklers for an approximate return of 30-plus yards to the 27 with 6:31 left in the first quarter.
"I just dropped back into my zone and read the quarterback the whole way,'' Dicke said. "I never took my eyes off him and read the route. That was a great motivator for us. That helped turn the game. That brought great energy, lively energy.''

His pick was the type of play coaches talked about making all week long.
"The biggest thing in practice all week was flying to the ball and getting helmets on the ball,'' Dicke said. "We knew we had to wrap them up. Pursuit was a big thing for us in practice.''
Homan, a defensive end checking in at 6-2, 177, knew New Bremen's defense could not allow the Versailles offensive linemen to get their pads on them.
"For me, I'm not big in size, but I'm pretty fast. We all use our speed,'' he said. "Our whole defense has been a powerhouse, one of the best. We watched a lot of film and pretty much knew what they were going to run and we knew all their formations.''
On third-and-six, Hays dumped a screen pass to Bertke for a 28-yard touchdown. The first extra point kick was true, but was nullified by a false start. The second attempt was blocked.
New Bremen kept coming. On its next possession, Brandon Krauss caught a crossing pass at the Versailles 25, stutter-stepped and cut to his right for a 46-yard touchdown with 1:36 remaining in the quarter.
The extra point was wide left, but it was 12-0 and a statement was made.
The Tigers put together one of their crunching touchdown drives in response in going 55 yards in 15 plays. Bey faked a handoff into the line and walked into the end zone from 3 yards out with 5:10 left in the second quarter.
It could have been a demoralizing set of downs for New Bremen in that Versailles converted two fourth downs and two third downs and took 8 minutes, 20 seconds off the clock.
Hays ended that momentum with a 66-yard touchdown run in which he went over center, cut sharply to his left, skipped to avoid a tackler and outran the secondary for a 19-7 lead.
At that point, it was clear that New Bremen was more athletic and faster.
"This was the biggest team we probably were going to see all year long, and if we could use our speed and get into space that hopefully we could wear down some of their bigger guys,'' Schmidt said. "We had to handle their size or it would be a long night. Our playmakers made plays for us tonight and that's what you need.''
The score went to 26-7 when Dan Homan reached back to snare a spiral at the goal line from Hays for a 6-yard touchdown with 36 seconds left in the first half.
That drive went 69 yards in 10 plays and was a thing of beauty.
Place-kicker Owen Gabel made it 29-7 with a 29-yard field goal with 3:36 left in the third quarter and 36-7 on a 12-yard run by Hayes with 6:36 left to play.
Hays was the ringleader in completing 10 of 16 passes for 165 yards and running for 114 yards on 13 carries.
"I think he is letting the game come to him. I think earlier in the year, he tried to force some plays,'' Schmidt said. "The last couple of weeks he has started to settle in and let the plays open up and not try to force them. He's a great athlete. He's ultra-competitive. There are not many kids who are more competitive than he is.''
After what he accomplished, it was stunning to see Hays up close. He stands 5 feet 11 and his program weight is 171 pounds. He played so large.
Defeating a team with a legendary reputation, he said, was important going into the two-week break before the playoffs.
"Obviously, we had only six games before the playoffs so we had to make every one count,'' Hays said. "Now, we're going to be ready after a big win. Our coaches did a great job this week about finding out what Versailles had with its 4-4 (defense). He made sure we were going to be spread this week. We got outside of them and had great blocks.''
New Bremen is the third seed in Division VII, Region 28.
To understand what the Cardinals have done is to know their recent history. Their records from 2010 through 2017 were 2-8, 0-10, 2-8, 0-10, 0-10, 1-9, 2-8 and 3-7.
Schmidt, who is in his sixth season, narrowly missed taking the team to the playoffs in 2018 with a 6-4 record. Last season, the Cardinals knocked the front door down and went 9-4 with a journey to the state semifinals last season.
This senior class has been special.
"We looked at those guys who went 0-10 and said that can't be us,'' Hays said. "We pushed each other. We were in junior high and went 7-1 and said that we could turn this around. When we were sophomores, we had four or five guys who got it started. Now, we need to make it farther. We need a state championship.''