Since she started golfing in junior high, St. Henry senior Ellen Naumann has had the drive — and distance — to get better on the golf course. The defending Midwest Athletic Conference player of the year leads the Redskins into the MAC tournament on Saturday … and perhaps in the coming weeks a fourth straight trip to the Division II state tournament.
St. Henry, OH – Ellen Naumann's accomplishments on the golf course are as long as her drives. And a word of warning to the upcoming field at the Division II sectional tournament: Naumann's drives are sailing about 20 yards longer this season.
The two-time Midwest Athletic Conference golfer of the year — she fired a 78 at the MAC tournament at Stillwater Valley Golf Club on Saturday to repeat — kicks off the postseason that's been ultra-successful for the Redskins the past three seasons. St. Henry plays in the D-II sectional at Celina Lynx Golf Club on Tuesday.
Coach Wendi Moorman's girls golf team has reached the D-II state tournament the past three seasons. A fourth trip looks like a tougher lie. Naumann is the lone returning golfer from last season's state team that finished eighth out of 12 teams.
"Certainly that's their goal. They want to get back," Moorman said. "We've started to talk about the teams we'll see (at the sectional and district tournaments). When we play well we have the ability to score low. It's just the consistency and putting it together on the same day."
Moorman said it's common to see Naumann continue working on her game after practice and on weekends. Naumann's dedication has earned her first-team MAC honors all four seasons. She tied for ninth at last season's D-II state tournament, earning second-team state honors, after shooting 73-77—150. She finished 10 shots away from a state championship.
"She's just super consistent," Moorman said. "She doesn't get rattled. If she gets in trouble she can get out of trouble. She understands the game."

Naumann took up competitive golf prior to her eighth-grade year after watching her brother, Kyle, compete. She matched his MAC title … Kyle won his in 2017 … and has even surpassed him a couple of times on the links. She's twice carded a better score when going head-to-head.
"My brother and I always shared golf. … Just having him there to help gives me perspective on a lot of things," Naumann said. "I realized I really wanted to play (after watching him). He was having fun so I wanted to try it."
She did … but the fun came a little later. It took Naumann a few rounds to get into the swing of golf. Once she did she was hitting the fairways with regularity.
"It definitely took time. The first few tournaments I shot 50 in nine holes and I had one where I shot 60 over nine holes. It was pretty rough," Naumann said. "I just had to keep working at it. I knew I didn't want to give up on it. I wanted to see how far I could go. It's always rewarding to play well."
Naumann's reward … among other things … is being named the Lima Junior Golf Association female player of the year in both 2019 and 2020. She also holds the St. Henry girls' scoring records for nine holes (34) and 18 holes (69).
The best part of golfing for St. Henry?
"The people," Naumann said. "Playing with good people makes golf more fun. Having good competition pushes you to be better always."
One of her goals this season goal was to defend her MAC golfer of the year title. Golfers earn points in dual matches during the regular season in addition to their MAC tournament finish. Naumann is one of the golfers to beat heading into the postsesaon. And if someone does, well, she's still going to be flashing that familiar smile and winning attitude on and off the course.
"I think it's mostly knowing anything can happen," Naumann said of her approach to the postseason. "I try to keep it mind that nothing is guaranteed. I just have to go and play my best. The other girls are going to do the same thing.  … I'd be happy for whoever (won the MAC). It's a good feeling.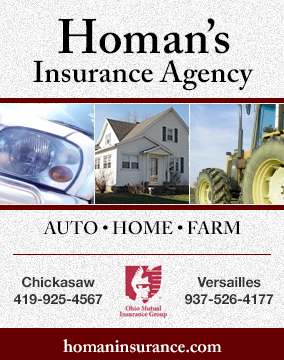 "I've been wanting to get (MAC player of the year). I was close the first two years I played so I wanted it really bad. It takes the whole season to get there. It's putting in the effort the whole season and not one match."
The same applies for qualifying for the state tournament. Naumann is joined in her fourth straight bid for state along with junior teammates Courtney Clune, Dana Rindler, Tori Staugler, Brianna Post, sophomores Audrey Wendel and Courtney Rockwell and freshman Lindsay Grieshop.
"I like how close we are. We get along really well," Naumann said. "We can't really do much outside of golf, but we have this to share. I really enjoy it."
The COVID-19 pandemic has sliced into the Redskins' time to bond off the course with social distancing and such. But the team has connected during golf. They hope to keep it going straight to Columbus.
The 2017 team was the first in St. Henry girls golf history to qualify for state and finished 12th. The Redskins returned in 2018 and improved one spot to 11th. Last season the 'Skins jumped three spots to eighth. Naumann finished 33rd, 27th and 10th as an individual.
"I think the first year, I wouldn't say it was shocking, but it was surprising. All of a sudden it happened," Naumann said. "We were all just so happy being the first year. It was really exciting.
"We were there so we were happy to be playing. The year after we moved up one spot. We just want to get one or two better. Last year we came in eighth so that was really exciting knowing we beat our goal."
Naumann's goal is to always get better. She spent the summer playing in the Lima Junior Golf Association league playing 18 holes every Tuesday and Thursday. She golfed with Kyle on the weekends and practiced every day in between.
She has college options but she's not sure if she'll golf at the next level as she prepares to major in civil engineering. Kyle, who elected to not golf in college, is studying mechanical engineering at the University of Dayton.
"I always want to get better. It's kind of a never ending process but I love it," Naumann said. "I think I love golf because it's really difficult. Knowing I'm pretty good at something that's hard makes me want to continue to getting better at it.  If we didn't have golf I'd be lost. I love golf. It's kind of my life."