A career night by a defensive end and some better-late-than-never offense carried to Troy Christian to its second win of the season…over Dayton Christian.
By Andy Anders for Press Pros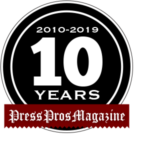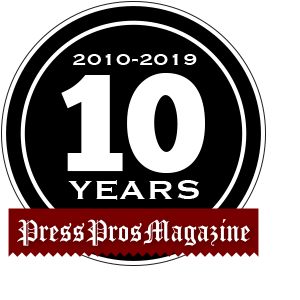 Troy, OH – Troy Christian plays its games next to I-75 on Friday nights, and on this particular work week-ender, its defense played like a crew of 'hit men' by the highway.
A Justice League-caliber clobbering by the Eagles was in store anytime Dayton Christian had the ball, outside one play, with senior defensive end Noah Willis acting as superman.
Willis terrorized the Warriors to the tune of five sacks and 10 tackles for loss – not that he knew the ridiculous rate with which his rush stats were accumulating during the game.
"I didn't even know. I just go," Willis said. "I just play the best I can."
Subtract Dayton Christian's lone scoring play, a 67-yard touchdown pass, and the Warriors finished with around 50 yards on offense.
Troy Christian (2-3) received just enough from its offense to run away with a second victory this season over Dayton Christian (0-5) 28-7 on the back of Willis and the defense.
"Didn't look like it was gonna be fun right away. When they hit us on that bomb, we were in man and got caught, and they have some athletes," Troy Christian head coach Steve Nolan said. "But we got more pressure on them. Because it was early in the game we didn't use another defense we had, that we saved up to get the pressure. And Noah just took off with it."
If Dayton Christian sophomore quarterback Preston Sellers wasn't already acquainted with the grass at Eagles Stadium, Willis made sure the gunslinger became familiar.
The 220-pounder added three quarterback knockdowns to his mind-boggling sack count, for a total of eight times Willis gave Sellers a seat on the sod.  He relied heavily on his favorite pass rush move, the push-pull, in which a defensive lineman extends his arms into a blocker to knock him off balance then pulls him forward to shed the opposition.
"I like push and pull. Just get 'em off me," Willis said.
However he gets home, Willis has an addiction to sacking quarterbacks: "There's nothing like it," he said.
After taking multiple state-altering shots from Willis and company, midway through the second quarter Sellers had such happy feet that he danced himself into the dirt for two more sacks, without getting touched on either play — as if Troy Christian's pass rush needed any help.
Willis wasn't alone, however. Junior linebacker Christian Brown intercepted a pass the drive after Dayton Christian's lone score to capture momentum for the Eagles.
Sophomore linebacker Lee Burkett and senior linebacker Landon Rich piled up tackle after tackle on the edge, with Burkett personally ensuring a third-and-11 for the Warriors one drive. He took out both options on a zone read and then brought down Dayton Christian running back Darren Swift in the open field.  Willis secured another Dayton Christian punt with a sack the next play, of course.
"He's all over the place," Nolan said. "He's got that intensity, and his quickness and determination help him a ton. I mean, not only do you have five sacks, he had five more tackles for loss."
After a fumbled exchange in the second quarter set up the Warriors at the Eagles' 32-yard-line, senior defensive back Charlie Knostman snuffed out a screen and Dayton Christian eventually turned the ball over on downs.
"Team played great," Willis said. "Coverage was, pretty much, phenomenal all game. We shut down one of their top plays, screen. Shut it down completely."
An onside kick to open the contest followed by a 38-yard scoring drive all on the ground put Troy Christian ahead 7-0. It regained the lead on its second drive after back-to-back big gains on pass plays set up a two-yard touchdown plunge by senior quarterback Ethan Twiss. It led 14-7 with 5:36 to play in the opening quarter.  After that point, however, the Eagles struggled to move the ball.
Troy Christian forced its opponents to go three-and-out six times, but in turn went three-and-out five times itself.  In addition to the fumbled exchange that pinned its defense back, Twiss fumbled again in the second quarter, this time in the red zone. The score stayed at 14-7 until halftime.
Troy Christian then failed to gain a first down on its first drive of the third quarter.
"We're still pretty young on the offensive line. None of them played last year," Nolan said. "And [Dayton Christian head coach Ken Moyer] had a good scheme, he went to more of an even look and sent the backers all the time. We didn't pick up the linebackers. And then the way they played their ends — we had to adjust a little bit at halftime."
Missed cuts and missed open receivers also hurt Troy Christian's offense, Nolan added.
After all the three and outs and turnovers and back-and-forth action, a coverage lapse is what at last busted the game open for Troy Christian.  Somehow Dayton Christian left the entire left side of the field uncovered on a pass play, and Twiss tossed a 38-yard layup to junior running back Gavin Blore to put the Eagles ahead 21-7 with 4:20 remaining in the penultimate quarter.
"We had a pass play called, and he was gonna run a curl, but since they didn't go over and cover him — they both saw it and just hit it," Nolan said.
Just when it appeared the Warriors might capture some momentum on the ensuing drive, foraging to the Eagles' 36-yard-line, Willis broke through the line for about the 10,000th time and swung Sellers into the ground by the front of his jersey for the senior's third sack.
Sellers tossed the ball into the waiting arms of Knostman on the next play. Nolan said both interceptions "absolutely" turned the momentum of the game.
"We had to change our coverage after that first [touchdown], so we went to more two-deep, man under stuff that helped us the rest of the game," Nolan said. "And we mixed that in with some pressure stuff when we went man-to-man. So we kept them off balance."
Dayton Christian didn't make it as far its next drive, with Willis stringing together a tackle for a four-yard loss and his fourth sack.
After yet another Warriors three-and-out, Rich took a turn carrying the ball and contributed two runs over 10 yards before dusting off the drive with a two-yard scoring plunge. Troy Christian set the final score at 28-7 with 3:58 to play.
The Eagles will lose Rich for the remainder of the season, as he sits out a required five games after transferring to Troy Christian during the offseason.
"That's the first time he's run the ball since game one," Nolan said. "He's been hurt the whole time. When he's in our offense, we're a different team. And unfortunately he's done."
Rich rattled off 198 yards in Troy Christian's Week 1 win. He'll return in 2021 as a senior.
Now at 2-3 on the year, Troy Christian will try to maintain its momentum at home against Grove City Christian to close its regular season Oct. 2. It'll be the last chance for the Eagles to tune up before the playoffs.
"We missed a lot of things, blocks and throws, that we shouldn't have missed," Nolan said. "But hey, that's part of the game. But we have to get better at some of that to win next week, then see where we go in the playoffs."