Athletic director Gene Smith says some department employees will take pay cuts and others will be furloughed to help ease the crunch caused by COVID-19.
Columbus – With football coach Ryan Day as his sidekick and later new university president Kristina Johnson, Ohio State athletic director Gene Smith was one of the prominent faces in the university's forceful push to sway the Big Ten into playing football in the 2020 calendar year despite the COVID-19 virus.
Smith has been positive and realistic during the campaign that began during the summer and recently ended with the conference presidents and commissioner Kevin Warren relenting and allowing a nine-game schedule.
That was the "fun'' part of the job. The hard part has made his gut churn.
On Wednesday, Smith was a grim reaper in explaining on a Zoom call that Ohio State's conservative estimate of its budget shortfall for the fiscal year 2021 could be $107 million before media rights profits are included.
In 2019, money from television contracts was $45.6 million.
Ohio State, Smith said, is negotiating with Bowling Green and Buffalo about canceled non-conference football games. If an agreement can't be worked out, those schools will be paid through the media rights money.
If there is a sunny side, not one of the athletic department's 36 varsity sports will be cut, scholarships will be fully funded and complete support services will remain intact.
Will any sports be cut in the future?
"Right now, that's not a major conversation,'' Smith said. "Our student-athletes are our primary responsibility. They have and will continue to come first. We have put together a responsible and conservative budget for this fiscal year, which assumes full support for our student-athletes. In the midst of this devastating pandemic, we remain committed to providing a safe and excellent academic and athletic experience for all of our student-athletes."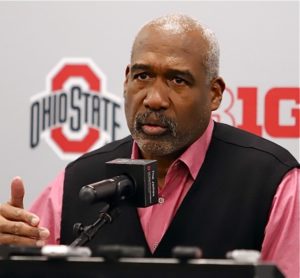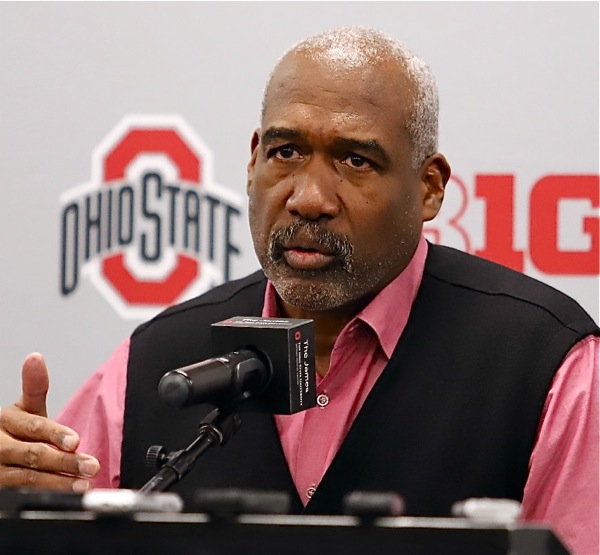 The Ohio State athletic department funds itself and does not receive any support from the university or student fees.
The university estimates revenue from athletics will be approximately $73 million and that the operating budget will be $180 million.
In addition to losing money on ticket sales for football, Ohio State won't see a penny for concessions, parking and souvenir sales on game days. The university expected approximately $64 million in profits from ticket sales in the fiscal year.
With an eye on saving as much money as possible, Smith said the Buckeyes could bus or fly in and out the day of their game against Michigan State in East Lansing.
The difficult part for Smith was announcing that 25 full-time positions will be eliminated and that 47 staffers will be asked to take a 5 percent cut in pay from their base salaries. Among them are Day and basketball coach Chris Holtmann.
Then came more bad numbers with Smith saying 345 employees will be placed on furlough for varying lengths. Forty-eight people on the strength and conditioning staff will be placed on five-day furloughs. Sixty-day continuous furloughs will affect 84 employees or they will be reassigned beginning October 9 through the calendar year.
Approximately $5.6 million in cuts will include spending restrictions, a hiring freeze, no merit increases, some travel being eliminated and some facilities projects being suspended.
The athletic department is saving $9.6 million through debt restructuring. Annual debt payments are one of the largest expenses for the department.
Smith said the athletic department has never had to take out a loan during his tenure.
"Like our colleagues in the Big Ten and across the country, intercollegiate athletics at Ohio State will have to significantly adjust as the pandemic will have a long term impact," Smith said. "We will implement a long-term deficit recovery plan but will continue to focus on serving our student-athletes at the highest level.''
Smith said the university doesn't have "clarity'' on how basketball revenue might be affected. The NCAA has established November 25 as the official starting date for season openers.
It's too early to forecast whether fans will be allowed to watch inside Value City Arena.
The ongoing turmoil during the virus has forced Smith to rethink everything the athletic department has been doing.