With respect to Kim Metz's Tuesday record-breaking win…what really stands out about coaching in an age of AAU, Junior Olympics, and all those camps.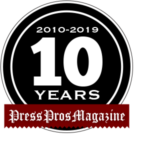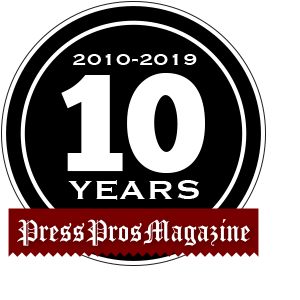 This thought struck me as I watched Jackson Center's Kim Metz achieve her 572nd career volleyball win Tuesday night – a three-set sweep over host Botkins.
I well remember the teams she had in 2015-'16, the back-to-back teams that swept through the state's best at the time to claim the Division IV state titles.  And while 8-3 now after Tuesday's win, this is not the same team that Metz was privileged to coach back then.  Learning through 'OTJ' (on the job training), this year's team represents Metz's finest attribute in coaching…and one that's too oft overlooked by parents and at-large fans alike.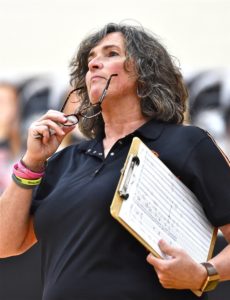 That attribute is patience – pure and simple, the ability to learn from your mistakes.  It happens in every sport, every division, and every level of competition, regardless of AAU, Junior Olympics, or your choice of camps.  You don't come out of the womb knowing how to win in volleyball, or football, or life.  No, it takes time…and it takes someone like Kim Metz to teach that time is your ally, and not the enemy.
She smiles when you ask her about this year's team – compared to teams of the past.  In thirty two years she's seen it all, while remembering what it was like when she played, herself, back at Fairlawn in the 80s for the coach whose record she broke on Tuesday night – Wade Wilhelm.
"You have to play the game,"  she said at a practice earlier this week.  "And you have to learn from your mistakes.  And what I've always appreciated the most is to look out there and see my girls figure it out for themselves – on the fly.  They're smart, and when you see them do that you know that they're going to be OK in whatever they choose to do after high school volleyball.  That's the way life works.
"My players have gone on to become health care professionals, some have served in the military, and some have followed in my steps – some have come back to coach."
She calls them her young 'sprites'.
"But it takes time, and commitment.  And sometimes I look back and can't believe that I've been in the gym this long.  When I started out on this journey I had no idea it would turn out like this."
Which is the lesson that Kim Metz stresses every day – every year – to kids who start out like she did all those years ago at the hand of Wade Wilhelm.  You never know what you might achieve until you do it a few thousand times.  In her case, those thousands eventually translated into a few hundred, and a new conference record for wins.
And if you're wondering.  Her mark of 572 wins is 190 short of the all-time OHSAA record of 762 as listed in the OHSAA record book…by Kris Kern, of Bishop Watterson High School.  Modest to a fault, Metz will tell you…that all it took was time, and a little patience!
We enjoy answering the questions that some have taken the time to send in to our new Wednesday night streaming show on Facebook and Twitter, hosted by Bruce Hooley.  And here's one that came from James Trepanier, sent just this week.
Jason asked, "Is there something that stands out about high school football so far, maybe as a result of the Coronavirus distraction?"
To answer:  No, I personally see nothing about football that you can blame on the virus, with the exception of those two missing weeks of scrimmages in August.  I think most coaches would agree that their teams are just now beginning to play with the customary instinct of what would normally come during week 1 or 2 of the regular season.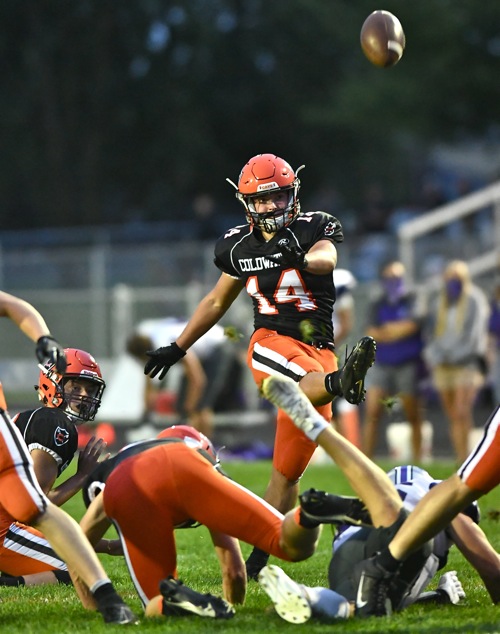 But this one thing has stood out to me so far…the number of times teams have turned the ball over on downs, particularly inside the red zone, instead of going for three points via the field goal.
I've seen a lot of 4th and fives from inside the twenty yard line where coaches think that trying for the first down is a better strategy over kicking.  And that's understandable if you don't have a good kicker, or you lack confidence in your special teams.
But I've also seen it from teams that do have good kickers, which in my mind creates doubt in the minds of those kickers when they see that in the college and pro game coaches kick when its 4th and five, playing the percentages to put points on the board.  And over the first month I've watched as teams went for the first down from point blank range on several occasions…and failed while the kicker stood and watched.
In the age of soccer, where more and more kids are growing up kicking, one would think that high school football would begin to reflect a change of culture in respect to special teams.  Maybe…but just not in 2020.
At least…not yet!