For his size you'd never guess.  But Coldwater senior Zack McKibbon's presence on the field grows ever larger as the Cavs' backfield gets smaller and smaller.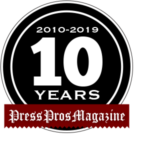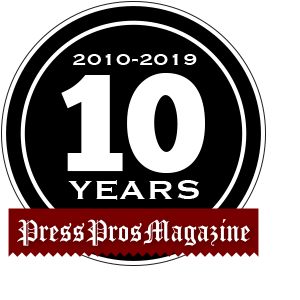 New Bremen – Zack McKibbon never dreamed it would be this way – never saw it coming.  You can't in football.
But when you play football in the MAC – at Coldwater – circumstances have a way of getting in the way sometimes.  And circumstance, where football's concerned leads to cliches'.
As in…when the going gets tough the tough get going?
As in…next man up?
As in…it's not the size of the dog in the fight, it's the size of the fight in the dog?
As in…he's not that fast, he's just quick?  That's Zack McKibbon.
Every one of these well-worn descriptives matches the impact of the 5'9″, 145 pound senior, younger brother of Kyle, who had a fine Cavalier career of his own…who now sees his stock rising on a daily basis as the injury bug looms in the backfield huddle.  McKibbon is the football equivalent to a share of Apple when the latest IPhone comes out.
And it's not that his numbers are statistically overwhelming, it's just the timing of what he does.  63 yards rushing and a pair of touchdowns last week in Coldwater's 51-37 win over Fort Recovery – the same game that quarterback and teammate Myles Blasingame was drawing so much attention for his 19 carries and 128 yards.  McKibbon was the steady-as-you-need change of pace…in the same game that starting fullback Alex Knapke snapped his ankle in the first half and left the game, and the season, for reconstructive surgery – the second Cavalier fullback/linebacker lost for the season (Isaac Fullenkamp).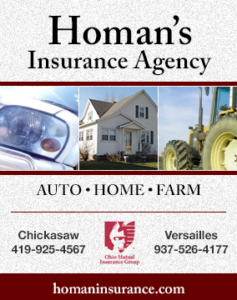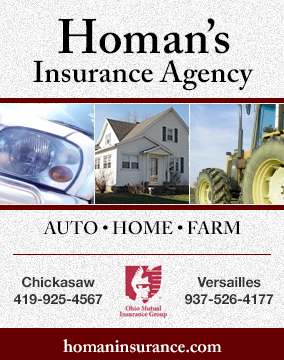 In Friday's 24-7 win at New Bremen it as McKibbon again…just 40 yards on 8 carries, but it was the timing of the carries as the Cardinals swarmed around Myles Blasingame, who was carrying the ball 26 times for 143 yards (and one touchdown).
"It's tough that we lost those guys (Knapke and Fullenkamp),"  said McKibbon after shucking his uniform and pulling on his pants, post-game, in the shadow of the west end zone at Cardinal Stadium.  Covid doesn't giveth.  It mostly taketh away…in this case privacy and a shower to get all that shoulder pad stink off.
"We weren't sure who was going to fill in for Alex getting hurt.  But our guys keep stepping up – Jesse Meyer and Brady Klingshirn came in and played well.  And yesterday at practice we had another linebacker (Darin Schmitmeyer) who went down with an ankle, but fortunately he was able to come back and play tonight.  You wonder who's next?"
Some may wonder, but it doesn't seem like McKibbon's way.  The size of the fight in the dog?  He swears he's 147 pounds, not the listed 145.  Certainly, he never heard of Whizzer White, the 5'9″ 150 pound phenom who was runner-up for the Heisman in 1937, then went on to play in the NFL and serve 31 years on the United States Supreme Court.
"I just weighed myself today,"  he says proudly  "147".
Next man up?  It goes way beyond filling in for the injured if you play in the MAC – for Coldwater.  No, next man up at Coldwater has a lot of tradition with it – next man up after the likes of Ross Homan, Alex Bruns, Brody Hoying and all the great players who won titles for John Reed and Chip Otten. They set a standard every little boy grows up appreciating.
"We idolize those guys,"  smiles McKibbon.  "When I was a little boy I was a football manager when Brody (Hoying) played.  I looked up to him.  Mitch Schoenherr, the running back then…I wanted to be like him.  Those guys are a huge motivation to all of us.  We are what we are because of them, especially the last couple of years when we haven't made it to state.  We've lost in the regional finals, and last year we lost in the first round.  We're hoping to make it all the way this year."
His style of play lends itself to helping a team make it all the way.  He's not blazing fast, but he's 'quick', that cliche' again.  Chip Otten called him "slippery" after last week's win over Fort Recovery.  In the New Bremen game those 40 yards came by evading tacklers and working his way out of crowds.
Need a stiff-arm?  No 147 pounds (?) every packed more of a punch.  He credits some of that to being a three-sport athlete…of an accumulation of skills derived from football, basketball, and baseball.  He's very adaptable – versatile – a starter for Coldwater's latest title in Division III baseball, in 2018.
He gets it honest – heredity, and sibling imitation.  His brother Kyle was a member, and the kicker, on Coldwater's last state championship team in 2015.  He played a lot like his younger brother.
"You ever think about kicking, like Kyle?"  he was asked, because special teams are so much a part of Coldwater's success…and brother Kyle was one of the best during his four years.
"I grew up kicking,"  he chuckles.  "I played soccer and fooled around with it.  I tried kicking my freshman year because the coaches figured that I could do it…but I couldn't.  It didn't work out."
There's really not a lot of back story, either.  If you ask him what he does outside of sports he has to think.  No video gaming – nothing out of the ordinary.  Some Netflix is a big night.
"I do play a lot of golf,"  he adds.
Golf, of course, is a sport.
"I know,"  he admits.  "You're right."
And, he has his following – family – mom, grandmother, and yes…Kyle.
"My mom's a big fan (Gina).  My grandma might be a bigger fan.  And my brother's been coming to all the games.  He just graduated from Wright State and works in insurance now."
They're 4-0 after Friday night's win, and as numbers get smaller on the roster the immediate future looks bigger as the Cavaliers keep edging their way up the Division VI ratings on Joe Eitel.  They're listed as #3 following the New Bremen win, behind only Adena (out of Frankfort) and Mechanicsburg –  #3 out of 24 schools in this week's redrawn region 24.  Anything goes, and the omnipresent football goal at Coldwater once again looks doable in a year when the unthinkable has become routinely 'thinkable'.
Except there's nothing routine about 2020, or who you have to replace in the lineup.  All those cliches' – next man up, size of the fight in the dog, quickness, tough?  They all describe Zack McKibbon and another Coldwater journey.
Mc'Size' suddenly doesn't Mc'Matter'.