Fort Loramie proved that its recent dominance of the Cross County Conference was no fluke, with an impressive beating of Covington in the Thursday Night's Lights game.  Flip the channels, anyone?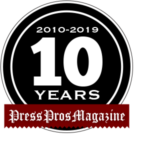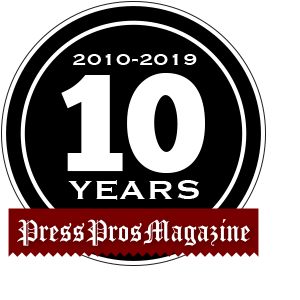 Covington, OH – When it was over Collin Moore, Nate Meyer, and Logan Eilerman all had that satisfied look that comes with a thorough dominance over the rival – the team that portends the greatest challenge for individual supremacy of the league.
For the past three seasons that team has been Covington on the Fort Loramie Redskins' schedule, a team that for two decades had run roughshod over the Cross County Conference – that is, until Loramie joined the league as a football-only participant in 2017.  Since then…Loramie in 2017 (28-21), Loramie in 2018 (33-14), Loramie in 2019 (19-14), and Thursday night the Redskins (4-0) concluded their CCC-based series with a knockout blow, a 41-7 win over the Buccaneers (3-1) on FOX TV's Thursday Night Lights game.
Why Moore, Meyer, and Eilerman?  Because the three of them accounted for better than three-quarters of the Redskins' total of 497 total yards – Moore with 139 yards rushing, Meyer with 116 yards rushing, and Eilerman with 197 yards in pass receptions.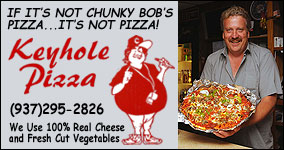 And when it was over Nate Meyer simply said, "This really feels good."
Not many teams have said that when they've played Covington, in Covington, and for the fact of it being their toughest test in four weeks…for the final game between the two teams as members of the Cross County Conference…and for sheer bragging rights between two unbeatens…yes, this one really felt good!
And yet, Covington scored first on an impressive nine-play drive at 6:38 of the first quarter on a 4-yard run by Duncan Cooper to take a 7-0 lead.  Momentum, Buccs…but only for a second.
Because after the ensuing kickoff and just seven seconds later,  Loramie's Collin Moore took the snap and ran right up the heart of the Covington defense for 65 yards and a tying score…without ever a hand being laid on him.  It tied the score at 7-7, but it seemed to send shock waves, as well.  Covington was never the same football team afterwards.
Covington tried to move the ball on their next possession, but couldn't, and punted the ball back to Loramie.  This time Collin Moore found Logan Eilerman, all 6'4″ and 200 pounds of him, behind the Buccs' secondary and five yards distant from the safety Jakob Hamilton.  Moore poured it right down the stove pipe to the waiting Eilerman who took it all the way to the 16 yard line.  Four plays later Moore crossed the goal line from a yard out to give his team a 14-7 lead.
Covington still couldn't move the ball on offense, Loramie's defense front creating havoc with the Buccs' attempt to move them, and Moore took possession again with two minutes gone in the second quarter.  In a matter of six plays and two minutes he found Eilerman in the end zone for a seven-yard touchdown and 21-7 lead.
Covington got the ball back again, and still no offense, setting up one more opportunity for Loramie.  Eilerman again…this time a 51-yard bomb from Moore as he tip-toed down the sideline and into the end zone for a 27-7 lead before halftime.
"We knew we would have to come out and match Covington's energy and aggression,"  said Redskins' coach Spencer Wells, afterwards.  "We knew we'd have to make some plays, and we thought there were some matchups that would allow us to make some 'big' plays.  They went down and scored on us and we always preach to win the next play, and respond, and fortunately we were able to do that."
The primary matchup was that of Eilerman on Covington defensive back Jakob Hamilton, who simply had no answer for the much bigger, and physical Redskin receiver.  Eilerman ran loose the entire first half and went to the halftime dressing room with two touchdowns and 172 yards receiving.
"I knew they couldn't cover me,"  he said after the game.  "There was no way."
That confidence, and verve, proved to be contagious.  And the guy who seemed infected the most was running back Nate Meyer.  Meyer, a 200-pound senior, benefited from Loramie's biggest advantage of the night – their dominance of the line of scrimmage.  The Redskins' line opened one gaping hole after another and Meyer simply flew for runs of 7, 11, 14, and 34 yards.  The longer he ran, the more confident he became.
"Our line played a heckuva game,"  he said with a big grin.  "I mean, a bus could have fit through those holes.  That's how I got my yards.  Our offensive line dominated.  Everything worked tonight."
At 11:55 of the fourth quarter Meyer was finally rewarded for all those yards, scoring on a 5-yard touchdown run to extend the lead to 34-7, increasing the frustration for a Covington offense that didn't get its second first down of the game until the seven minute mark of the third quarter.  In fact they got three of them on a drive that took the ball inside the Loramie 20…but they couldn't convert and ultimately turned the ball over on downs.
The outcome at this point was academic, actually, but Collin Moore added the exclamation point with ten minutes left in the game with his third touchdown from a yard out, 41-7, as the subs took the field and Moore, Meyer, Eilerman and Spencer Wells began to savor the four-peat.
"We made a lot of plays tonight,"  added Moore.  "We made a lot of big plays.  Our receivers ran some great routes, our line did a great job of protecting, and I was able to hit some of those receivers.  It's fun to throw the ball whenever that happens.  We had momentum and that helps everything you do as a team.  I threw a pick tonight, but the defense came out, played great, got the ball back for us, and we just continued to build."
The defense did play great, holding Covington, unofficially, to just 117 total yards.
"I'm very proud of how our defense played,"  said Wells.  "And Collin and our offense played great all night.  We had some drives where we stopped ourselves with penalties, but they gave us something to build off of going forward.  This was a quality win, our best win, over a great program.
"Not too many people come here and get that many yards against Covington.  We were fortunate to make a lot of big plays, and we feel we have the guys to do that.  We need to make big plays in the pass game and we did that tonight.  We knew that they were a man coverage team, they want to get after you, pressure you before you can get after them, and it's a credit to our offensive line for the way they gave Collin time to find those receivers.  Logan is a great route runner, we felt good about that matchup, and we were able to beat Covington vertically down the field."
Covington showed character, even while frustrated, taking time after the final horn to sing the alma mater with the marching band, but with not much focus.  This one hurt – jarring – from a team that many suspected to be superior…just not that superior.
"If we can continue to play with that enthusiasm, and that aggression, the sky's the limit,"  Wells told his team in their end zone huddle.
And they're bound to climb.  Ranked tenth this week in the Joe Eitel listing of Division VII schools, a win of this magnitude is bound to edge them higher towards the team in the top spot – the team they ever-so-much want to play again to redeem last year's regional final overtime loss – Marion Local.
And for that fact, and that moment, masks and social distancing were forgotten for the irreplaceable feeling of football when football feels its best.  Fort Loramie had taken control of their own destiny – leaders of the CCC for one final time.
And for a night…invincible!